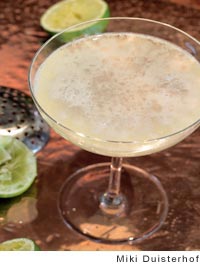 Few drinks inspire more disagreement about its proper constitution than the gimlet; the question is whether to use Rose's lime juice instead of fresh lime juice. There is a historical precedent for the bottled lime juice, and for a good part of the last fifty years Rose's was the closest you'd come to lime juice of any kind at any bar. If the 1950s are your aesthetic, there is a kind of cool "better living through chemistry" kind of vibe to the syrupy texture of Rose's. When you survey the crowded refrigerator door shelves in your neighbors' houses, you are likely to spy the familiar bottle of pale green syrup lurking there.
There are those who feel you should use fresh juice if at all possible, despite the cocktail's legacy. To be sure, there's a summeriness about fresh lime in this drink—especially if you make the gimlet with gin—that cannot be duplicated in any other drink.
I provide three ways to make the gimlet. The third is my middle-of-the-road version, and, like all middle-of-the-road things, it pleases everyone without commitment. It's quite nice, actually, especially if you've run out of simple syrup.–Eben Klemm
LC With Great Popularity Note
Author Eben Klemm has just one more variation to offer for this recipe: "If you switch to white rum and use the lime juice and simple syrup, you will have a daiquiri. I don't like to hide this drink in the shadow of another, but it's clear to see that they are essentially the same drink. The daiquiri carries with it the same curse as the martini and the margarita: with great popularity come multiple variations, and with multiple variations come ideas that often lie very far from the drinks' original intent."
Gimlet
Quick Glance
10 M
10 M

Serves 1
Ingredients
Email Grocery List
For the simple syrup (if using)

1 cup water

1 cup granulated sugar

For the gimlet

2 ounces gin or vodka

1 ounce Rose's lime juice

or

2 ounces gin or vodka

1/2 ounce fresh lime juice

1/2 ounce Simple Syrup

or

2 ounces gin or vodka

1/2 ounce Rose's lime juice

1/2 ounce fresh lime juice

Lime wedge or grated lime zest, for garnish
Directions
Make the simple syrup (if using)

1. In a saucepan, bring the water and sugar to a boil over high heat. Reduce the heat to medium-high and simmer, stirring occasionally, until the sugar dissolves and the syrup is clear, about 5 minutes. Let the syrup cool and store in a tightly lidded container in the refrigerator for up to 1 month.

Make the gimlet

2. Pour the gin or vodka, lime juice, and simple syrup (if using) into a cocktail shaker. Fill the shaker with ice, cover, and shake vigorously 20 times.

3. Strain the chilled and blended cocktail into a martini glass and serve straight up, garnished with the lime wedge or a pinch of grated lime zest floated on the surface.
Gimlet Recipe © 2009 B.R. Guest, LLC. Photo © 2009 Miki Duisterhof. All rights reserved. All materials used with permission.
If you make this recipe, snap a photo and hashtag it #LeitesCulinaria. We'd love to see your creations on Instagram, Facebook, and Twitter.