Our staffers share the most essential tools and items they can't live without when it comes to the kitchen. Tell us yours in a comment below!
1. A roomy pot that doubles as a bread cloche
Over the past several decades, I've collected more pots that I can to discuss, thank you very much. But this beauty is special. Sure you can make stews, and chili, and braises. But because of its flat lid, it does double duty as a bread cloche. Simply flip it, place your bread on the upturned lid, cover it, and–bingo bango–you have a nifty bread oven. The best part: When you remove the top (er, bottom) to let the loaf brown, there are no high sides to get in the way.
Lodge Cast-Iron Dutch Oven, $45 on Amazon.com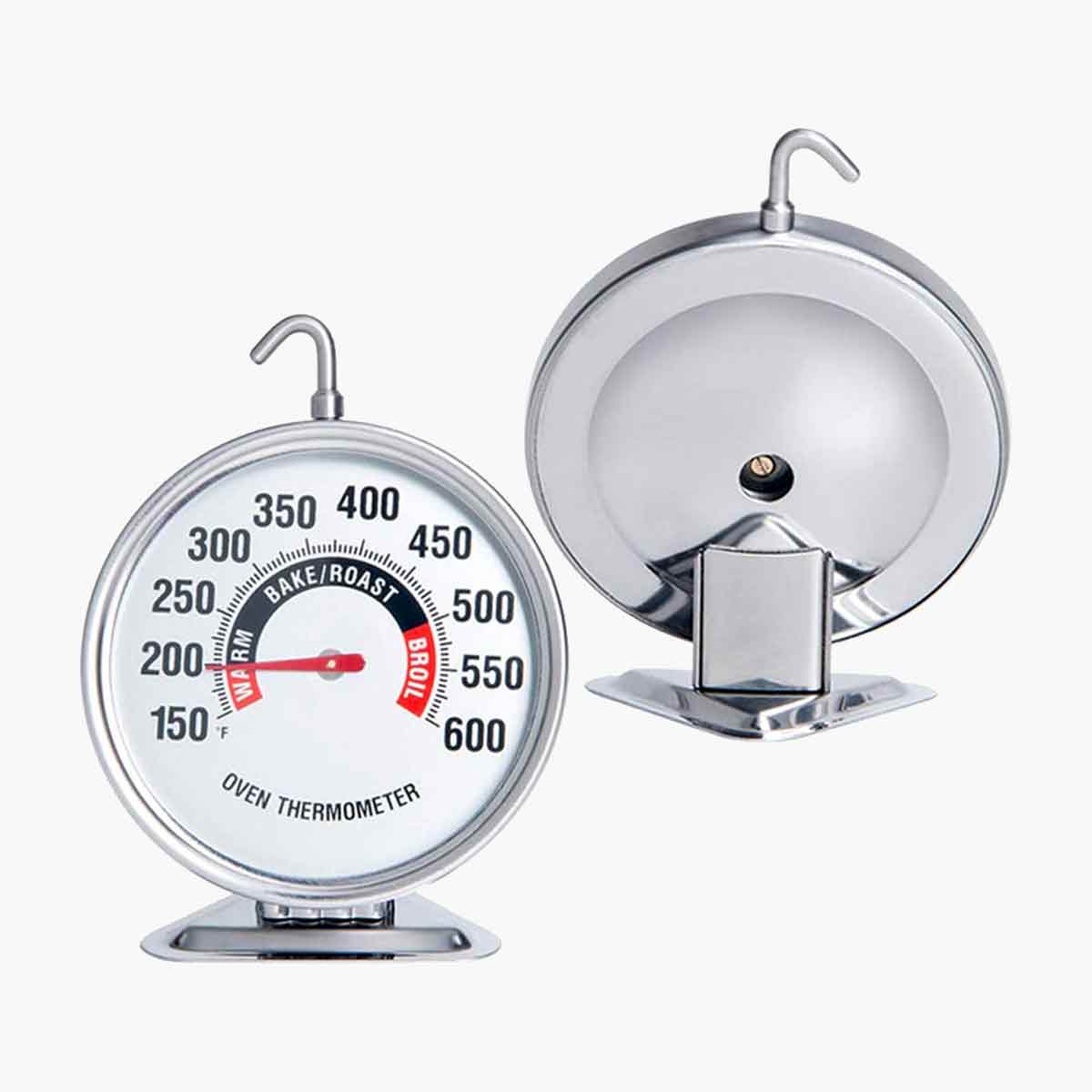 2. Oven thermometers you can actually see
Call it old age, bad eyes, or crappy cleaning, but when I peer through my oven's window to check the temperature on my oven thermometers, I can't see a thing. These super big thermometers with large numbers let you know your oven is spot on. Even through tobacco-brown oven windows.
Extra Large Dial Oven Thermometer, $10 for 2 on Amazon.com
3. A toaster oven that thinks
As Beth Price, our Director of Recipe Testing, says, "Why do I need a toaster oven when I have 3 Wolf ovens at my disposal?" The answer is simple. Faster preheating time and easier cleanup. Her Breville comes to temperature within 5 minutes. And it turns off automatically, making it perfect for "people like me that fix it and forget it. Literally." The oven toasts, bakes, roasts, broils, reheats, warms, and slow cooks, and can handle pizza pans, trays of cookies, and even a whole roasted chicken.
Breville Smart Oven Pro, $280 from Breville
4. Straws that will survive the apocalypse
"We love our reusable stainless steel straws," says Adam Clairmont, our podcast producer and engineer. Now that many states have banned plastic straws in favor of the green movement, you'll be helping Mama Earth, too: Each metal straw has the potential to eliminate up to 500 plastic straws over its lifetime. (Hear that sound? That was the collective ocean population saying thank you.)
Hiware 12 Reusable Stainless Steel Straws, $8 on Amazon.com
5. A knife that's a work of art
Some people bring their own towels and pillows to their vacation rentals. Angie Zoobkoff, our managing editor, brings her collection of handmade Japanese knives. Go figure. The feel of the smooth, lightweight wooden handle and the super sharp blade that can effortlessly slice tomatoes, carve roasts, and make short, easy work of chopping vegetables make her feel at home even in faraway places.
Shun Classic 8" Chef's Knife, $120 on Amazon.com
6. Compact buzzer 007 would like
Adam and his wife are big on their NutriBullet Pro Plus. They're fond of it for making protein shakes, whipping cream, even grinding coffee beans. And their kids even love green smoothies made in it. (Imagine that!) "And," he says, "When our kids were babies, we pureed fresh organic fruits and veggies and saved money too." Move over, Bass-O-Matic.
NutriBullet Pro Plus, $90 on Amazon.com
7. A really bendy spatula
Besides its obvious purpose of easily flipping delicate fish fillets, Angie finds this spatula to be a kitchen workhorse. Its sharp edge can easily flake fish to check for doneness and the thin metal base makes easy work of flipping oven-baked fries that have a tendency to stick to the baking sheet. Hell, she's even used it as a makeshift pizza peel. (What?!)
Miu France Angled 11″ Slotted Fish Spatula, $13 on Amazon.com
8. Bottles to make you feel like a mad scientist
These just scream Renee Schettler, our beloved either-in-chief. "I like things to possess a little pretty along with a purpose," is her mantra. Enter the Nakpunar Boston round clear glass bottle. It's her version of her grandma's Mason jar. She uses them as a dish soap container, bud vase for blooms, and to decant olive oil or contain homemade concoctions like Vietnamese fish sauce caramel and a zippy chipotle-infused carrot juice reduction.
Nakpunar Boston Round 8.5 oz-Clear Bottles, $10 on Amazon.com
9. A espresso machine with Ferrari styling
Beth loves–I mean loves–her Nespresso. To her, a regular cup of coffee tastes like a murky cup of sludge compared to the pure caffeine jolt this machine produces. "A cup of espresso is an experience, whether it's the memory of standing side by side with your Italian neighbors having that morning shot in Campo Santa Margarita on your way to cooking class, or using those diminutive cups and saucers that have but one purpose–to deliver that perfect cup of coffee," she says. (Damn, now I'm craving tiramisu.)
De'Longhi Nespresso Coffee and Espresso Machine, $175 on Amazon
10. Unprissy, hardworking kitchen towels
I don't know how it's possible, but I can go through three or four dish towels in the course of making a meal. Like that. The One says I'm the messiest cook he's ever seen. That's why I have tons of flour-sack towels on hand. I hate using up rolls and rolls of paper towels, so I grab a few of these when I crank up the stove. I have all colors, shapes, and designs. I even have one with the LC logo on it. (Can you say "vain?")
Zeppoli Classic White Kitchen Towels, 15-Pack, $22 on Amazon.com
11. An avocado slicer that looks like a toucan
The One, who is LC's unofficial CFO, CEO, COO, and CESP (I made up that last one: Chief Emotional Support Person), can't stop raving about his 3-in-1 avo slicer. I mean it: He can't stop; every time he uses it he sings its inventor's praises. I think it appeals to his sense of simplicity. One tool opens, pits, and slices. "And there's never a chance of cutting your finger when you try to remove that slippery pit." No struggle and oh so simple.
OXO Good Grips 3-in-1 Avocado Slicer, $10 on Amazon.com
12. Scoops that measure up
Our social media guru, Diana Fijalkowski, is constantly pulling these scoops out of the drawer. They're perfect for uniform cookies, meatballs, portioning appetizer-size cheeseballs. They also scoop precisely portioned amounts of batter into muffin tins, cupcake liners, or waffle irons. As an added bonus, she notes, "they make a really satisfying sound when you squeeze them really fast—kinda like kitchen tongs."
The Pampered Chef Large Scoop, $32 and Small Scoop, $29 both on Amazon.com
All products featured on Leite's Culinaria are independently selected by our staff.
© 2020 David Leite. All rights reserved. All materials used with permission.