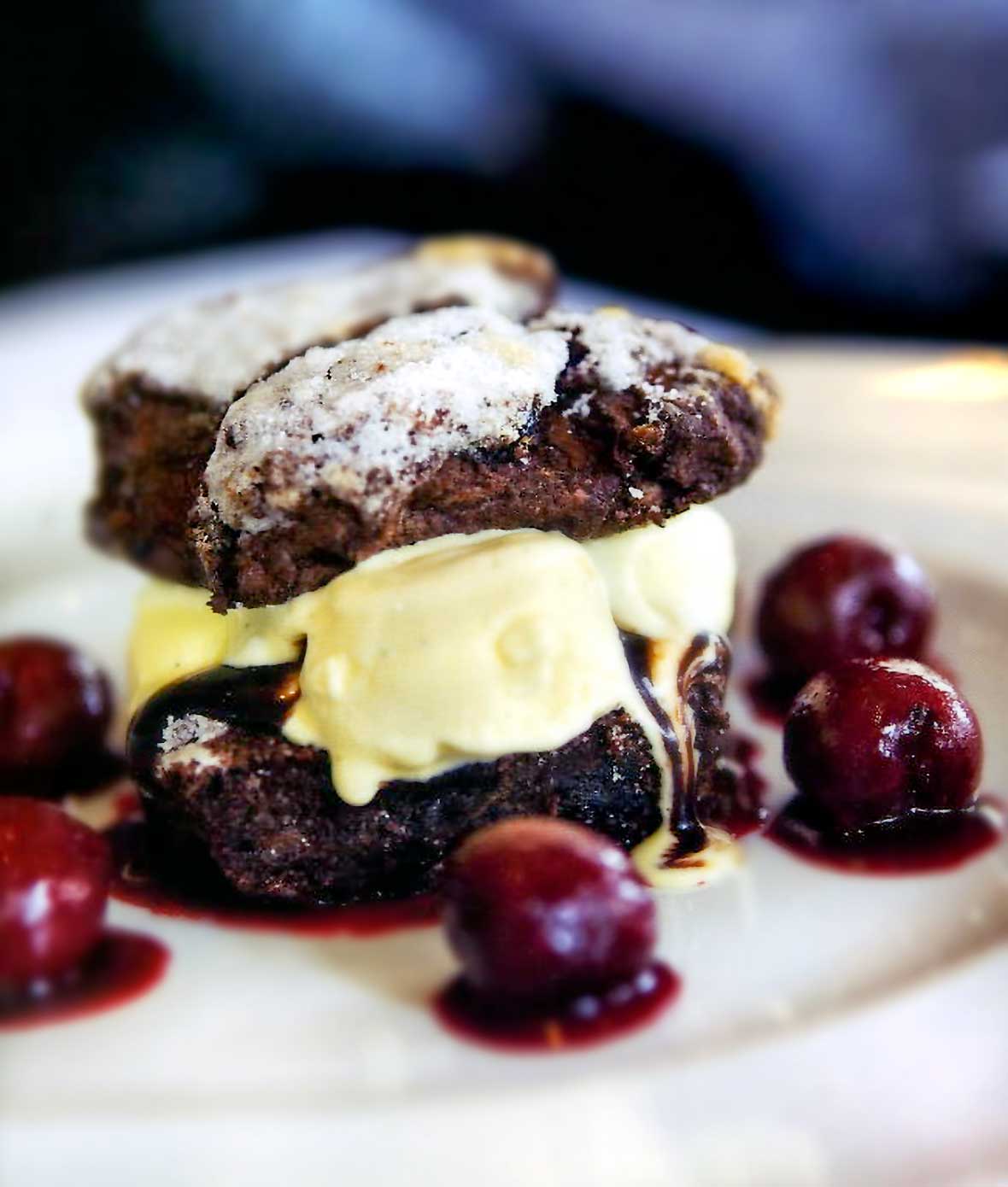 We're delighted by the slightly retro idea of cherries jubilee, which we've updated and refreshed to take advantage of gorgeous California Bing cherries. The warm cherries jubilee, served with these naughty biscuits, is the ideal chocolate-and-cherry moment. The only possible way to improve on this moment is to bring the chocolate biscuits to the table just baked, when their chocolate aroma and ethereal texture are at their finest. Once you've tasted them hot from the oven, it will be hard to serve them any other way.
Every brand of chocolate has its own distinct flavor, texture, and color. Most pastry chefs are devoted to certain chocolate brands and develop recipes using their favorites. Because these biscuits are almost pure chocolate, their flavor depends completely on the chocolate you use. When it comes to cocoa, as far as we're concerned, Valrhona sets the standard. However, whichever brand of cocoa you use, make sure it's Dutch-processed, which neutralizes the chocolate's natural acidity and provides the cocoa with a darker, more chocolaty flavor.
Bittersweet chocolate chips are essential and, again, we recommend Valrhona. They make bittersweet chocolate pistoles, which are like large chocolate chips that we find are easier to measure and melt. For these shortcakes, we just put the whole pistoles right into the mix with the dried ingredients. If you can't find pistoles, cut a block of semisweet chocolate into nickel-size pieces. We like using big, meaty dried Bing cherries in the biscuits, but dried sour cherries are a good substitute.
The biscuits recipe yields 9 biscuits, 8 dessert servings plus an extra biscuit for the cook. They may be made 4 hours ahead and rewarmed before serving.–Nancy Oakes and Pamela Mazzola
Chocolate Cherry Shortcakes
Quick Glance
1 H
3 H, 30 M

Serves 8
Print Recipe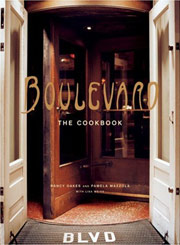 Ingredients
Email Grocery List
For the chocolate cherry biscuits

2 cups self-rising flour

1/2 cup Valrhona or other Dutch-processed cocoa powder

1/2 cup sugar, plus additional for dipping

1/4 teaspoon kosher salt

1 cup dried Bing cherries or dried sour cherries

1 cup Valrhona (or other premium) bittersweet chocolate chips, or nickel-size pieces chopped bittersweet chocolate

2 cups heavy cream

6 tablespoons unsalted butter, melted

For the cherries jubilee

3 cups fresh Bing cherries, halved and pitted

1/3 cup plus 2 tablespoons kirsch

1/2 cup sugar

3 tablespoons fresh lemon juice

1/2 cup brandy

2 tablespoons unsalted butter

For the vanilla ice cream

1 vanilla bean

2 cups heavy cream

1 cup whole milk

2/3 cup sugar

5 large egg yolks
Directions
Make the biscuits

1. Preheat the oven to 400°F (200°C). Stir the flour, cocoa, sugar, and salt together in a large bowl until well combined, then stir in the dried cherries and chocolate chips. Add the cream and stir until the mixture comes together into a somewhat stiff dough.

2. Turn out onto a clean cutting board and, with your hands, press the dough into a 6-inch square about 2 inches thick. With a long, thin knife, cut the dough into 9 (2-inch) squares.

3. Dip the tops of the biscuits into the melted butter and then into sugar, pressing lightly so it adheres. Place the biscuits 2 inches apart on an ungreased baking sheet. Bake for about 15 minutes, or until they're light gold and spring back when pressed lightly. Set aside at room temperature for up to 4 hours.

Make the cherries jubilee

4. Combine the cherries and the 1/3 cup kirsch in a bowl and let macerate for 30 minutes, tossing occasionally. Put half of the cherries, the sugar, and lemon juice into a saucepan and simmer over medium heat for about 5 minutes, or until the liquid begins to thicken.

5. Remove from the heat, add the brandy, and, averting your face, carefully ignite the brandy with a long match. Let burn for about 1 minute to burn off the alcohol, then extinguish the flame by covering the pan. Remove the lid and continue to simmer the cherry mixture until it reduces to a syrup.

6. With a slotted spoon, transfer the cherries to a bowl and reserve. Add the remaining 2 tablespoons kirsch to the syrup and set aside or refrigerate for up to 2 days (along with the reserved cherries in a separate container).

Make the ice cream

7. Split the vanilla bean in half lengthwise and scrape the seeds into a saucepan. Add the vanilla-bean pod, cream, and milk and cook over low heat, stirring occasionally, for about 3 minutes.

8. Whisk the sugar and egg yolks in a small bowl just to combine them, then whisk in some of the warm milk mixture until blended. Stir the sugar-and-egg-yolk mixture into the saucepan and cook over low heat, stirring constantly, until the custard coats the back of a spoon (when you draw your finger across the back of the spoon, there should be a visible trail that doesn't immediately flow back together).

9. Strain through a fine-mesh sieve into a container and chill thoroughly, at least 2 hours. Freeze according to the ice cream maker's instructions. The frozen ice cream should be stored in a tightly covered plastic or stainless-steel container. For the best flavor and texture, let it soften slightly at room temperature before serving.

To serve

10. Preheat the oven to 350°F (175°C). Split the biscuits and put into the oven for about 5 minutes, or until warmed through. Heat the cherry syrup in a small skillet over medium heat, add the reserved cherries and the 2 tablespoons of butter, and swirl the pan until the butter has melted and combined with the syrup.

11. Center a warm biscuit bottom on 8 dessert plates or shallow bowls and put equal spoonfuls of the cherries and their syrup on each, reserving a cup or so. Place on a biscuit top, followed by a scoop of ice cream. Dollop the remaining cherries and syrup around or to the side of the biscuits.
Chocolate Cherry Shortcakes Recipe © 2005 Nancy Oakes, Pamela Mazzola, Lisa Weiss. Photo © 2005 Maren Caruso. All rights reserved. All materials used with permission.
If you make this recipe, snap a photo and hashtag it #LeitesCulinaria. We'd love to see your creations on Instagram, Facebook, and Twitter.