Summer means a heck of a lot of different things to different folks. But we hear a lot of consensus from those of you wondering what to do with the overwhelming abundance of zucchini in your garden, at your farmers market, perhaps even on your front porch left by sneaky neighbors (see "in your garden"). Here's what to do with your ephemeral abundance.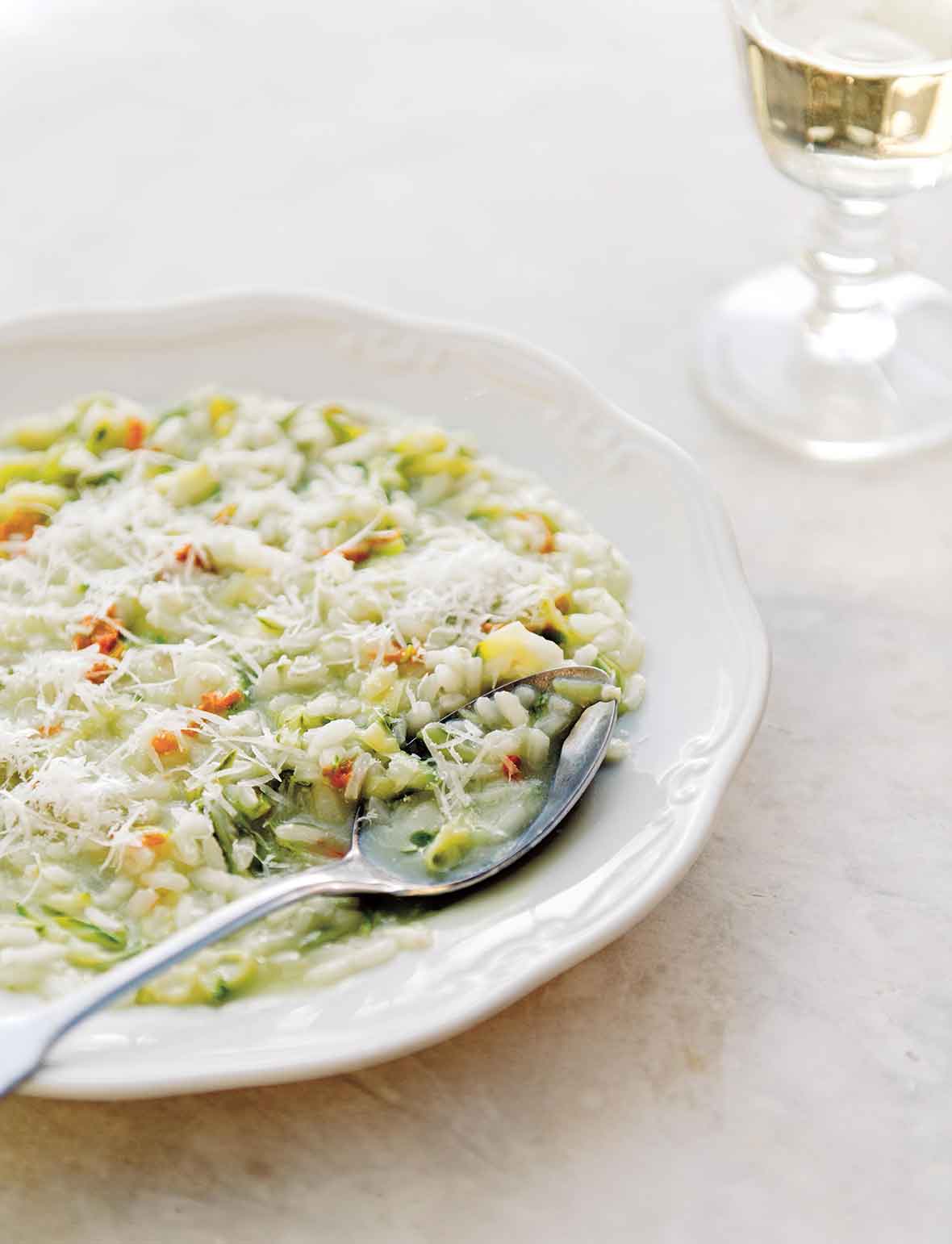 This creamy zucchini risotto manages to feel indulgent and virtuous all at once.
Recipe
This zucchini strata with ciabatta and basil is a wonderful brunch, lunch, or light vegetarian dinner.
Recipe
This recipe is full of fresh flavors and takes no time to make, it's bursting with fresh herbs, salty capers, rich butter, and cheese! 
Recipe
This zucchini slaw–made with thinly sliced zucchini, summer squash, bell pepper, and scallions–can turn out two ways: one with mayo, another with vinaigrette. You'll never give zucchini away again.
Recipe
This old-fashioned zucchini cake, made in a Bundt pan with plenty of summer squash, walnuts, and cinnamon, still appeals to a contemporary crowd with its moist crumb and sweet but not-too-sweet glaze inflected with vanilla or lemon.
Recipe
These pickled zucchini, preserved with Champagne vinegar, celery seeds, tumeric, onions, are easy to make, not too sweet, and can be used just like cucumber pickles.
Recipe
These zucchini crisps are made with summer squash, flour, salt, and oil for frying. An easy summer side dish or little nibble with drinks.
Recipe
This indulgently creamy, macaroni and cheese with zucchini has three types of cheese and just the right amount of crunch from the garlicky brown butter bread crumbs. It's likely no one will even notice the vegetables that are hidden in there.
Recipe
This walnut zucchini bread is the real deal, folks. Made with whole wheat flour, honey, walnuts, and zucchini, this healthy loaf is a perfectly respectable breakfast (or pleasant distraction) at any time of the day.
Recipe
Simple, easy, and healthy. What more could you want from a summer side?
Recipe
© 2020 Leite's Culinaria. All rights reserved. All materials used with permission.