I'll be the first to admit you'll never catch me firing up the old Weber just to cook vegetables. (We Portuguese ain't big on veggies as sides; we prefer them in our soups.) But The One is a huge fan. He can make a whole meal of vegetables. Imagine.
But if the grill's cranking away with burgers, ribs, or chicken, I'll definitely toss on some meaty mushrooms, sweet corn, or strips of marinated eggplant. I'm not a caveman, after all.
I love the smokiness that infuses the veggies when they're grilled, and I find the charred edges and bits and bobs irresistible. Something you can't pull off in the oven.
Plus–and it's a big plus–the kitchen stays cool, and I have fewer dishes to wash. Because the only thing I like less than a pile of healthy veggies is cleaning up.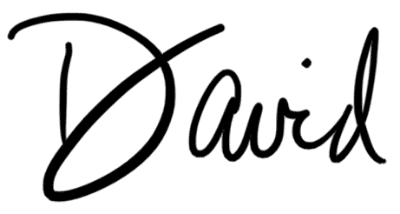 Easy Grilled Vegetable Salad
Feel free to swap in your favorite veggies in this easy grilled vegetable salad.
Recipe
Grilled Vegetable and Goat Cheese Sandwiches
These grilled vegetable and goat cheese sandwiches have everything going for them. Toasted ciabatta bread, tender grilled vegetables, creamy goat cheese, and a tangy balsamic vinaigrette.
Recipe
I've been making this sandwich for quite a while, starting when I went vegetarian for several years. I still choose it over grilled meat much of the time since it's crazy delicious.

While the directions look fussy, the individual components come together easily. Try this sandwich, it's really good.

roberta
Grilled Portobello Mushrooms
Dense and meaty, portobellos are great on the grill. These would be heavenly with slow-cooked and charcoal-grilled beef rib. They also work well as a vegetarian main, and are naturally gluten-free and low carb.
Recipe
Grilled Zucchini with Mint Salsa
This is a perfect side dish for times when you're firing up the grill for other items on your dinner menu. Grilled zucchini are great when served warm or even at room temperature, so if you're going to be grilling other items as well, we recommend grilling the zucchini first.
Recipe
I had some zucchini to use up so I made this grilled zucchini yesterday and it was amazing! I did end up grilling them a little longer than what the recipe suggested but that was fine, it was a beautiful night to grill.

As lovely as the zucchini turned out…..that mint salsa is off the charts delicious!!!! You do yield a fair bit of salsa but that doesn't really matter, the salsa can accompany many other things besides zucchini.

aryn s.
Grilled Vegetable Skewers
These grilled vegetable skewers with harissa-marinated halloumi are made with pieces of grilled pepper, mushroom, asparagus, and onion interspersed with chunks of grill-friendly Greek cheese tossed in a spicy paste. Here's how to make them.
Recipe
Grilled Butternut Squash
This grilled butternut squash with brown sugar is sweet and spicy and will surprise and satiate.
Recipe
I LOVED the marinade on this grilled butternut squah – olive oil plus coconut sugar and salt and pepper is a total win. This recipe gave us a way to use our butternut squash when our oven broke!

kate
Grilled Corn on the Cob
This one's a backyard party classic that I've put a new spin on. Corn on the cob is cooked in the husk, then slathered with plenty of cilantro-lime pesto.
Recipe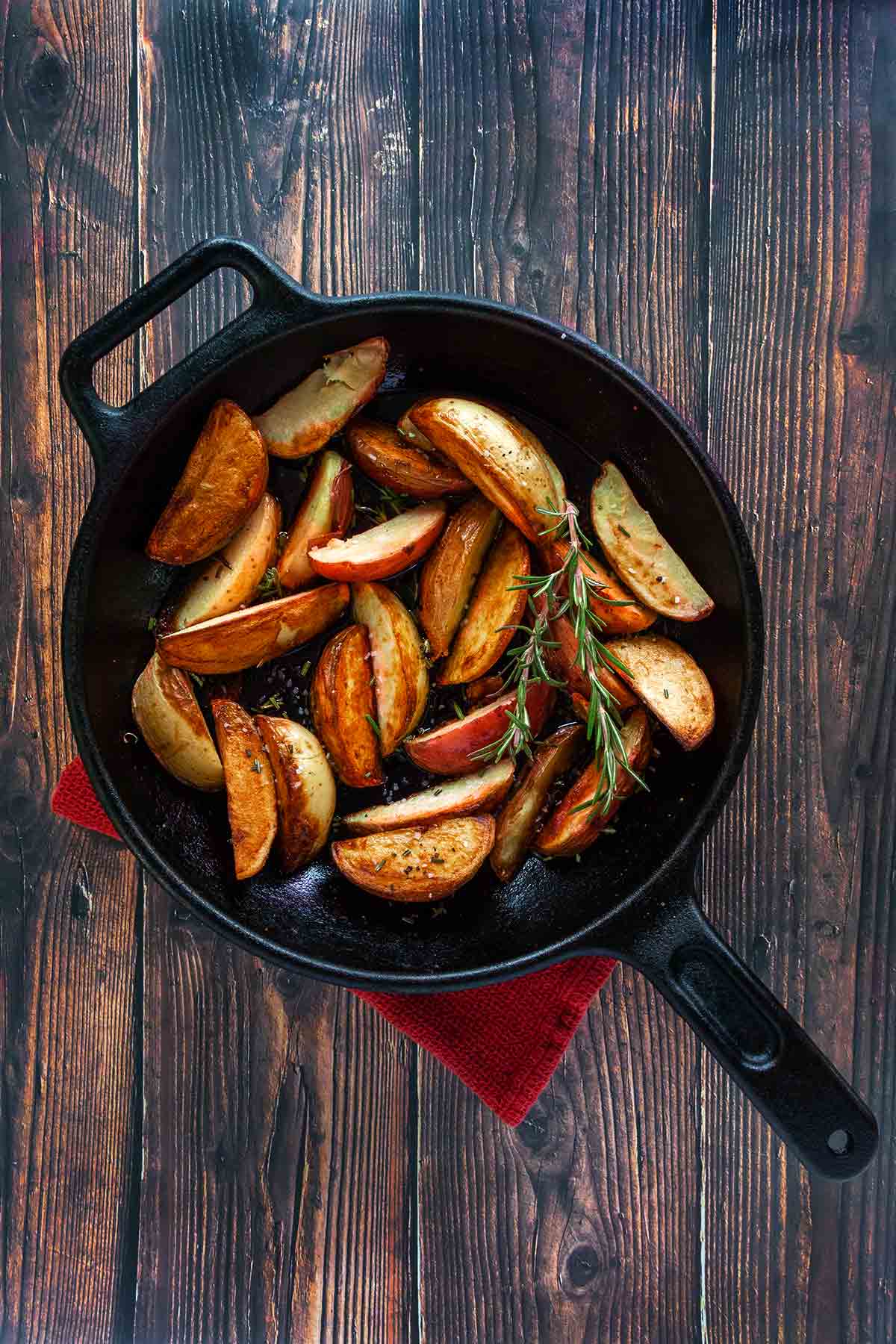 Roasted Potatoes on the Grill
These grilled potatoes are a cinch to make–simply potatoes, garlic, oil, and rosemary—that turn crispy on the outside, blissfully tender on the inside.
Recipe
Just got done making these roasted grilled potatoes, and they were so delicious! Best ever! I didn't think it was possible, with only 5 ingredients, but it was so packed full of flavor.

My little girls loved it so much, as do I. I did crowd the potatoes, so I got very crispy ones along with softer ones, which I didn't mind one bit. Thanks so much for an outstanding recipe.

nancee
Grilled Carrots
Grilled carrots. They're easy and quick and gonna revolutionize your weeknight side dish situation. Seriously. They're a backyard grilling game-changer.
Recipe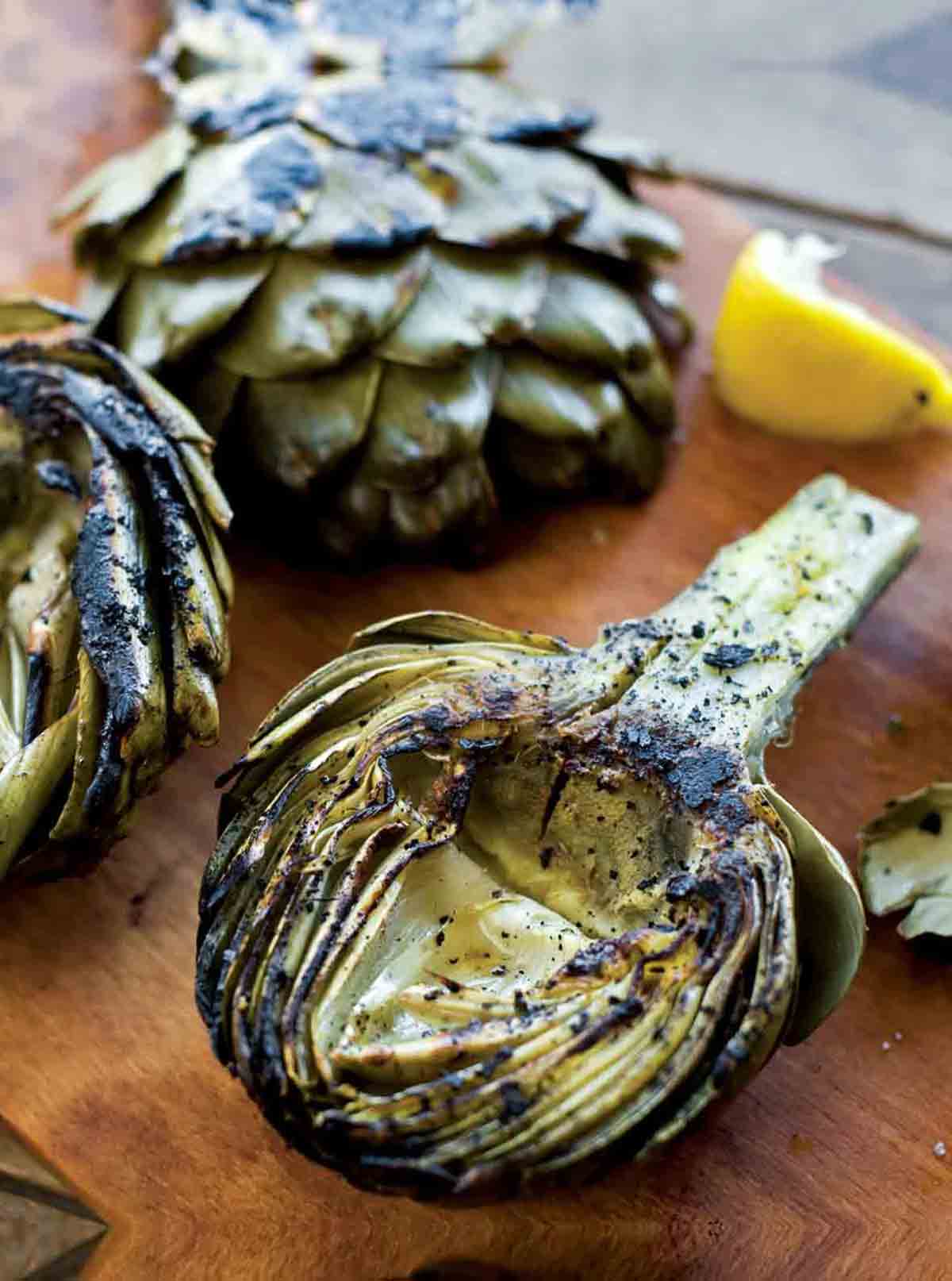 Grilled Artichokes
These grilled artichokes with pepper and lemon are just as lovely served alone as they are with your best dipping sauce. A simple, surprising, impressive appetizer or side that's easy and, thankfully, doesn't heat up the kitchen.
Recipe
My husband and I dusted off the grill and made these grilled artichokes for dinner with grilled chicken thighs. Delicious! They were crisp, juicy, tender, and cooked pretty much perfectly.

davina l.
Grilled Broccoli or Broccolini
This grilled broccoli recipe, made of broccoli florets or broccolini and olive oil, takes on a smoky flavor. Swell on its own or, since you already have the grill going, with grilled meats.
Recipe
Grilled Panzanella Salad
This grilled panzanella is a riff on classic Tuscan bread salad, an Italian staple that tosses day-old bread with tomatoes and olive oil. It tastes spectacularly complex for something so simple. And just wait'll you try this version with grilled bread. No waiting for bread to go stale. Still frugal. And fabulous.
Recipe
I had never heard of panzanella before, but I love each and every one of the ingredients in this recipe so trying it was a no-brainer. I adored it, as did my partner!

vera
Grilled Vegetable FAQs
should you marinate vegetables before grilling?
You don't have to, but a simple marinade will elevate the flavor of your grilled vegetables. Try using a grilled vegetable marinade of balsamic vinegar, oil, and garlic, or whip up a batch of Greek marinade for a fresh, herb-forward flavor.
how long should you marinate vegetables before grilling?
It depends on the type of vegetable. You can marinate hard vegetables such as carrots, beets, and potatoes for up to 24 hours. Firm vegetables, like peppers and beans, benefit from a leisurely 30 to 60-minute soak, while soft vegetables like mushrooms or eggplant need only 10 minutes.
which vegetables work best on skewers?
Whether you want to thread some veggies onto your chicken skewers or just make vegetable skewers on their own, it's important to choose vegetables that have similar cooking times. Mushrooms, cut pieces of onion and bell pepper, and asparagus or scallion pieces all work well. Avoid vegetables that take a long time to cook, such as potatoes or carrots.