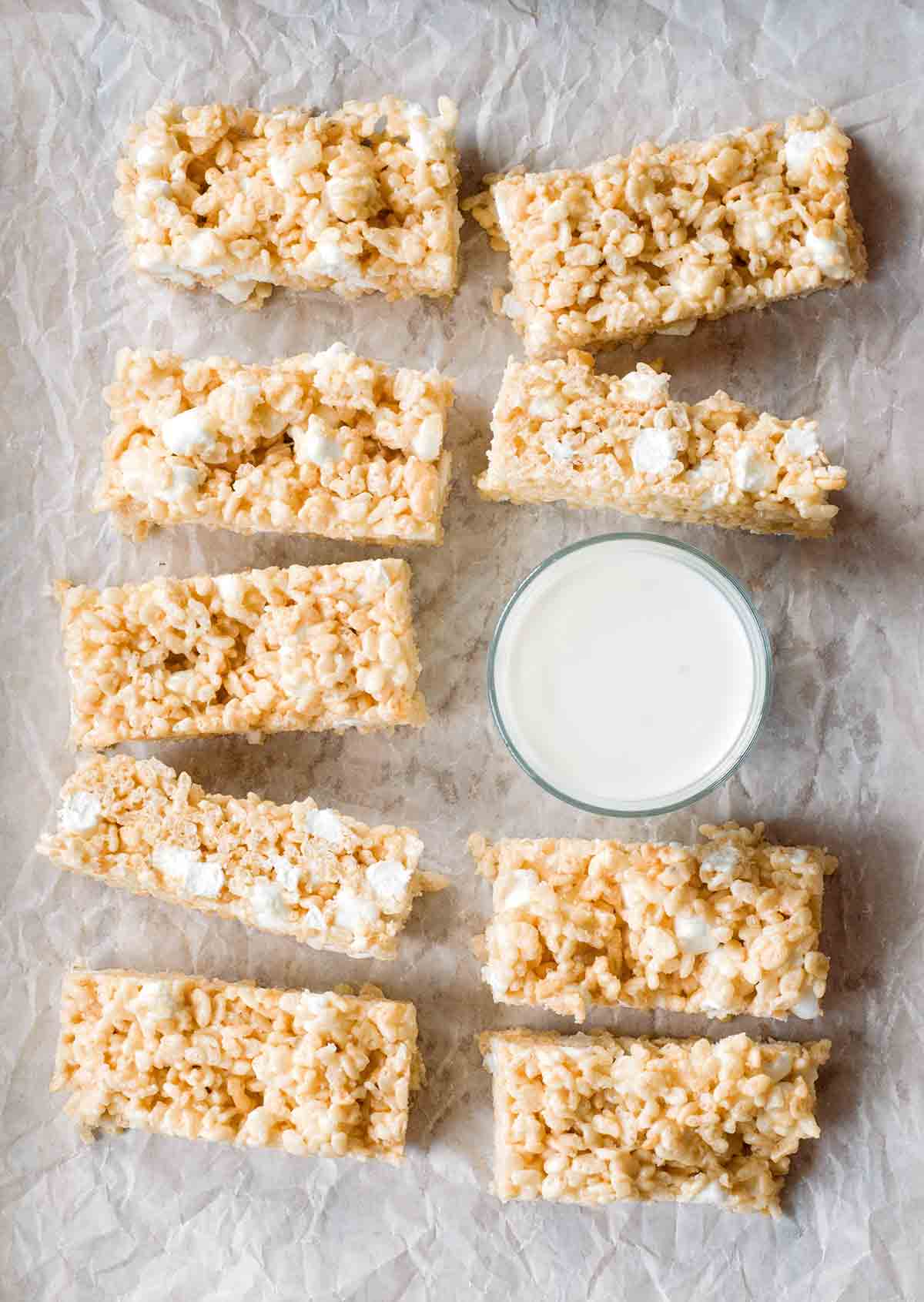 These are the big, fat, chunky rice cereal treats that you see for sale at bakeries and coffee shops, only these are so much better because they're fresh, buttery and full of both swirls of melted marshmallow and pockets of marshmallow pieces. Take your time with the brown butter to make sure you get the deepest flavor, but don't take a phone call or multitask because browned butter goes from perfect to burnt in a matter of seconds. I also like a little hit of maple extract here to complement the browned butter, but it's optional!
Don't skip the bit of sea salt on top for an elegant finish. Also, this might seem a little fussy, but I do think the best treats come from an unopened box of cereal and very fresh marshmallows that aren't sticking together in the package. I know, I know, it's fussy, but I think you'll be pleased if you make them just right.–Erin Mylroie
Brown Butter Rice Krispies Treats
These brown butter rice krispies treats are a glammed-up version of the kid classic made with brown butter, whole as well as melted marshmallows and a sprinkle of sea salt.
Ingredients
1

stick (4 oz)

unsalted butter

,

plus more for the pan

Two

(10-ounce)

bags miniature marshmallows

1

teaspoon

vanilla extract

1/2

teaspoon

maple extract (optional)

1/2

teaspoon

sea salt

9

cups

crisp rice cereal

Coarse or fine sea salt

,

for finishing
Instructions
Slick your pan with butter. If you prefer thinner rice krispies treats, use a jelly roll pan.If you prefer thicker rice krispies treats, use a 9-by 13–inch (23-by 33–cm) pan, preferably one that has straight sides and not rounded corners.

Place 1 bag of your miniature marshmallows in the freezer. It'll be in there for less than 10 minutes.

☞ TESTER TIP: This isn't the time to use up that old bag of marshmallows lurking at the back of the pantry that are all stuck together. Fresh marshmallows will be easier to distribute throughout the treats.

In a large pot over low heat, melt the butter. Increase the heat to medium-low so the butter melts, then foams, then turns a medium golden brown with brown specks. This should take somewhere in the vicinity of 4 minutes. Watch the butter carefully because you don't want any burned black specks.

Turn off the heat and add the room-temperature bag of marshmallows. Stir until the marshmallows are smooth, 2 to 3 minutes. If the marshmallows don't fully melt, return the pot to very low heat and stir until fully melted.

Stir in the vanilla extract and, if using, the maple extract. Then stir in the salt. Quickly add the rice cereal and stir until well blended. Remove the marshmallows from the freezer and quickly stir them into the mixture. You want the frozen marshmallows to melt just a little but remain mostly intact.

Using slightly damp hands, gently press the treats into the prepared pan.

☞ TESTER TIP: If you happen to have a second pan that's the same size as the one you used for the treats, slick the bottom with butter and use it to evenly press the treats into the pan.

Sprinkle the top with a little sea salt. Let the treats rest for at least 90 minutes at room temperature so they have a chance to firm. Spray your knife with cooking spray or slick it with butter before cutting the treats into squares. Leftover treats (if there is such a thing) can be individually wrapped and frozen.
Nutrition
Serving:
1
bar
Calories:
136
kcal
Carbohydrates:
25
g
Protein:
1
g
Fat:
4
g
Saturated Fat:
2
g
Polyunsaturated Fat:
1
g
Monounsaturated Fat:
1
g
Trans Fat:
1
g
Cholesterol:
10
mg
Sodium:
68
mg
Potassium:
11
mg
Fiber:
1
g
Sugar:
14
g
Vitamin A:
118
IU
Calcium:
3
mg
Iron:
1
mg
Nutrition information is automatically calculated, so should only be used as an approximation.
Recipe © 2020 Erin Mylroie. Photo © 2020 Ekatarina Smirnova. All rights reserved.
---
Recipe Testers' Reviews
This is a great riff on the traditional rice krispies treats. The addition of the brown butter and sea salt gives it a touch of complexity while still being familiar and fun and something that would appeal to both adults and kids. These are just so simple to come together for anyone who wants to make a tasty treat with minimal effort with the additional benefit of no oven necessary.
The cold marshmallows did melt a little but very much remained intact. My one issue with this recipe was the amount of whole marshmallows added. Perhaps I just wasn't working fast enough, but I found it difficult to incorporate the amount of marshmallows into the rice krispies mix and it led to large clumps of whole marshmallows throughout the mixture. After setting, the areas with more whole marshmallows was softer than those without. If I were making again, I would use either half or three quarters of the whole marshmallows. I made 12 large squares but could definitely make 24 smaller squares for a treats table or if you want to share more.
Why, oh why, did I not think of using brown butter in rice krispie treats before now??? I LOVE it in my brownie recipe so why not where it will shine in the relatively bland cereal treat?!? I think I will never look at a rice krispies treat the same way again! And the frozen marshmallows that ensure you get chunks of real marshmallowey goodness in each bite? Genius! And, of course, that small hit of sea salt crunch before the sweetness kicks in is just the topping on this already decadent treat.
I would advise that if you have the chance, get FRESH marshmallows from the grocery store right before making these. I happened to have a couple bags in my pantry that I decided to use but they were somewhat sticky. For the melted ones, it didn't matter so much but the frozen ones were a bit tricky to evenly spread into the mixture and would have benefitted from being from a new bag.
I used a half-sheet pan for my treats and utilized a second (identical size) pan with the bottom sprayed with vegetable spray to press the treats into the pan. This worked very well (and is something I have used in the past with larger sheet pans). Start to finish, hands-on time for this was about 15 minutes, so it's a very quick recipe.
I was afraid that there wouldn't be enough melted mixture to coat the cereal, but after adding the frozen marshmallows it was the perfect amount of gooey. After 90 minutes the treats were still soft but set enough to cut. After cutting (and eating one!) I did allow them to set overnight (about 8 hours) before separating them the rest of the way and putting them into a container.
They were a huge hit with my family and with the local sheriff's department who we shared them with and will definitely be on my "quick make" treats list!
These brown butter rice krispies treats are a delightful variation on the original. The brown butter gives a nice nuttiness. I used Maldon sea salt for finishing the top and would definitely recommend flaky sea salt.
As a household of two, we have a hard time eating a batch of crispy rice treats before their quality begins to diminish, so I usually cut them into squares, individually wrap them in plastic wrap, and put them into a freezer bag in the freezer. They thaw in mere minutes and taste nearly as delicious as the very first day. These worked well with this method, too.
For full transparency, I bought the wrong cereal for this recipe (puffed rice instead of crispy rice) but nonetheless it was delicious and once the remaining ones are gone, I'm looking forward to making it again. The salt both within and on top of the bars brought out the browned butter. It made me feel like a kid again while eating them.
The marshmallows never got fully smooth after adding them into the browned butter without the use of additional heat. Next time, I'll make sure to use a larger bowl and keep the marshmallows over the heat longer to fully melt. The frozen marshmallows remained mostly intact as in the photo. Because I messed up with the rice cereal, my bars never got fully firm after any amount of time.
Marshmallow has been my go-to dessert flavor for as long as I remember, with chocolate being a close second. I couldn't resist the idea of an "adult" version of the iconic crispy treat. As suggested, I purchased fresh marshmallows and a box of rice cereal so everything was super fresh. Luckily, I had maple flavoring, along with the remaining ingredients, so everything fell into place.
I went for the thick version of this treat, using the 9-by-13-inch pan which I lined with nonstick foil and lightly buttered. I used a large Dutch oven to make the marshmallow so I could mix everything in one pot and it worked perfectly.
I followed the process as written while enjoying the heavenly marshmallow scent filling the kitchen. I used the maple flavor, and it made the perfect complement—in fact, no one even guessed there was maple in it.
The frozen marshmallows stayed intact in the finished mixture and were very noticeable in the finished bars. I left the top bumpy and uneven for visual interest, and only pressed it LIGHTLY into the pan as I wanted to avoid having them be too stiff and flat. I used a finer sea salt grind so that there wouldn't be any concern about weird texture. It made the perfect finish and enhanced the flavor perfectly. Don't skip it.
Everything about this is super easy. Note that these aren't saturated with marshmallow. There's just enough of the melted marshmallow to keep them stuck together. No gumminess or greasy taste. Just crispy sweetness. I removed the bars using the foil, and then used a large cleaver to cut them on a cutting board. I didn't need to spray my knife–it worked just fine.
Because the smaller pan created really thick bars, I wouldn't recommend cutting smaller than 2×2, or they will be top heavy and awkward looking. For more bars, use the sheet pan. I easily got 24 bars, and if you cut them bake sale style, you might only get 12. The upside is you can really get as many as you need of various sizes.
Don't skip on the maple flavor for the extra somethin-somethin!!
These brown butter Rice Krispies treats are the best I've ever tasted! The combination of the browned butter, maple extract, and sea salt are a marriage made in heaven. This was a delicious and easy-to-follow recipe.
Keep an eye on that butter while it's browning- the whole process took about 10 minutes for me with constant stirring but the results are well worth it. The author notes that you should use fresh crispy rice cereal and I happen to agree, it's not persnickity at all.
I prefer a chunkier crispy rice treat, so I made this recipe in a 9-by-13-inch pan, which perfectly accommodated the 9 cups of crispy rice cereal and two 10-oz miniature marshmallows. Because the 2nd bag of marshmallows is frozen, they do take up a bit more real estate in the pan compared to the melted ones (they stay in shape after adding to the pan). Don't underestimate the size of the pot you will be using on the stovetop, a wider large pot will make it easier to stir and incorporate the ingredients.
I recommend going the extra step to find maple extract (I used McCormick brand) as it adds a unique and wonderful complement to the browned butter. Try hard not to dive into these treats until after their 90 minute setting period. In fact, my treats ended up looking exactly like the ones in the recipe photo. The treats firm up nicely and won't fall apart in your hands. As an added bonus, your house will smell amazing!
Select a Tester
These brown butter Rice Krispies treats were delicious! They had a chewy, slightly firm texture that made biting into them a pleasure. I really liked the combination of sweet and salty and the way it enhanced this classic dessert.
The only finicky part to this recipe is browning the butter to the right medium golden brown color. The brown butter adds a level of complexity to a sugary, sweet dessert so it's important not to rush past this step. Once you get past that step, it all comes together effortlessly.
I stored the leftovers in wax paper and they lasted a few days without getting hard. It definitely makes enough to share.
The recipe uses the word "quickly" to indicate both the speed of stirring in the rice krispies and the frozen marshmallows. I didn't do either step particularly quickly. For the rice krispies, I needed to measure out my 9 cups, so that wasn't expedient. And for stirring in the frozen marshmallows, I used a 5-quart pot to make the recipe, and after adding the frozen marshmallows, there was no way I could stir quickly without marshmallows jumping out of the pot. Despite my limitations in quickness, the recipe came together without a hitch. So, either you don't need to move that quickly or my regular speed is quick enough.
This recipe makes a big, beautiful pan of brown butter Rice Krispies treats.
I used a 9-by-13-inch pan and lined it with parchment paper overhanging the edges so that I could lift the treats out of the pan and slice them easily. The whole recipe took just over 15 minutes to prepare.
Use a big pot. I started with a medium one and needed to dump everything into a large bowl to mix in the chilled marshmallows. My daughter loved the extra gooeyness from the whole mini marshmallows. Sea salt is a must—it really helps offset the sweetness.
Since marshmallow treats are one of my husband's favorites, he could eat half a pan at once, but I would say it serves 16.
Somehow I've ended up making rice crispy treats more in the last 2 weeks than I have in my entire life, but I'm not mad about it. These take the one note (i.e., sugar) flavor of the classic and up the ante with a variety of flavors and textures while managing to not add significant extra time to the process. At 12 minutes from turning on the stove to packing them into the pan to cool, it's hard to make the argument for why you shouldn't be making them. The browned butter gives a subtle toasty nuttiness to the bars, which is really brought out by the salt. I had never had rice krispies treats where whole marshmallows were mixed in, but you certainly can't go back after you've tried it.
The only part that will trip people up is the lack of clarity about how big your pot should be. USE THE BIGGEST ONE YOU HAVE. Preferably at least 8 quarts. I started with a 6-quart stockpot, which wasn't enough once I had to stir the chilled marshmallows. I quickly transferred everything to the giant bowl I typically use for preparing stuffing at thanksgiving (10 quarts) and that was enough space to fold the mixture together. Not wanting to unhinge my jaw, I opted for using a jelly roll pan (10-by-15-inch pan) and, while not perfectly flush with the rim when packed down, they did fit. I found it easiest to flip the entire thing over onto my cutting board to slice and added a little extra salt sprinkle to the flipped side.
100% recommend.