Grilled Butternut Squash
This grilled butternut squash with brown sugar is sweet and spicy and will surprise and satiate.
Recipe
Butternut Squash Quiche
Butternut squash quiche is an easy and elegant solution to the question of what's for winter holiday brunch. We can't decide which we like more—the jewel-toned hues or the velvety texture or the rich savoriness drawn from brown butter, sage, and roasted butternut squash.
Recipe
Butternut Squash and Whole Grain Salad
This butternut squash and whole grain salad recipe is made with spices, freekeh or brown rice or farro, and radicchio. It's lightly sweetened with dates and tossed in a simple lemon and oil dressing.
Recipe
Roasted Acorn Squash with Maple Syrup
The name says it all. Acorn squash is sliced into wedges, drizzled with olive oil and maple syrup, and roasted. A simple, sweet, dare we say elegant cold-weather side dish.
Recipe
Roasted Squash with Chile and Honey
This roasted squash with chile and honey is served with sweet and spicy soy roasted tofu, sesame seeds, and scallions. An easy, healthy side or vegetarian main dish.
Recipe
Kale, Butternut Squash, and Farro Salad
This very simple salad full of kale, roasted squash, and warm grains is a delightful meal on its own or with cheese sauce splashed over the top, or with fried eggs. Alternatively, serve it as an accompaniment to sausages or roasted meat.
Recipe
Butternut Squash and Parmesan Tart
This butternut squash and Parmesan tart is made with a tender spelt crust and a creamy squash, egg, red onion, and cheese filling. It's an elegant brunch or lunch that will earn you endless accolades.
Recipe
Roast Squash with Pistachios
This roast squash with pistachios is a simple and elegant way to gussy up plain old roasted winter squash. Simply add feta, a sprinkling of pistachios, a drizzle of cumin oil, and voila, your side dish just became a star.
Recipe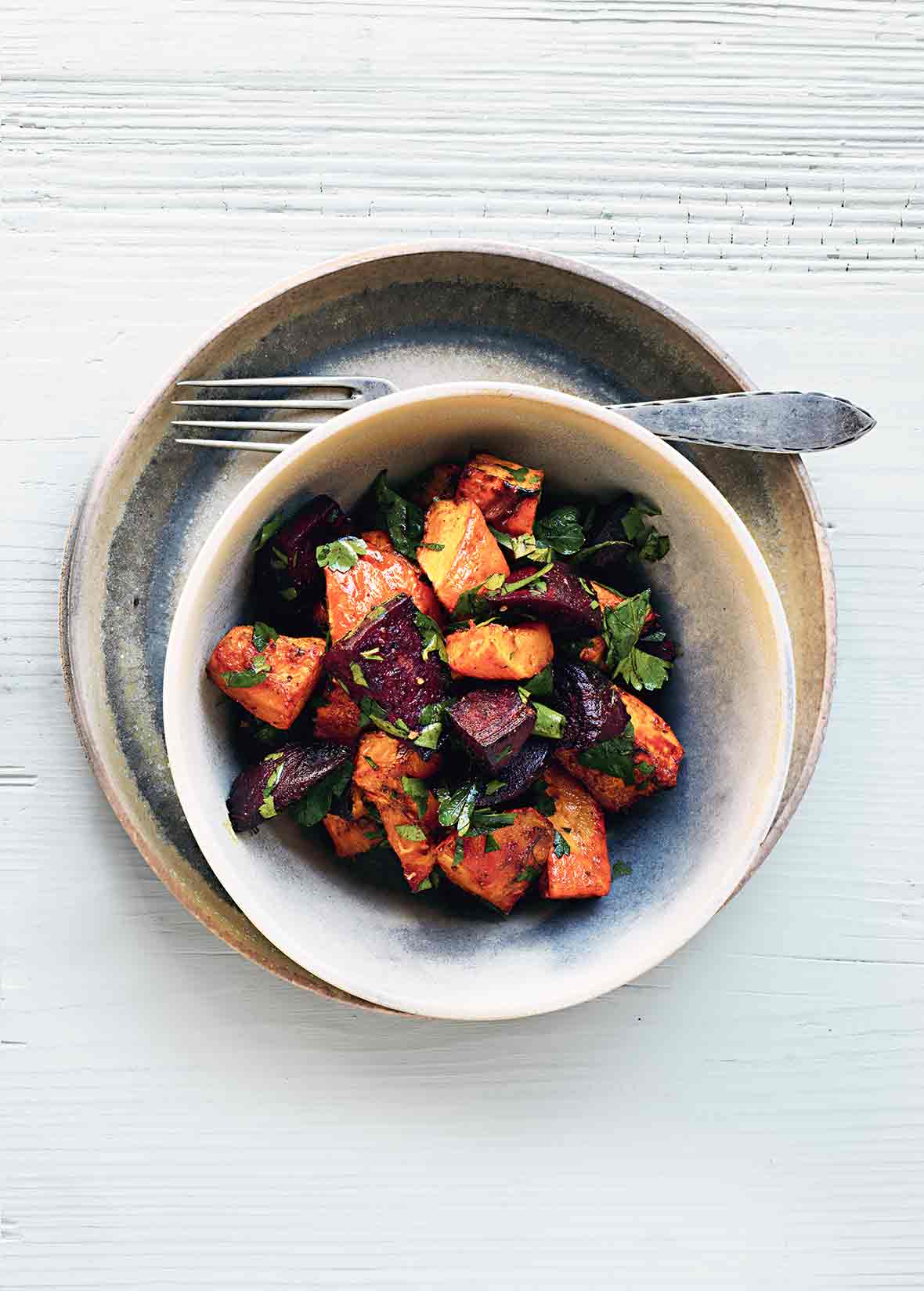 Curried Butternut Squash and Beets
Simple roasted squash and beets are elevated to entertaining-worthy status with the addition of hot curry powder, lime juice, and cilantro.
Recipe
Roasted Butternut Squash Soup
This butternut squash soup, made easy by blending roasted winter squash with sage and drizzled with heavy cream or crème fraîche, is quick, easy, and healthy. Not to mention delicious. Consider yourself warned.
Recipe