You may never buy canned sauce again after preparing a batch of this homemade cranberry sauce, which takes just 30 minutes to make. Perfect with simple roast turkey, the tangy topping also pairs nicely with roast pork chops, steaks, and pan-fried fish.–Eliza Cross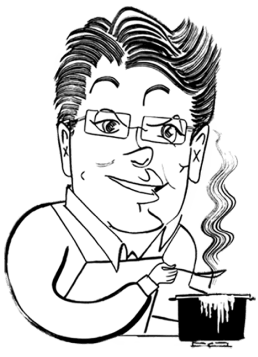 Why Our Testers Loved This
Our testers were smitten with the "vibrant red color" of this whole berry sauce, and loved that it was "sweet, tart, bright, and refreshing" along with being easy to prepare.
Notes on Ingredients
Cranberry juice–We use unsweetened cranberry juice in this recipe which makes a fairly tart sauce. If your preference is a slightly sweeter sauce, then use a cranberry cocktail or a sweetened juice.
Lemon zest–We love the flavor that lemon adds to the sauce, but cranberry also pairs incredibly well with orange, so feel free to substitute orange zest here.
Cranberries–Fresh or frozen is fine, but don't use dried.
How to Make This Recipe
Heat the juice. Combine the juice, sugar, honey, lemon zest, and salt in a saucepan and bring to a boil.

Cook the sauce. Toss in the cranberries and cook until they begin to break down.

Cool the sauce. Let the whole berry cranberry sauce cool to room temperature and serve or store in the refrigerator.
Recipe FAQs
What type of cranberry juice should I use?
It depends on how tart or sweet you'd like the resulting cranberry sauce to be. For those who prefer a bracing tartness in contrast to a rich meal, opt for unsweetened cranberry juice with no added sugar. If you care for a touch more sweetness, go ahead and make it with cranberry cocktail.
Can you freeze cranberry sauce?
Yes. Cranberry sauce freezes very well. Stash in resealable bags or airtight containers in the freezer for up to 2 months.
Can I make this in advance?
You bet. Since cranberry sauce is generally served at room temperature, it's an ideal side dish or condiment to make ahead. You can prepare this recipe up to 3 days in advance. Store in a sealed container in the fridge and bring to room temperature before serving.
Helpful Tips
The sauce will thicken as it cools, so don't be concerned if it seems a little runny after boiling.
If you're making this recipe with frozen berries, you don't need to let them thaw. Just give them a good rinse and toss them into your saucepan.
This recipe is suitable for gluten-free and dairy-free diets.
Write a Review
If you make this recipe, or any dish on LC, consider leaving a review, a star rating, and your best photo in the comments below. I love hearing from you.–David
Whole Berry Cranberry Sauce
This whole berry cranberry sauce, made with fresh cranberries and cranberry juice, is slightly tart and pairs beautifully with many turkey, chicken, or pork dishes. Easy to make ahead of time, too.
Ingredients
1

cup

unsweetened cranberry juice (preferably not cranberry cocktail or cranberry juice with added sugar)

1/2

cup

granulated sugar

1/2

cup

honey

2

teaspoons

grated lemon zest from 1 medium lemon

,

preferably organic

1/8

teaspoon

table salt

1

package (12 oz)

fresh or frozen cranberries
Instructions
In a medium saucepan over medium-high heat, combine the juice, sugar, honey, lemon zest, and salt. Bring to a boil, stirring frequently.

Add the cranberries to the saucepan and return the mixture to a boil. Reduce the heat to medium and cook, stirring often, until the cranberries begin to split and break down but still retain some shape, about 10 minutes.

☞ TESTER TIP: Don't be concerned if the sauce looks thinner than expected after boiling. It will become thick and jammy as it cools. Guaranteed.

Remove from the heat and serve warm, cool to room temperature, or cover and stash it in the fridge for up to 3 days.
Notes
Make in advance–This can be made up to 3 days in advance. Store in a sealed container in the fridge and bring to room temperature before serving.
Freezing–This sauce can be frozen in a sealed container or bag for up to 2 months. Thaw in the fridge overnight or at room temperature before using.
Change up your citrus–Swap in orange zest in place of the lemon zest.
Nutrition
Serving:
1
serving
Calories:
102
kcal
Carbohydrates:
27
g
Protein:
0.1
g
Fat:
0.1
g
Saturated Fat:
0.003
g
Polyunsaturated Fat:
0.02
g
Monounsaturated Fat:
0.01
g
Sodium:
30
mg
Potassium:
29
mg
Fiber:
0.1
g
Sugar:
27
g
Vitamin A:
11
IU
Vitamin C:
2
mg
Calcium:
3
mg
Iron:
0.1
mg
Nutrition information is automatically calculated, so should only be used as an approximation.
Recipe © 2017 Eliza Cross. Photo © 2017 Stacey Cramp. All rights reserved.
---
Recipe Testers' Reviews
Sweet, tart, bright, and refreshing—this recipe makes cranberry sauce at its finest. It comes together quickly and easily with minimal fussing. And there truly is nothing like ruby red cranberry sauce to bring color to the plate and provide a contrast to roasted meat. The honey was wonderfully aromatic while the mixture was cooking. There wasn't much honey flavor in the finished cranberry sauce.
I used frozen cranberries. I didn't thaw them before adding them to the boiling liquid. After 10 minutes at a simmer, most of the berries were completely broken down and the sauce was thin, but syrupy.) I cooled the sauce on the counter, which took quite a while. It could be served warm, which would shorten the total prep time. When the sauce was room temperature it was pretty much solid. I could turn the jar upside down and the sauce didn't pour out. (This is not a bad thing, I love thick cranberry sauce.
So far, I've only used the cranberry sauce as an accompaniment to mayo roast chicken, but I am looking forward to slathering some on a turkey and Swiss sandwich. And I'm dreaming about dolloping some on buttered toast for a twist on ordinary jam and toast at breakfast.
This cranberry sauce with whole berries is a vibrant ruby red cranberry sauce that is as delicious as it looks. Mixing honey and sugar gave it a subtle sweet flavor that was just enough for the tart cranberries and the lemon zest added a lovely citrus punch adding depth of flavor.
This would be wonderful with roast turkey or chicken or sous vide pork chops. But why wait for your meat to cook when you could slather it on crackers with a creamy Brie or tangy goat cheese? The possibilities are endless.
This was an easy recipe that produced an acceptable cranberry sauce, but one that was more tart than most. If I had to choose, I would pick a sauce that errs on the side of tartness than on the side of sweetness, but I believe I may well be in the minority on that.
The mistake I apparently made with the recipe was following it too closely. My grocery store carried a number of varieties of 100% juice cranberry juice; only one was pure unsweetened cranberry juice and that is the one I chose. Further research after I tasted my finished product indicated that most of the juices had a sugar content of 28 grams while the pure cranberry had only 18 grams. I think this difference was enough to skew the taste of the sauce.
The original sauce was used as a side dish with a pork roast. The remainder, with a small amount of sugar added, was a spread on cold pork sandwiches.
I would make it again, but probably using the regular blend known as cranberry juice.