Candied Sweet Potatoes
These candied sweet potatoes are basted in a sweetly spiced butter mixture and roasted until tender. A Southern classic.
Recipe
Inside-Out Sweet Potatoes
Inside-out sweet potatoes are, quite simply, the best thing to happen to Thanksgiving since sweet potato casserole.
Recipe
I'm 73, and these were always on the table for Thanksgiving growing up. My Mom always baked them just long enough to soften the marshmallow.

Diana
Bourbon Sweet Potato Pie
This bourbon sweet potato pie, filled with sweet potatoes, butter, cream, eggs, spice, and bourbon, is topped with a brown sugar streusel. Suddenly, Thanksgiving is even better.
Recipe
Roasted Sweet Potato and Feta Salad
This roasted sweet potato and feta salad is an easy way to get your veggies and enjoy them at the same time. Sweet potatoes and spinach mingle with feta cheese and a honey dressing to phenomenal effect.
Recipe
This recipe is so short and simple that even the worst cook in the world could throw it together and impress the harshest of critics. The combination of sweet, warm potato with the feta was, as always with such a duo, absolutely delicious.

Megan S.
Sweet Potato Soufflé
This sweet potato soufflé with pecans is an easy Thanksgiving side dish (or dessert!) that's simply sweet potatoes turned into a purée with some butter, sugar, vanilla and then buried beneath a satisfyingly buttery and not-too-sweet pecan and brown sugar streusel
Recipe
Where have you been all my life, sweet potato soufflé!? Somehow, I've missed this recipe for the PAST 10 YEARS. Well, no more.

This was a hit at the Thanksgiving table this year. The potatoes themselves aren't particularly sweet, but the topping…it's like eating a pecan pie. And together–potatoes and topping–are a perfect balance. We'll be making this every year from now on.

Tuck
Southern Sweet Potato Pie
Sweet potato pie is a classic holiday favorite in the South. A brown sugar pie crust holds the sweet, festively spiced, custard filling perfectly.
Recipe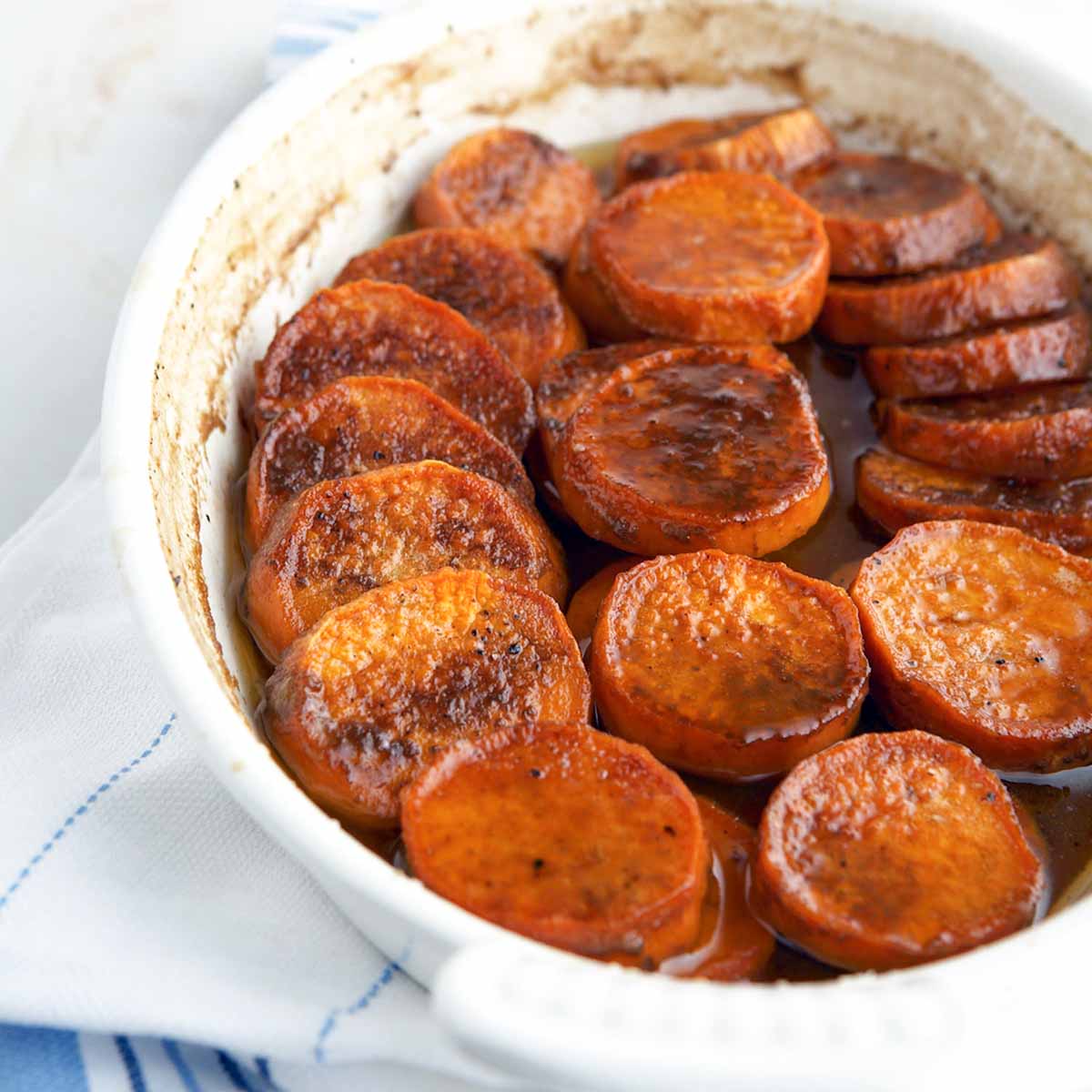 Bourbon Sweet Potatoes
Only a Southerner, inheritor of the infamous Southern sweet tooth, would add massive quantities of butter and sugar to sweet potatoes and still regard it as a vegetable. Add a shot of bourbon? No problem.
Recipe
These bourbon sweet potatoes were the BEST sweet potatoes I've ever eaten! And the party crowd thought so, too. As we started to leave, I went to collect my dish and saw there were about three slices left. I reached to pack it up, and the hostess said, "oh please don't take the potatoes!" Yeah, they were THAT good!

Gayle
Classic Sweet Potato Casserole
This classic sweet potato casserole recipe is made with marshmallows, half-and-half, spices, and sugar. Just like grandma's.
Recipe
Thanksgiving Sweet Potato Recipes FAQs
What's the difference between yams and sweet potatoes?
Although the terms are often used interchangeably, yams and sweet potatoes are different. Yams are starchy, with a brown exterior and light-colored interior. They're commonly grown in Latin America and Africa.

Sweet potatoes, which are what you'll usually find at the supermarket, have a reddish-colored skin and interior and are creamier than yams.