These sweet potato recipes offer something for literally everyone, whether you prefer your sweet potatoes roasted or puréed, sweet or spicy, casserole or cake, healthy or indulgent and, well, you get the idea.
This sweet potato soufflé with pecans is an easy Thanksgiving side dish (or dessert!) that's simply sweet potatoes turned into a purée with some butter, sugar, vanilla and then buried beneath a satisfyingly buttery and not-too-sweet pecan and brown sugar streusel
Recipe
These roasted sweet potatoes with Sriracha and lime are an easy side dish that requires only 10 minutes of effort. You're welcome.
Recipe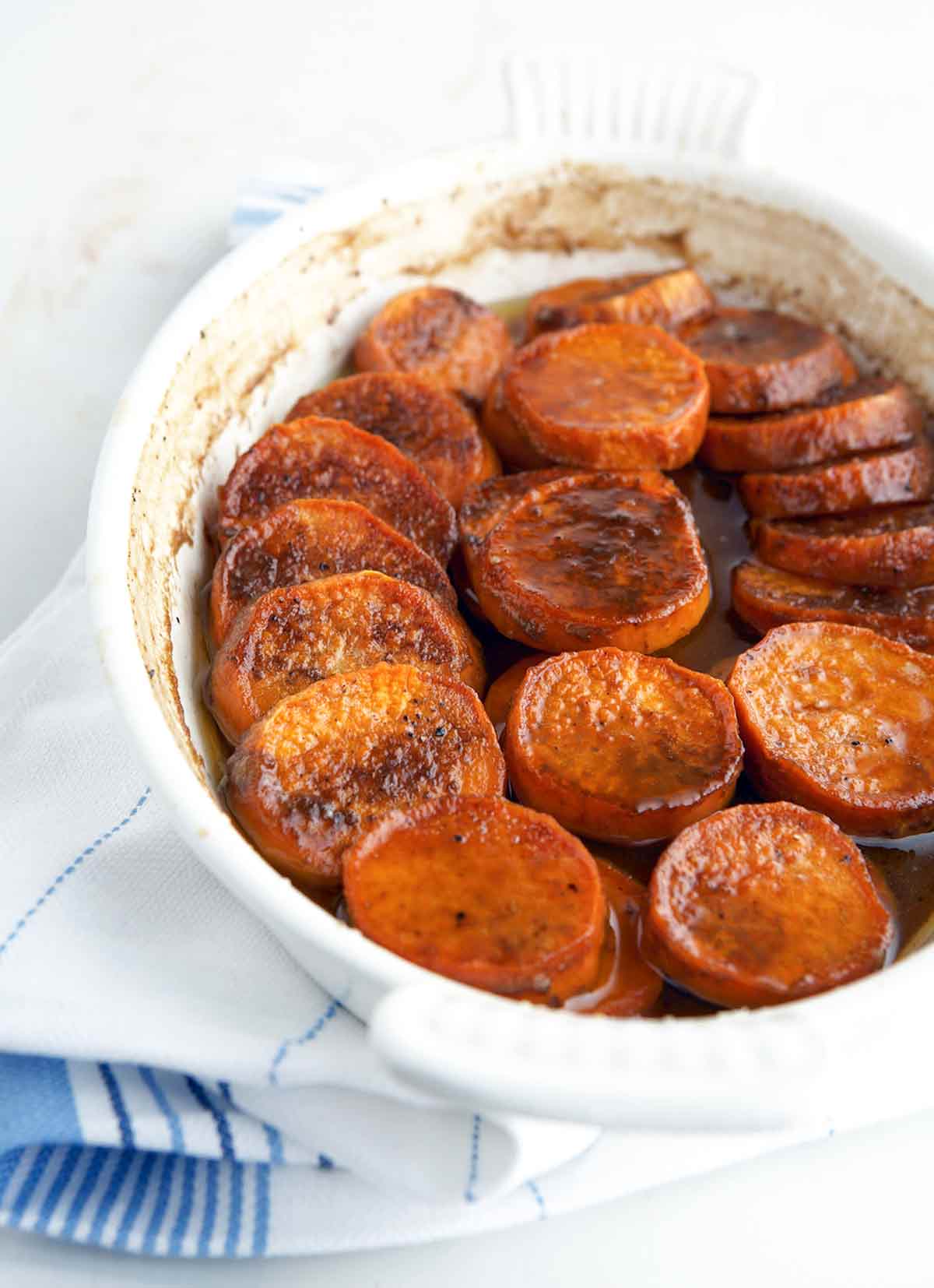 Only a Southerner, inheritor of the infamous Southern sweet tooth, would add massive quantities of butter and sugar to sweet potatoes and still regard it as a vegetable. Add a shot of bourbon? No problem.
Recipe
This sweet potato cornbread may upend all your notions about what cornbread ought to be. It's easy, stealthily healthy, and turning heads and drawing raves wherever it's made.
Recipe
This classic sweet potato casserole recipe is made with marshmallows, half-and-half, spices, and sugar. Just like grandma's.
Recipe
Sweet potato pie is a classic holiday favorite in the South. A brown sugar pie crust holds the sweet, festively spiced, custard filling perfectly.
Recipe
Curried sweet potato and lentil soup, made with red lentils and curry paste, packs a wallop of that traditional Thai juxtaposition of sweet, sour, salty, and hot even though it's not at all southeast Asian in origin.
Recipe
This chicken, sweet potato, and bacon casserole is comfort food personified. Herbed chicken breasts, sweet potatoes, bacon, sautéed red onion, and Gruyère cheese are mixed together and baked. Weeknights, weekends, dinner for company. It does it all.
Recipe
This pumpkin sweet potato pie takes the best parts of pie and sweet potato casserole and combines them into this magnificent side dish.
Recipe
These roasted sweet potatoes require little more than plonking spuds on a baking sheet and sliding them in the oven. So simple. So healthy. So dang versatile.
Recipe
This spiced sweet potato bundt cake is laced with fragrant autumn spices and drizzled with a coffee and chocolate glaze. And since there's plenty of pureed sweet potato in there, we're going to go ahead and call it healthy.
Recipe
This sweet potato gratin recipe is made with russets, cream, cheese, and sage. A perfect Thanksgiving side dish.
Recipe
Sweet potato cottage pie is made with ground beef smothered with mashed potatoes and is a lot like shepherd's pie. Comforting, cheap, and easy.
Recipe
Sweet potato soup with coconut milk. Easy, healthy, vegan, paleo. So incredibly complex, rich, and velvety smooth you'll go wobbly in the knees. So ridiculously simple you'll want to make it a weeknight staple.
Recipe
© 2020 Leite's Culinaria. All rights reserved. All materials used with permission.