The 20 cookbooks we cooked from the most in 2020 is our list of the best cookbooks of the year. You know, the ones that we and our 100-plus recipe testers have been raving about—and coming back to—all year long.
Before we launch into our best cookbooks of 2020, we'd like to explain what exactly happens as we're deciding whether or not to share a recipe from a cookbook on our site.
We send the recipes that have piqued our interest out to our recipe testers, who are home cooks of varying skill levels, backgrounds, and enthusiasm for cooking. No identifying information is provided for the recipes, so testers have no idea whether what they make is from a cookbook written by an award-winning chef or a self-taught food blogger.
Armed only with their wits and judicious tastes, our testers cook and bake and simmer and sometimes curse and then report back to us.
These comments and countless details and modifications to the recipes are what we use to determine which recipes are spectacular enough to be featured on Leite's Culinaria.
Our testers are a hard-to-please bunch, and many recipes from hugely hyped cookbooks never pass muster. So when more than one recipe from the same cookbook comes back with stellar reviews, we know that the book is really something special.
These 20 new cookbooks from 2020 are the ones whose recipes most surprised, inspired, comforted, and otherwise impressed us again and again.
"I think this chicken shawarma might be in the top three things I've tested for Leite's Culinaria! It was near perfection and I will never stop making it—it will be in the rotation forever!" —Erin Bloys on the Sheet Pan Chicken Shawarma
While in-person gatherings may have been taboo this year, these recipes meant for casual family and friend dinners ended up being exactly what we needed. Sam Sifton, food editor of The New York Times, smartly focused this book on affordable and no-fuss dinners, and that struck a chord with our testers. The sheet pan chicken shawarma ended up being one of our standout new recipes of 2020 and the garlic bread and whole roasted cauliflower recipes we tested all provided massive payoff for such a small investment of time and effort.
"Chex Mix has become pretty ubiquitous in the snack world, but once you make this version, you'll never have to buy a bag or make the recipe on the box again." —Greg Crawford on the Spicy Chex Mix
Don't let the book's overt football theme and retro recipes fool you. James Beard award-winning chef James Currance rethinks the classics with big, bold flavors, taking the entertaining theme to the next level and delivering what's certain to be the talk of any small family (or socially distanced) gathering. We loved his spicy Chex mix and knockout Maybelle punch but his "less is so much more" approach to a simple, old-fashioned cucumber-onion salad is, surprisingly, what wowed us the most.
"This sauce is everything. Full stop. My household, armed with torn-off hunks of bread, ended up fighting over the last smears of sauce left in the skillet." —Jack Van Amburg on the Eggplant Shakshuka
While sharing may be the central concept behind this book, we can promise you won't want to. Theo A. Michaels, former MasterChef finalist, manages to craft one surprising and sensational recipe after another, mostly Mediterranean inspired, from large platters down to simple meze. Our testers raved about the grilled vegetable and halloumi skewers glistening with fiery harissa and the pork casserole with a mulled cider sauce, though we're especially fond of the Moroccan-spiced shakshuka with charred eggplant.
"This cake was a triumph for me as everything went according to plan and the cake turned out perfectly perfect. It was ABSOLUTELY DELICIOUS. The cake was even better the second day, which I could not believe. Speechless." —Lisa Bennett on the Coconut Sheet Cake
Each recipe we tried from this cookbook was an incredible success with our testers, which didn't surprise us seeing that they're by Edd Kimber. Celebrating 10 years since his win on the inaugural season of The Great British Bake Off, Kimber's clearly not resting on his laurels. Instead, he delivers a comprehensive guide to everything you could want to make in a 9-by-13-inch baking pan. While the coconut sheet cake was hailed as one of the best cakes some of our testers have ever made, we also reveled in the espresso-laced ribbon that puts the "coffee" in his coffee cake and took great comfort in his simple vanilla sheet cake with a sublime Swiss meringue buttercream.
"Rich and earthy, spicy and savory. Just luscious. The umami factor here was really off the charts. I often look to be wowed by a recipe…this one did it." —Greg Crawford on the Spicy Mushroom Lasagna
Few cookbooks are awaited with the same anticipation of an Ottolenghi release, and this one doesn't disappoint. Co-authored with the talented Ixta Belfrage, Flavor explores how four key cooking processes—charring, browning, aging, and infusing—in tandem with unexpected flavor pairings can elevate the most humble of vegetables into showstopping meals. Whether we're making sweet and sour Brussels sprouts with chestnuts, spicy mushroom lasgana, or cacio e pepe with za'atar and fresh marjoram, this collection of plant-forward recipes has never left us wanting.
"I'm a self-proclaimed chocolate chip cookie snob. Meaning I haven't found a chocolate chip cookie recipe that I actually like. That is, until this one. It's the chocolate chip cookie I've been dreaming about for years!" —K. Fox on the Soft Chocolate Chip Cookies
The instructions to bang hot baking sheets on the counter may have caused a racket and earned us the evil eye from family members on Zoom calls, yet all was forgiven when these chocolate chip cookies came out of the oven. With a cookbook so well-suited for 2020 it borders on prescient, baker and blogger Sarah Kieffer delivers 100 recipes that prove there's a type of cookie for everyone. We especially appreciated her novel approaches to bar cookies, including red wine and cherry cheesecake bars or these autumnal pumpkin swirl cheesecake bars.
"I don't usually sing the praises of sauces, but this one is SO very good. It's simple to make with pantry ingredients and created a sauce so good that my Mom asked for a jar to take home." —Helen Doberstein on the Honey Barbecue Sauce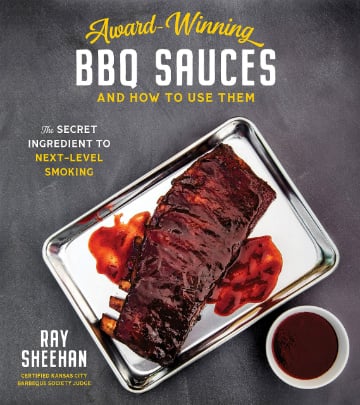 You can tell Ray Sheehan brings years of experience as a certified judge for the Kansas City Barbecue Society and a legacy of award-winning BBQ sauces to this book. Every single sauce we tested was an absolute success. Exceptional care has clearly been put into ensuring the flavors are balanced, and the book not only covers regional sauces from Texas to the Carolinas but also explores Asian-inspired flavors. Many of our testers were won over by the Alabama White BBQ Sauce, and while we adored the tangy, smoky, slightly sweet, and perfectly spicy Memphis Mop sauce, it was the Honey Barbecue Sauce that took top marks with our home cooks.
"These deluxe crispy rice treats are the best I've ever tasted! The combination of the browned butter, maple extract, and sea salt are a marriage made in heaven." —Deborah H. on the Brown Butter Rice Krispies Treats
In a year filled with emotional support baking, few cookbooks served us as well as this cookie compendium from Erin Mylroie, a finalist on Guy Fieri's Ultimate Recipe Showdown. Every page feels like you're strolling through the best bake sale you've ever attended with its homey yet slightly surprising creations, such as apple crumb bars and browned butter Rice Krispies treats. However, the unassuming chewy molasses cookies were the real scene-stealers, proclaimed some of the best our testers have ever made.
"If you've been hesitant to eat more collards, trust me when I say that this dish will completely change your mind. I ate more than my fair share for dinner." —Jess Bender on the Sukuma Wiki
Part cookbook and part travelogue, In Bibi's Kitchen by chef Hawa Hassan and the lovely Julia Turshen gives us a regional tour of the African continent through the recipes passed down by everyone's guardian of culinary tradition and legacy, their bibi (Swahili for "grandmother"). These women welcome us into their kitchens and share their stories and family dishes, each of which are rich with spice and history. These recipes represent home cooking at its best: approachable without sacrificing an ounce of flavor and convincing us to make fried plantains and collards mainstays on our grocery lists.
"This recipe made a liar out of me. For years, I've been telling people that Ina's lemon garlic chicken with croutons is the best roast chicken recipe in the world. But I was wrong. This…THIS chicken. Oh. Em. Gee. I swoon." —Kristen Kennedy on the Roast Chicken with Rosemary and Potatoes
Asking readers to leave their pretentious notions about entertaining—as well as the good china—at the door, blogger Skye McAlpine shares a highly adaptable framework for casual yet memorable Italian-inspired meals focused on seasonal eating, no tablescaping required. We found her roast chicken capable of dethroning any other reigning classic in your kitchen and the Sicilian couscous salad with fennel and almonds to be a spectacular weeknight meal. And each recipe in the book comes with pairing ideas for other dishes and dessert for those times when you want to turn dinner into an even more special occasion.
"Allow me to quote the wee lad's review of the meal. With his hand placed by his heart, he closed his eyes and stated, 'My mouth, my lips, my teeth … they are all very happy.' And if the kid, known in this house as The Kid Who Will Never Eat His Dinner, eats every last drop, it's a winner, a miracle, a truly magnificent feast." —Kristen Kennedy on the Caramelized Onion Pasta with Sausage
Whether you have only 15 minutes or would rather slow cook something for 8 hours, these offerings from cooking teacher Claire Tansey run the gambit of every kind of weeknight dinner you could want to make, all cleverly organized by time commitment. Many of the recipes rely on common pantry staples while others make satisfying use of supermarket shortcuts, like rotisserie chicken or jarred curry paste, to get the most out of your valuable cooking time. After making the steak and arugula salad with pesto vinaigrette, we want to put pesto dressing on everything and the caramelized onion pasta with sausage has become a mainstay in many of our kitchens.
"This recipe made me decide that I am a salmon cake lover. It was more of an elevated salmon cake and definitely something that looks like and tastes like it belongs on a restaurant menu." —Johnisha L. on the Salmon Cakes with Chimichurri
When we'd grown weary of looking at the canned tuna languishing in our pantries and happened upon this cookbook devoted to tinned fish, we assumed divine intervention. Trying this cookbook confirmed it. Former chef Bart van Olphen champions sustainably canned seafood with these varied recipes packed with vibrant flavors, canvassing the usual suspects like tuna and salmon as well as less familiar choices as sardines, mackerel, and smoked herring. We recommend the innovative salmon cakes with chimichurri sauce or the classic tuna melt made memorable with fresh herbs.
"First off, the hilarious name of this dessert had all my testers excited and eager to try it just based on that. My sonker was a huge hit! Everyone loved it, including my 2-year-old niece, who kept begging for more." —Daniela Trapani on the Peach-Berry Sonker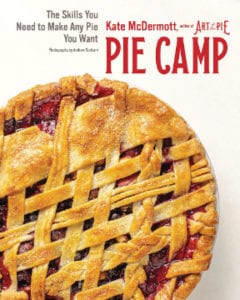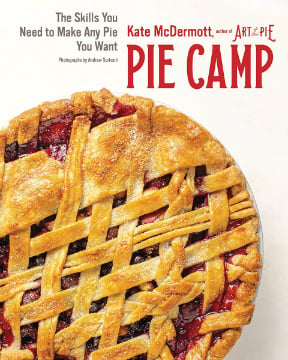 Kate McDermott brings years of experience teaching people how to make pies to this book and it shows. With step-by-step photos for rolling out dough and making a lattice crust as well as guides for the best thickener for any kind of fruit filling, it delivers on her promise of giving you the skills you need to make any pie you want—as well as the life lesson to trust your instincts and stray from convention now and again. The stovetop fruit pie filling was delicious regardless of what kind of fruit we threw at it and the sonker, a North Carolinian fruit filling beneath dough, was a standout.
"Honestly one of the easiest preps for a recipe EVER. Weeknight dinner WIN right here. Absolutely delicious with a heat that gradually builds, is tempered by cooling cilantro, and then brightened by the zesty lime." —Heidi V. on the Roasted Sweet Potatoes with Sriracha and Lime
Amanda Frederickson answers the question of "what do I make for dinner?" with all the flair of a food stylist and all the sensibility of a mom. Her unqiue approach capitalizes on everyday ingredients that minimize grocery shopping, and while her beautiful photos clearly show their Instagram lineage from the #FridgeForaging series, they lack nothing in substance. These are delicious recipes. We couldn't get enough of the Sriracha sweet potatoes and can't wait to be able to host brunch again so we can whip out her overnight French toast casserole drizzled with a Bananas Foster-style rum sauce.
"If you're running late with getting dinner on the table, pull out some shrimp from the freezer and make this IMMEDIATELY. It truly delivers on is its namesake ingredient." —Jess Bender on Masala Shrimp
A Brown Table blogger Nik Sharma follows up on the success of his first cookbook by taking us down the rabbit hole of flavor science, delivering as big a feast for the eyes as he does for our taste buds. He steps beyond what happens in the mouth to explore how sound, sight, and emotional state also influence how we experience food, and delivers recipes that skillfully pull the various levers of flavor sensation unlike anything we've had before. We're especially drawn to his savory recipes, including a spiced shrimp that manages all-day flavor in just 15 minutes, a vegan chickpea and greens soup that packs a delightfully sour tamarind punch, and a surprising saffron-perfumed stuffing with chouriço and olives.
"These are good. So good. Everyone went for seconds and would have gone for thirds if there was any left. The potatoes turned out perfectly browned and crisp on the outside with a nice, fluffy interior." —K. Zimmerman on the Roasted Potatoes with Dill
Michaels appears twice on this list for good reason: every single recipe we tried stunned us. He returns to his Cyprian Greek roots here, exploring what it means to eat like a true resident of the Mediterranean with meals that focus on coaxing the best results out of simple, quality ingredients, probably best exemplified by his vegetable antipasti platter. His brilliantly vibrant horta (boiled greens with garlic) makes us question why we ever stopped boiling our greens and these golden-hued herbed potatoes will forever be in our rotation, whether as a supporting player to a Sunday roast or, our current favorite method, simply eaten straight from the pan.
"After testing this recipe once, it has shot to the top of my pork ribs recipes—it's that good and it's unfussy. My guests don't know about the effort involved, but they agreed wholeheartedly about the flavor. Next time, I'll double the recipe or invite fewer guests as not all of us got our fill of these ribs." —Paul N. on the Vietnamese Pork Ribs
In a year where travel was only something to be dreamed about, our prayers were answered when Sarah Tiong's Sweet, Savory, Spicy invited us to get all the smells and tastes of Southeast Asian street food without having to leave our own backyards. Covering some of the best bites to be found at market stalls across Thailand, Cambodia, Malaysia, and beyond, the MasterChef Australia finalist and private chef masterfully balances a cast of competing flavors into some of the most transcendent grilled meats we ate this year. Her tangy ribs caramelized with brown sugar and fish sauce left us wanting more and the Cambodian pork chops with crushed lemongrass earned high praise, with one tester saying, "I don't have enough superlatives to describe these beauties."
"This is next-level pork! The pineapple relish makes all the difference—it literally transformed boring old smoked pork chops into something I would serve to guests." —Daniela Trapani on the Grilled Pork Chops with Pineapple and Basil
Following up on their breakthrough work in The Flavor Matrix, James Briscione and Brooke Parkhurst distill all that they've learned into a collection of delicious and accessible recipes designed for everyday home cooking. While seeing kiwi in your bacon grilled cheese sandwich or mushrooms in your brownie may be enough to make some run for the hills, these flavor combinations are all backed by science and there's a supreme joy to be had in experiencing the new and offbeat pairings. Combining mustard and cranberries brought a delightful tartness to pastry-enclosed baked brie and, while we would never have thought to put mayonnaise, pineapple, jalapeno, and corn together before, it's all we want with our pork chops from now on.
"These ribs are delicious! They're tender, juicy, and have a wonderful light smoked flavor. They smell so good as they are cooking. Our mouths were watering and we couldn't wait to taste them. They didn't disappoint. When I asked my usual question, 'Are these a make-again?', I was told, 'Yes. And often.'" —Nadine Bonda on the BBQ Oven Ribs
America's Test Kitchen divides this collection of some of its best recipes into three echelons that, collectively, cater to all audiences: essentials nobody should be without, useful next-level skills regular home cooks will want to master, and the appropriately named "bucket list" skills for the most adventurous among us. We (rather modestly) dove right into the latter section and learned how to emulate BBQ smoke indoors using tea leaves for barbecued ribs in the oven, flambé without fear, and stabilize a towering chocolate souffle so it doesn't collapse quickly. True to form, they each delivered on their promise. It's a tome that would make a great gift for anyone looking to add new ideas to their arsenal.
"This roast chicken was surprisingly delicious considering how little work went into it as well as how few ingredients were needed. The shattering crispy skin. The lemon slices that started to caramelize. The blistered olives. OMG, YUM! I thought that we would get 2 meals out of this, but all hope for that was dashed after tasting the first bite of this dish." —Jackie Gorman on the Roast Chicken Thighs with Lemon
There are so many Mediterranean-themed cookbooks on the market, it's hard to imagine the need for another one, but Sheela Prakash cuts through the pack with her clever takes on standard recipes. Her crave-worthy yet nourishing dishes are flexible enough for a speedy weeknight dinner, an indulgent Sunday sit-down supper, and every meal in between. Her go-to vinaigrette eschews conventional oil-to-acid ratios to great effect, and we still fondly recall the crackle as we shattered the crisp skin on her skillet roasted chicken thighs with lemon and olives.
Curious to learn more about becoming a recipe tester? Check it out!

.
© 2020 Jack Van Amburg. All rights reserved. All materials used with permission.