Sometimes you're in the mood to buy one a clamshell of mixed greens and be done with it. And sometimes you want a little more discernment in terms of exactly what mix of mesclun will land on your dinner plate. Whether you like things a little on the milder or more bitter or crunchier or more dramatic scale of things, there's a salad green for you. The below excerpt from The Complete Plant-Based Cookbook by America's Test Kitchen talks you through all the many options you have as you pause before you assemble your creation. And to assist in your salad-making endeavors, we've slipped in some suggestions for recipes that we know and love. Because we all could use a little inspiration now and again.—LC Editors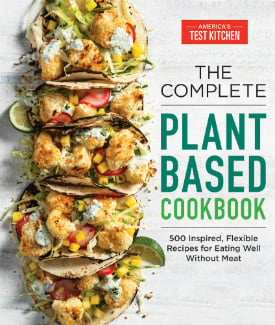 With such a wide array of salad greens to choose from nowadays, it's helpful to know how to mix and match them to build interesting salads beyond the recipes you find. Many greens are great on their own, while others are better used as part of a mixed salad.
Arugula (also called rocket)
Delicate dark green leaves with a peppery bite; sold in bunches, usually with roots attached, or prewashed in cellophane bags. Bruises easily and can be very sandy, so wash thoroughly in several changes of water before using.
5-ounce bag
 = 5 cups
6-ounce bunch
 = 3 cups
Serve alone for a full-flavored salad or add to romaine, Bibb, or Boston lettuce to give a spicy punch; for a classic salad, combine with Belgian endive and radicchio.
LC Note: A sturdy and rather assertive green, arugula is also quite able to hold its own with robust flavors such as steak or blue cheese.
Belgian Endive
Small, compact heads of firm white or pale yellow leaves; should be completely smooth and blemish-free; slightly bitter flavor and crisp texture. One of the few salad greens we routinely cut rather than tear; remove whole leaves from the head and slice crosswise into bite-size pieces.
4-ounce head = 1 cup sliced
Add to watercress or to Bibb, Boston, or loose-leaf lettuce; combine with diced apples and walnuts; use whole leaves in place of crackers with dips.
Bibb Lettuce
Small, compact heads; pale- to medium-green leaves; soft, buttery outer leaves; inner leaves have a surprising crunch and a sweet, mild flavor.
8-ounce head = 8 cups
Combine with watercress or endive or with Boston, loose-leaf, or romaine lettuce; great tossed with fresh herbs (whole parsley leaves, chives, or dill).
Boston Lettuce
Loose, fluffy head, ranging in color from pale green to red-tipped; similar in texture and flavor to Bibb lettuce, but with softer leaves.
8-ounce head (8 cups)
Combine with baby spinach, watercress, or endive or with Bibb or romaine lettuce; terrific as a bed for lentils or chickpeas.
LC Note: Wondering more about the subtle distinction between Bibb and Boston? Us, too. Both fall under the larger category of butter lettuce. Boston tends to be larger and floppier and more like a rose splaying its petals. Bibb is more compact and slightly paler in color than Boston. The leaves of either make terrific wrappers for food.
Chicory (also called curly endive)
Loose, feathery head of bright green, bitter leaves; texture is somewhat chewy.
10-ounce head = 10 cups
Add to bitter greens salads or use sparingly to add punch to mild mixed greens; great with balsamic vinaigrette or walnut vinaigrette.
Escarole
A kind of chicory with tough, dark green leaves and a mildly bitter flavor; inner leaves are slightly milder.
15-ounce head = 15 cups
Use as an accent to romaine; serve on its own with balsamic vinaigrette.
Frisée
A kind of chicory; milder in flavor than other chicories, but with similar feathery leaves; pale green to white in color.
10-ounce head = 4 cups
Combine with arugula or watercress or with Boston or Bibb lettuce; serve on its own with warm balsamic vinaigrette and toasted almonds.
LC Note: We're also fond of those frilly little frisee leaves as a slightly bitter counterpoint to the richness of egg and bacon in a salad that defies what your cardiologist may recommend.
Iceberg
A large, round, tightly packed head of pale green leaves; very crisp and crunchy, with minimal flavor.
1-pound head = 12 cups
Tear into chunks and toss with Bibb, Boston, or loose-leaf lettuce; stands up well to creamy dressings.
LC Note: This mainstay also is the foundation of the classic Italian restaurant salad.
Loose-leaf lettuces (specifically red Leaf and green leaf)
Ruffled dark red or green leaves that grow in big, loose heads; versatile with a soft yet crunchy texture. Green leaf is crisp and mild; red leaf is earthier.
12-ounce head = 12 cups
Pair red leaf with romaine lettuce or watercress; pair green leaf with arugula, radicchio, or watercress; great on sandwiches or as a bed for grain or bean salads.
Mâche (also called lamb's lettuce)
Small heads of three or four stems of small, sweet, deep green leaves; very delicate; usually sold prewashed in bags. If buying heads, wash thoroughly, can be sandy.
4-ounce bag = 4 cups
Combine with arugula or watercress or perfect on its own.
LC Note: Oh, how we love mâche's nutty flavor whether alone or mixed with frisée or even just a tangle of pea shoots and fresh herbs like cilantro or chives.
Mesclun (also called spring mix or field greens)
A mix of up to 14 different baby greens, including spinach, red leaf, oak leaf, frisée, radicchio, green leaf; delicate leaves. Flavors range from mild to slightly bitter, depending on the blend.
4 ounces bagged or loose = 4 cups
Great as a delicate salad.
Radicchio
Tight heads of red or deep purple leaves streaked with white ribs; bitter flavor.
10-ounce head = 3 cups
Cut into ribbons and mix with arugula, endive, or watercress, or with red or green leaf, Boston, or Bibb lettuce; adds color to any salad.
LC Note: The sturdy leaves take well to sturdy salads, such as cooked farro with almonds.
Romaine
Long, full heads with stiff and deep green leaves; crisp, crunchy leaves with a mild, earthy flavor; also sold in bags of three romaine hearts; tough outer leaves should be discarded from full heads.
6-ounce heart = 4 cups
14-ounce head = 9 cups
A great all-purpose lettuce; mix with spinach, watercress, arugula, endive, or radicchio or with Boston, Bibb, or red leaf lettuce; good on sandwiches and plant-based burgers.
LC Note: We can't not mention the classic Caesar salad.
Spinach (flat-leaf and baby)
All varieties are vibrant green with an earthy flavor; choose tender flat-leaf or baby spinach for raw salads; tough curly-leaf spinach is better steamed and sautéed. Rinse loose spinach well to remove dirt. Varieties available prewashed in bags.
5-ounce bag = 5 cups
11-ounce bunch = 5 cups
Delicious mixed with arugula, watercress, or napa cabbage or with romaine, Bibb, Boston, or loose-leaf lettuce; classic as a wilted salad with a warm vinaigrette and crispy shallots.
LC Note: While we like to crumble bacon atop spinach and call it a salad, we also, on our more abstemious days, toss it with chickpeas and a yogurt dressing.
Watercress
Delicate dark green leaves with tough, bitter stems; refreshing mustard-like flavor similar to arugula. Usually sold in bunches, sometimes available prewashed in bags; if buying watercress in bunches, take care to wash thoroughly.
2-ounce bunch = 2 cups
Adds flavorful punch and texture to mildly flavored or tender greens such as Bibb or Boston lettuce; delicious on its own with tart green apples, smoked almonds, and a mustard-based dressing.
LC Note: Watercress's pepperiness works remarkably well with the acidity of citrus, whether in a salad sweetened with orange, emboldened with the tartness of grapefruit, or weighted with the earthiness of beets and the tanginess of feta.