Our tofu recipes offer options galore, whether you're just looking for a new way to serve an old favorite or you're tentatively trying this plant-based option for the first time. The versatility and taste will lure you back again and again.
Glazed Tofu
This glazed tofu recipe made with honey and soy sauce is crazy simple yet spectacularly impressive. Crispy at the edges and easy as can be. Folks who already love tofu are swooning and it's wooing even avowed tofu haters.
Recipe
Silken Tofu with Soy-Sauced Tomatoes
Silken tofu with soy-sauced tomatoes is a quick summer dish that comes together with only a little heat and effort. Fresh tomatoes are sautéed with olive oil and soy sauce, dolloped over cool and creamy tofu before being drizzled with sesame oil and scallions. Light, refreshing, and just enough for those sultry afternoons. 
Recipe
Orange-Braised Tofu
This orange-braised tofu, which is gently cooked with fennel and onion wedges and sprinkled with nuts and orange segments, is an easy meal that will satisfy vegetarians and carnivores alike.
Recipe
Cabbage Salad with Crispy Tofu
In this cabbage salad with crispy tofu, medium firm tofu is coated, pan-fried, and laid on top of a napa cabbage-carrot-peanut salad tossed with an Asian garlic-chile sauce.
Recipe
Mapo Tofu
Mapo tofu is a spicy comfort food that combines stir-fried tofu and ground beef with ginger and garlic in a Sichuan pepper sauce. A classic that defies description. Just gotta taste it.
Recipe
Spicy Tofu with Peanuts
This spicy tofu with peanuts is a quick stir-fry of marinated tofu, scallions, garlic, ginger, peanuts, Sichuan chiles, and a soy-vinegar sauce.
Recipe
Tofu and Vegetables in Coconut Milk
This light curry is filled with plenty of vegetables and a chile-infused coconut milk broth. Deep frying the tofu gives it a different texture that also helps it to absorb loads of flavor from the superb curry paste mixture.
Recipe
Silken Tofu with Pine Nuts and Pickled Chiles
This silken tofu with pine nuts and pickled chiles is an umami-rich appetizer that juxtaposes creamy tofu with a tangy dipping sauce, toasted pine nuts, and the warmth of chile peppers.
Recipe
Miso Glazed Tofu
This miso-glazed tofu recipe douses extra-firm tofu with an umami-rich miso and hot sauce glaze and bakes it until golden. Excellent served either straight from the oven or cold from the fridge.
Recipe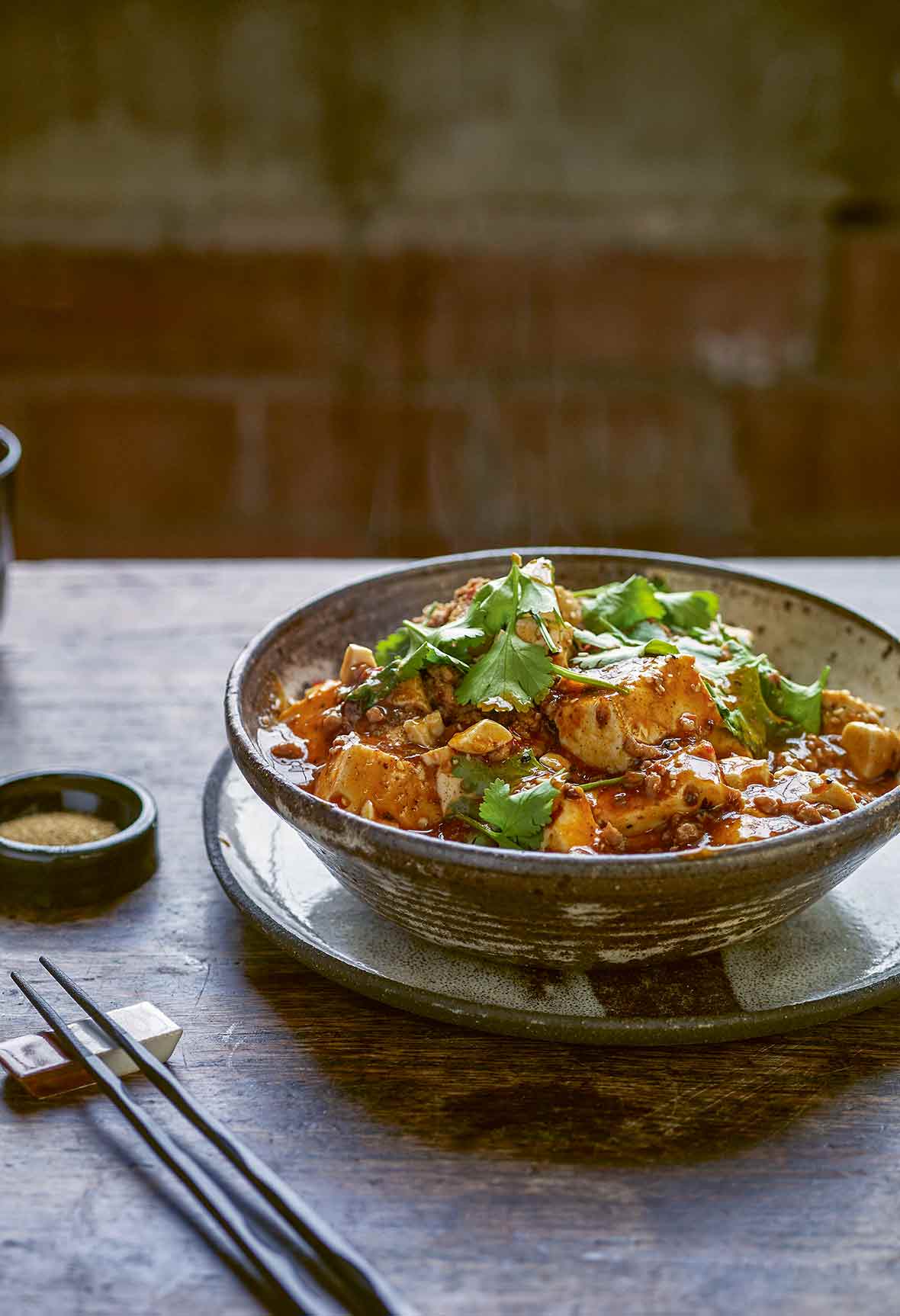 Mapo Tofu Ramen
This mapo tofu ramen is made with ramen noodles that are smothered in a mouth-tingling sauce of tofu, ground pork, plenty of chiles, preserved black beans, and bean sauce. An easy and comforting mash-up of Chinese mapo tofu and Japanese ramen.
Recipe
Broiled Tofu
Broiled tofu may not sound sexy but this quick and easy technique is seductive as heck when you need dinner to be done pronto. Here's how to make it plus a simple pantry-friendly marinade—actually, we give you a choice of three marinades.
Recipe
Tofu Adobo
Tofu adobo may not be classic Mexican fare but it does have classic Mexican flare thanks to an authentic made-from-scratch sauce. Full of peppers, cumin, garlic, cinnamon, and paprika, it's flavorful, smoky, and good for you.
Recipe
Deep-Fried Tofu with Peanut Sauce
Deep-fried tofu with peanut sauce is a serious upgrade from some boring tofu recipes. If you're even the slightest bit tofu-curious, let me show you just how good it can be.
Recipe