Now that it's safer to get together and socialize again, outdoor entertaining is going to be more in-demand than ever. And since many of us became pretty darn good gardeners last year, garden-to-table entertaining is going to be trending all summer long. These recipes and ideas use all that bounty and help you be the best host/ess in your nabe.
If you're anything like The One and me, you've been scouring the farmers' markets and nurseries and returning home with armfuls of plants–herbs, vegetables, and fruits–to plant in your backyard garden. Or, if space is limited, your container garden on your patio or out on your fire escape for you city folk.
Our recent haul from New Morning Market in Woodbury, CT, resulted in Sungold tomatoes, cucumbers, yellow squash, lacinato kale, garlic, basil, thyme, nasturtium, and strawberries. (Of course, this is in addition to his flower addiction–zinnias, dahlias, roses, irises, and, well, I can't remember the rest.)
While we both cook, The One is the gardener. That's his domain, and I'm happy not to encroach. My dad was an amazing gardener, so I'm spoiled. Plus, I spent far too many summers of my formidable years working on a farm to want to sweat it out in the backyard. That's why The One and I work as a couple: He toils away in the summer sun, I hum away in the air-conditioned kitchen. It's amoré!
Recipes that use the bounty of your garden
Your cooking in summer 2021 will be better and fresher and more lavish than ever. (A pandemic can do that to a cook.) Below are recipes that were inspired by our gardens over the past several years. Everything from cool sippers and appetizers to garden-rich entrees (with and without meat) to desserts aplenty.
I'm a strawberry freak. I love them. I have been known to eat a quart in one sitting. I know, I probably have a problem, and I'm fine with that. Nonetheless, the Strawberry Sangria is a lovely tweak to the traditional drink. I like to show this off in a clear punch bowl. It looks like a giant ruby sitting on the table.
Dear Reader, meet our Drink of the Summer. Drink of the Summer, meet our reader. Honestly, do I need to say more? Well, maybe make sure to have lovely highball glasses to flaunt the fruits of your gardening labor.
One year, The One grew watermelons just so we could have this appetizer salad all summer long. Do you know how many pounds of watermelon a watermelon plant can produce? Still, it was worth it. It gave us an excuse to use up the acres and acres of thyme and mint we had planted.
If you know anything about The One and me, you know we love this amazing shrimp and leek pasta. It's perfect for the leek aficionado in your life. And, really, who isn't a leek aficionado? Especially when they are pulled fresh from your garden.
TIP: This dish can be made entirely on the grill. Follow the recipe, but instead of boiling the water in a boiling-hot kitchen, toss your pot on the grill. For a bit of a twist, you can grill the shrimp and finish the dish in your cast-iron skillet. For added crunch, I toasted some bread on the grill, broke it into pieces, and tossed it in the skillet.
Ok. If you want to go the healthier route, there's this marvelous steak and quinoa salad. It's loaded with carrots, arugula, and sunflower seeds. (Ask The One whatever happened to the seeds from the patch of sunflowers he grew when he was in his Van Gogh phase…)
If there were ever a recipe made for garden-to-table cooking it's lamb meatballs. When we had weekend guests one summer, they took inspiration from this recipe, adding quick pickles with dill, grape tomatoes, and olives tossed in a light vinaigrette served over couscous, and a cooling yogurt sauce studded with grated cucumber, parsley, and mint.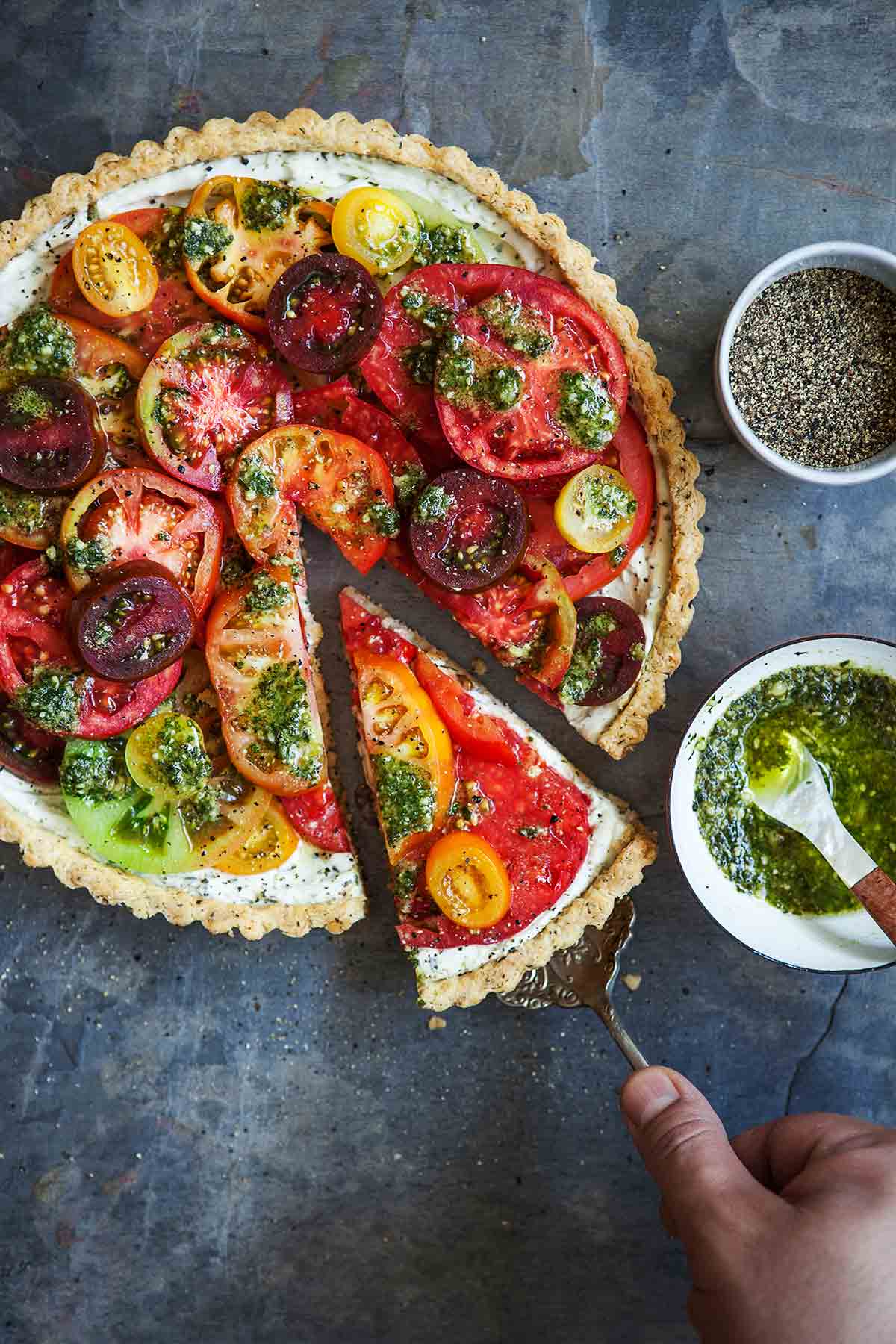 This fresh tomato tart is the perfect dish to make during the height of tomato and herb season. It can accommodate any and all types of tomatoes in your garden. From giant Mortgage Lifters to the smallest cherry tomatoes. From green to red and every color in between. Plus the crust is speckled with tons of fresh rosemary and thyme, and the whole thing is drizzled with homemade pesto made with garden-fresh basil.
This grilled panzanella almost demands you to plunder your garden for tomatoes, red onions, garlic, and basil. And this salad is eminently customizable, so you can add bell peppers, celery, cucumbers–you name it.
This past year I've noticed a lot of friends and family have made big changes in their lives. I think it was all that time they had to contemplate their navel on their ever-growing bellies. Some have become vegetarians, for a variety of reasons. And I refuse to feed them a bowl of lettuce and call it dinner. This spinach, tomato, and mushroom burger packs a wallop of flavor and shows off your garden to great effect.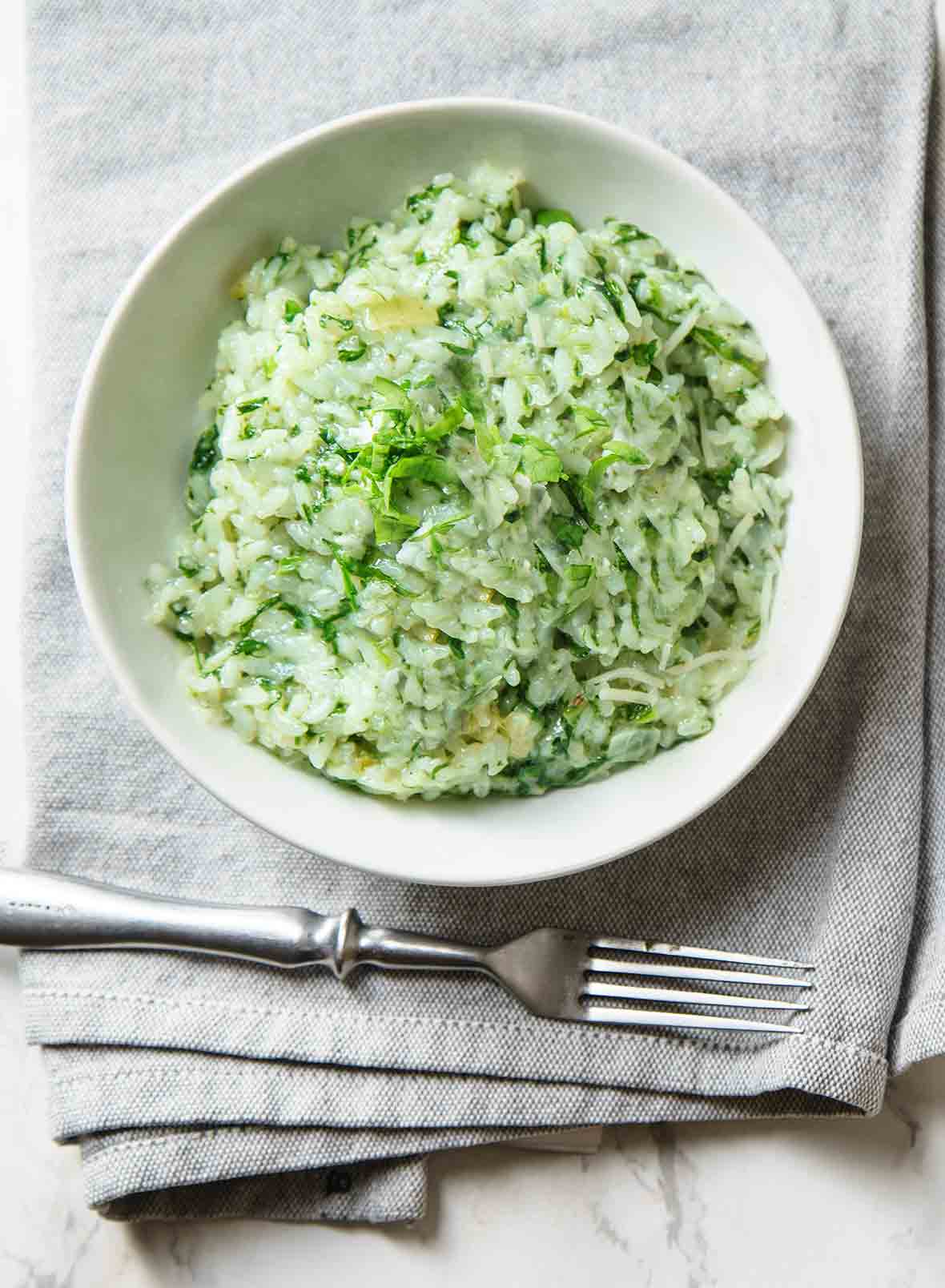 Leafy greens are The One's best friends. He loves them all–spinach, kales, Swiss chard, arugula, mesclun–you name it. This risotto recipe, in all its green glory, is a winner. I find it's great when the weather is still a bit cool.
Like the shrimp and leeks recipe above, these potatoes take full advantage of grill cooking. All you need is a large skillet, potatoes, garlic, and oil. The grill does the rest. And if you are using a charcoal grill, the added depth of smokiness is what summer outdoor cooking dreams are made of. While it's not in the recipe, I love to slather these with one of my milk mayonnaises–cilantro-ginger, curry, tomato, or anchovy.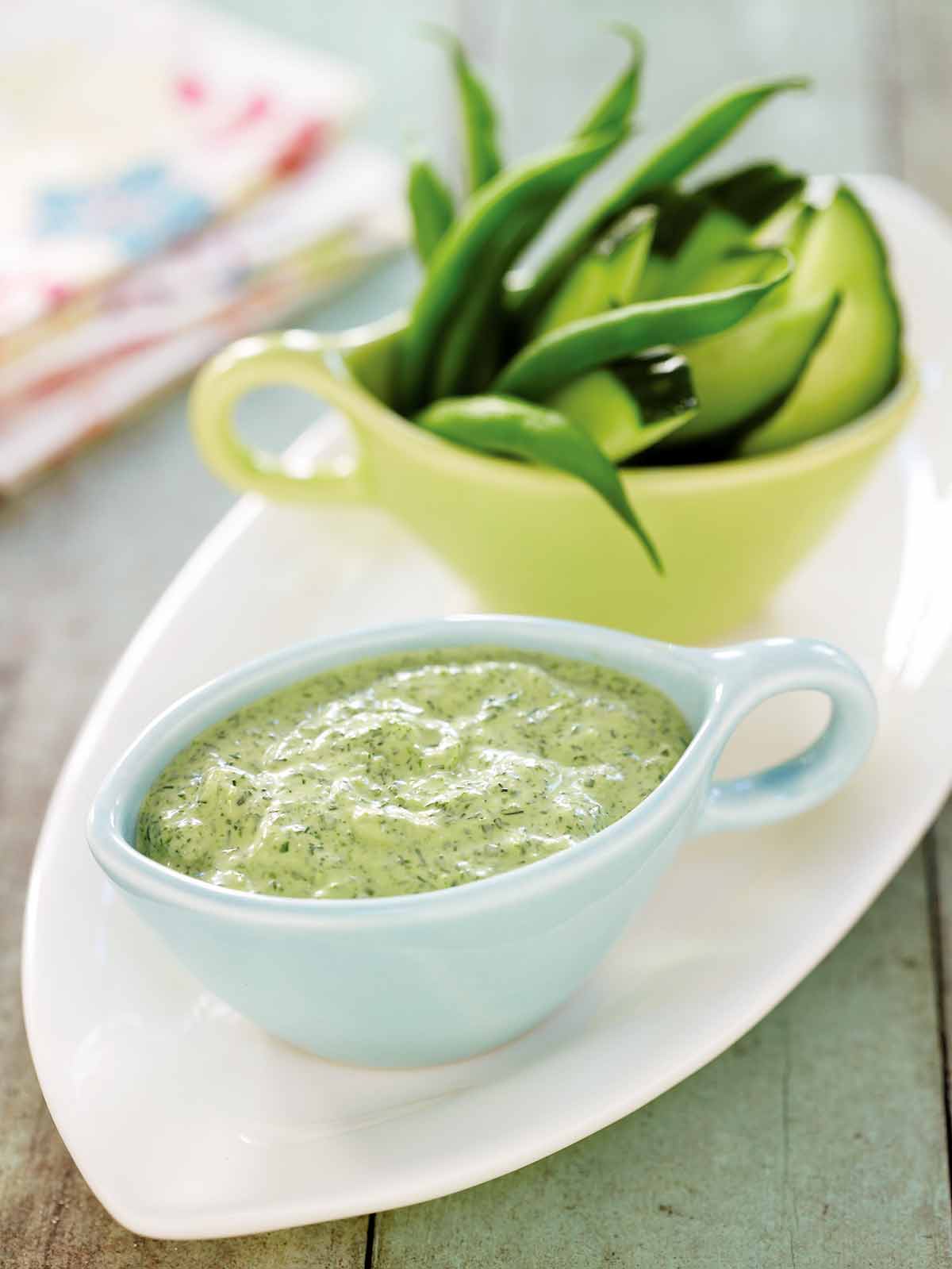 Now this recipe will really put a dent in your herb garden. It calls for parsley, cilantro, dill, tarragon, and basil. You won't find a better dip to dunk your bevy of veggies. And the best thing, this is low-cal, so between this and all the gardening you'll be doing, you're bound to be svelte yourself.
What's lovely is that this hits all the right notes for early summer. Rhubarb + blueberry. Now, most of us don't have a blueberry bush in our backyards, but rhubarb is another thing altogether.
What every cook needs for summer entertaining
Now that the menu is set, you need to set the stage–or patio in this case. Where you eat is just as important as what you eat. The One and I extended our patio a few years after buying our home because we knew it would be entertaining central from the moment the temperatures hit the 60s in spring until they dip into the 50s in autumn. Yes, The One is part polar bear.
Outdoor entertaining can't begin without the altar for foodies: the patio table. You want a table big enough for a crowd and comfortable enough for guests to sit all afternoon, sipping the cocktail of the season. (Last year was Aperol spritzes, but this year we're going to make pitchers and pitchers of cucumber gimlets.)
When I met The One, I discovered he had a wee bit of an obsession. Filling every cabinet, closet, and shelf was Fiesta Ware. And in every color. "The original colors," he liked to remind me. At first, I wasn't sure about all that festiveness, but now I'm crazy for any tableware in a rainbow of colors.
Whether you like delicate glass plates, festooned plates, dramatic plates–the key is to make sure they reflect you as a host/ess and cook.
You can't very well eat off your perfect-for-you plates without perfect-for-you flatware. As I said, we're partial to color, especially in the summer, but stainless, silver, bamboo, even a hodgepodge of everything you have will work.
I think there's only one downside to entertaining outside (besides the mosquitos; I'm just a big, tall drink of sweet tea for them) is the endless trips to the kitchen to bring out all the dishes, glasses, food, and nibbles. Before we put in the pool, we'd set up a table in the middle of the garden on the stone path. We had to–I kid you not–load up an old wagon with everything and haul it out–wheels protesting–to the middle of the yard.
That's why you need an arsenal of serving dishes, pitchers, bowls, trays, nut dishes, ashtrays (does anybody still smoke?), you name it. Fill them up and you can go hours without having to refill or refresh.
Why is it that when you entertain outside, everyone is suddenly so much thirstier? Must be all that work lifting glasses to sip, right? Having a beverage tub nearby filled with ice is practically de rigueur. I mean, how else are you going to keep those pitchers of rhubarb vodka and limoncello icy cold?
Make sure to have a variety of beverages–from beer to bubbly, from soft to hard. You want everyone to be able to partake in their own unique way.
Oh, I just learned this: If you're toasting with a non-alcoholic drink, you need to clink each glass twice otherwise you'll have seven years of bad whoopee. Just sayin'.
Lighting is everything. And at my age, the softer the better. I think the longest-standing argument The One and I have is over outdoor lighting. Call me crazy, but I like to see my food. He, on the other hand, is willing to jab one of our guests' hands in search of his meal because for him ambiance trumps food. (You may clutch your pearls now.) Torches, both tabletop and freestanding, can offer the glow those of a certain age need and the mood those who are all about atmosphere demand.
We don't grow herbs in the garden anymore. Partly because the big garden we had is now a pool and partly because the idea of taking a few steps out the kitchen back door to snip some parsley, rosemary, or basil is appealing. (Read: I'm lazy.) So all our herbs and our strawberries are grown in containers and planters. What's practical about planters is you can carry them inside during really bad weather and at the end of the season. We've even been able to winter over some herbs that way.
Mince, slice, dice, chiffonade. Call it what you will, I call it tedious. Especially when you're making a chimichurri and have to buzzsaw through forests of herbs. Kitchen tools that can–forgive the pun–chop that prep time in half are always welcome. Consider multi-blade herb scissors, mezzalunas, or knives with herb strippers.
5 things every gardener needs to know
I'm sure you're up on all your gardening tips and tricks, but just in case, here are 5 things worth remembering while your thumb turns even greener.
: David Leite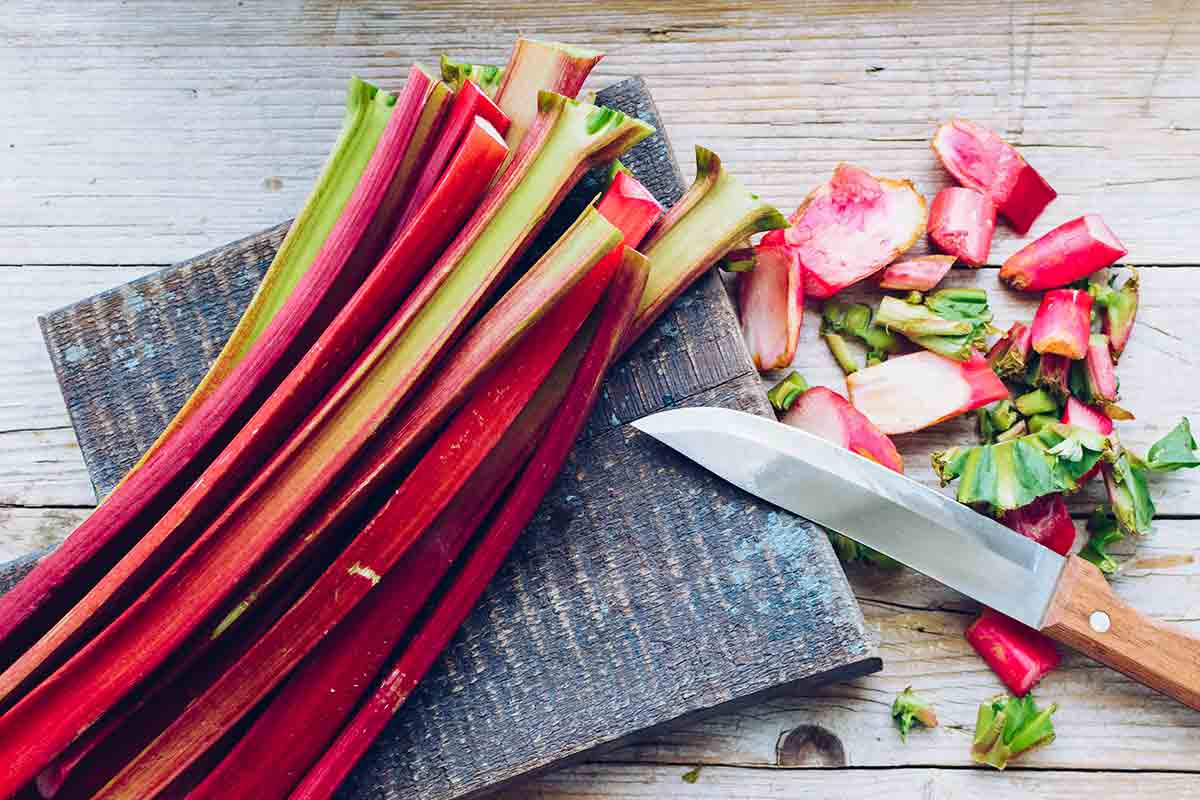 Here's wishing you one hell of a joyous, raucous, lovely, satisfying, long longed-for, happy summer season with your loved ones.
© 2021 David Leite. All rights reserved. All materials used with permission.