This Chinese New Year essay by Patricia Tanumihardja includes a Teochew braised duck recipe and new traditions for her new family.
I look Chinese, I speak Chinese, but I'm not really Chinese. Or so it was drummed into my head when I was growing up.
Let me clarify. My family is Indonesian-Chinese, which means our ancestry includes both indigenous Indonesians and ethnic Chinese who were born in or immigrated to Indonesia in the last century. However, my father has always insisted that we're not Chinese. We don't have Chinese names (the phonetic translations of our Romanized names don't count). My parents don't speak Chinese (I do, only because I learned it at school while growing up in Singapore). And we barely celebrated any Chinese festivals growing up (well, except for Chinese New Year).
This disconnect with my Chinese heritage never bothered me, and I've passed the last few decades in blissful ignorance. But this year is different. Our first child is due right on the cusp of Chinese New Year, and as I contemplate whether my son will be an Ox or a Tiger, I also ponder the significance of this holiday for us as a new family.
I don't want to be one of those mothers who adopt a holiday or tradition just because. When I was a child, every Chinese New Year Eve our family would make the once-a-year visit to my maternal grand-aunt, whom we called Ku-Po, for a reunion dinner of sorts. Ku-Po was perhaps our only relative who actually celebrated the holiday. She spoke no English, only Hakka, a Chinese dialect that my mother could understand but couldn't speak. The evening was usually awkward, and I sat stiffly in my seat, unable to connect the dots between the ritual, the food, and my heritage. The only thing that kept me going was knowing that red packets bulging with a generous bundle of crisp, new ten-dollar bills were waiting at the end of the visit. I don't want this for my child. I want our son to grow up with a holiday that's relevant, one that's steeped in meaning. But without a set of traditions to root me thus far, what's a soon-to-be-mother to do?
Research.
In my years spent researching food and culture as a writer and cookbook author, I've learned that New Year traditions have evolved with Chinese diaspora. And as an immigrant twice over, I've always picked and chosen for myself which cultural values to ascribe to and which to discard. My conclusion? That mixing and mingling and borrowing traditions, food or otherwise, isn't such a bad thing. So I figured, why not do the same for Chinese New Year? I came up with the following list of potential customs and pondered which I might want to keep—and which I might not.
At this time of celebrating rebirth and new beginnings, the Chinese clean the house (always a good idea), pay off all debts (err…couldn't even if I tried), and resolve differences with family members, friends, neighbors, and colleagues (a wonderful idea, if only in theory…). Parents buy a new set of clothes and shoes for their children, preferably in red or orange (who doesn't like to go shopping?). And they also give two red packets of money to each child, a symbolic way of passing good luck to the next generation (definitely).
And then there's dinner on Chinese New Year Eve. The most important meal of the season, it's a time when families reunite to give thanks. Convincing my husband that the family needs to gather for one more holiday might be a difficult task, although at least traveling will be cheaper and easier than Thanksgiving or Christmas. The dishes for this event, as well as the guidelines for their preparation, tend to have symbolic meanings or contain ingredients that are homophones for luck or prosperity, and range from the peculiar but passable to the downright impractical, including:
Round shapes—common to nian gao (sticky rice cakes) and fish balls—portray togetherness and symbolize reunion. Turns out I like these more than I had imagined.
Certain ingredients are considered auspicious, such as gingko nuts (they resemble silver ingots, which represent good fortune), bamboo shoots (cut in long, slender slices that symbolize long life), and black moss (its Cantonese name, fat choy, sounds like the New Year's greeting, "Gung hay fat choy"). However, regarding that last ingredient, I don't think my husband and future children would enjoy eating something that looks like hair, no matter how much luck it may bring.
A whole fish symbolizes a profitable year ahead. The leftovers allow you to take a reserve,  or surplus, into the new year, ensuring that your family will have an excess of good fortune throughout the year. Keeping the head and tail intact symbolizes a good beginning and a happy ending in all aspects of life. Whole chicken, with menacing eyes, is sometimes served in place of fish. My husband doesn't like to have his food staring back at him, so….
Using knives, cleavers, or sharp objects during celebratory days could sever the entire family's good fortune. Anyone who intends to include chopped ingredients in New Year dishes must prepare them in advance to avoid bad omens. The procrastinator in me protests!
Next, I set out to create a menu.
Perhaps braised duck (see recipe below) would work, it's still poultry, after all—minus the head and feet. No one at my table would miss the extremities, that's for sure.
Thit kho, a delicious South Vietnamese pork belly stew with coconut water, fish sauce, and hard-boiled eggs, could also belong on the same table. Pork is a mainstream protein available to everyone, rich or poor, while eggs symbolize longevity and fertility, and I like the idea of a dish for all.
And, just because it's a lot of fun, we could have yu sheng, a Chinese New Year dish that's popular in Singapore and Malaysia. It's made up of sliced raw fish, shredded lettuce, pomelo pulp, ground roasted peanuts, and crispy fried dough, and is dressed with spices and plum sauce. When ready to eat, everyone stands up, chopsticks in hand, and tosses the salad together. The higher you toss the ingredients, the more luck you'll have. Entertainment for our future children.
Although in the end, whether I even celebrate Chinese New Year this year is a moot point—baby will come when baby wants to come. What matters, and what some might say has always mattered, is that the festival be relevant to me and my family, and that I make it ours for generations to come.
EDITOR'S NOTE: Too anxious and exhausted to cook, Pat Tanumihardja left the Chinese New Year dinner plans entirely up to her mother, who is visiting from Seattle to help with the newborn. The family celebrated with a pseudo-traditional meal of lumpiah (Indonesian spring rolls), steamed whole trout, stir-fried shrimp and vegetables, pork ribs, and salted vegetable soup. Her son Isaac decided to show up on February 20th.

Teochew Braised Duck
LC Lo Ack AccompanimentNote
Whenever you serve this Lo Ack, or braised duck, consider steamed white rice a must in terms of accompaniments. [Editor's Note: We don't like to be bossy. But sometimes the situation demands a certain straightforward matter-of-factness.] For additional traditional accompaniments, take a peek at the variation that follows the recipe.
Teochew Braised Duck
Quick Glance

(1)

25 M
1 H, 30 M

6

servings
Print Recipe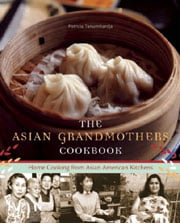 Ingredients
For the chile-lime dipping sauce
For the Teochew braised duck
Directions
Make the chile-lime dipping sauce
Pound the garlic and chiles in a mortar and pestle or whirl in a small food processor until a coarse paste forms. Add the lime juice and salt and mix well. You will have about 1/2 cup.
Make the Teochew braised duck
Pound the garlic and chiles in a mortar and pestle or whirl in a small food processor until a coarse paste forms. Add the lime juice and salt and mix well.
Rub 1 1/2 tablespoons salt evenly all over the duck, including inside the cavity.
In a large wok, Dutch oven, or other vessel large enough to contain the duck, combine the water, soy sauce, lemongrass, galangal, sugar, cloves, star anise, cinnamon, peppercorns, and remaining salt. Bring to a boil. Reduce the heat to medium-low. Gently lower the duck into the wok. The liquid should reach halfway up the duck. (If necessary, top off the soy mixture with additional water.) Cook the duck, basting it every 5 minutes or so, until it colors evenly, about 20 minutes.
Cover the pan and gently simmer the duck until the meat is fall-off-the-bone tender, 40 to 60 minutes more, flipping the duck halfway through cooking. If the sauce looks like it's reducing to the point of drying out, add a little water, but no more than 1/4 cup at a time. To check for doneness, poke the duck in the thigh with a chopstick. If the juices run clear, the duck is done. Or use a meat thermometer to check if the internal temperature has reached 165°F. If desired, turn off the heat and leave the duck immersed in the sauce for another hour.
Cut the duck into serving pieces and arrange on a serving platter. Skim the fat from the surface of the sauce and discard. Drizzle the sauce over the duck and serve with the chile-lime dipping sauce.
Print Recipe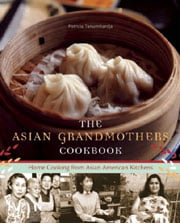 Tuxedo Variation
Traditional Teochew Braised Duck Accompaniments

Add fried tofu or hard-boiled eggs to the sauce about 20 minutes before it's done, or jazz up the braised duck meat with a medley of duck intestines, liver, and gizzards.
Teochew Braised Duck Recipe © 2010 Pat Tanumihardja. © 2010 All rights reserved. All materials used with permission.
If you make this recipe, snap a photo and hashtag it #LeitesCulinaria. We'd love to see your creations on Instagram, Facebook, and Twitter.