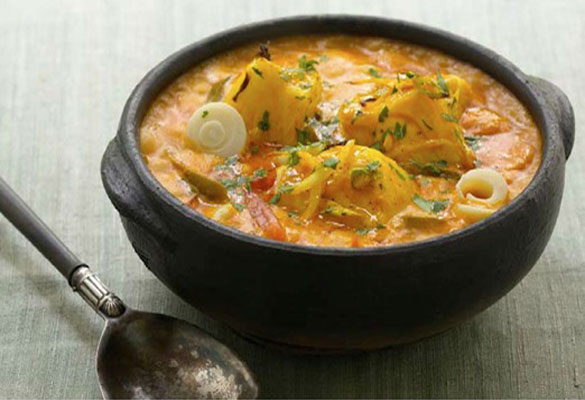 This fish stew, called moqueca in Portuguese, couldn't be more Brazilian, although it has an international appeal that is hard to resist. Moqueca is originally from the state of Bahia, and there are many versions: fish, shrimp, or crab are the most popular. Use this recipe as a guideline and experiment with different types of fish, such as wild striped bass, halibut, and tilapia. Just a little bit of coconut milk makes this colorful fish stew rich, but only in looks and spirit—one spoonful will reveal how unbelievably light it is. Moqueca is commonly served with farofa, a side dish made from cooked manioc flour, but feel free to use white rice.–Leticia Moreinos Schwartz
LC Something Fishy Note
Though this recipe calls for fish stock, if you're pinched for time–or choose not to stink up your kitchen by simmering fish bones–you can certainly rely on frozen fish stock, found in small containers in the freezer section of most seafood counters.
Brazilian Fish Stew Recipe
Quick Glance
40 M
4 H

Serves 4
Ingredients
1

scallion (white and green parts)

, chopped

1

small

onion

, chopped

1

small

piece ginger

, peeled and finely chopped

4

large

cloves garlic

, minced

5

tablespoons

dendê oil

(you can use extra-virgin olive oil or peanut oil, but you'll loose the vibrant Bahian hue)

2

tablespoons

extra-virgin olive oil

4

tablespoons

chopped cilantro leaves

1 1/4

pounds

sea bass

, cut into 2-inch chunks

1/2

cup

freshly chopped green bell pepper

1/3

cup

freshly chopped yellow bell pepper

1 1/2

cups

fish stock

(you can substitute clam juice, homemade chicken stock, low-sodium canned chicken broth, or equal amounts of both)

1

cup

coconut milk

2

tablespoons

store-bought or homemade tomato paste

1

tablespoon

fresh lemon juice

Salt and freshly ground black pepper

1/3

cup

canned or jarred hearts of palm

, drained and diced

2

plum tomatoes

, peeled, seeded, and diced
Directions
1. In a bowl, mix together half of the scallion, half of the onion, half of the ginger, and half of the garlic. Add 2 tablespoons of the dendê oil, all of the olive oil, and half of the cilantro. Place the chunks of fish in a resealable plastic bag and add the marinade, pressing the bag to evenly coat the fish. Remove all of the air from the plastic bag and seal it. Place the bag in a shallow bowl, making sure the chunks of fish are completely covered by the marinade, and refrigerate for at least 3 hours.

2. Take the fish out of the refrigerator 30 minutes before cooking. Preheat the oven to 350°F (175°C).

3. Place the remaining 3 tablespoons of the dendê oil in a large sauté pan over medium heat. Add the remaining scallion and onion along with the green and yellow bell peppers, and cook until softened, about 3 minutes.

4. Add the remaining ginger and garlic to the pan and cook, stirring to combine, for another minute or until it's hot. Add the fish stock and let it come to a full boil. Add the coconut milk and tomato paste and return to a boil. Immediately lower the heat to medium-low or so and simmer the sauce, nice and gently, while you prepare the fish.

5. In the meantime, place the fish and its marinade in a gratin or casserole dish. Pour the lemon juice on top and season lightly with salt and pepper. Bake until the fish is almost but not quite cooked through, 10 to 12 minutes.

6. Carefully transfer each chunk of fish to the pan with the gently simmering sauce. Add any juices in the dish from the fish and marinade. Cover the pan, reduce the heat to low, and cook just until the fish is soft and tender, 5 to 8 minutes.

7. Uncover the pan, add the hearts of palm and tomatoes, and just let them get hot, which will take only a minute or two.

8. Taste the moqueca, season it with salt and pepper, and sprinkle with the remaining fresh cilantro.
Hungry for more?
Chow down on these:
Brazilian Fish Stew Recipe © 2010 Leticia Moreinos Schwartz. Photo © 2010 Ben Fink. All rights reserved.
Hey, there. Just a reminder that all our content is copyright protected. Like a photo? Please don't use it without our written permission. Like a recipe? Kindly contact the publisher listed above for permission before you post it (that's what we did) and rewrite it in your own words. That's the law, kids. And don't forget to link back to this page, where you found it. Thanks!