12 cold soup recipes for hot days is our answer to those days when it's too hot to eat but you're still craving something that will satisfy you. Packed full of fresh veggies and savory spices, there's something here for everyone.
This easy gazpacho is a chilled summer soup made with tomatoes, cucumber, pepper, and onion blitzed in the blender and seasoned with hot sauce. Simple, fresh, and healthy.
Recipe
This cold sweet pea soup is made with fresh or frozen green peas, vegetable broth, onion, salt, pepper, and honey. It's a great soup for long-awaited spring. Plus it's vegetarian as well as weeknight friendly.
Recipe
Using a variety of tomatoes in this cold tomato soup is what we usually do but if you have only one kind on hand, go for it. The feta and olives add the extra salt needed to bring out the pure tomato flavor.
Recipe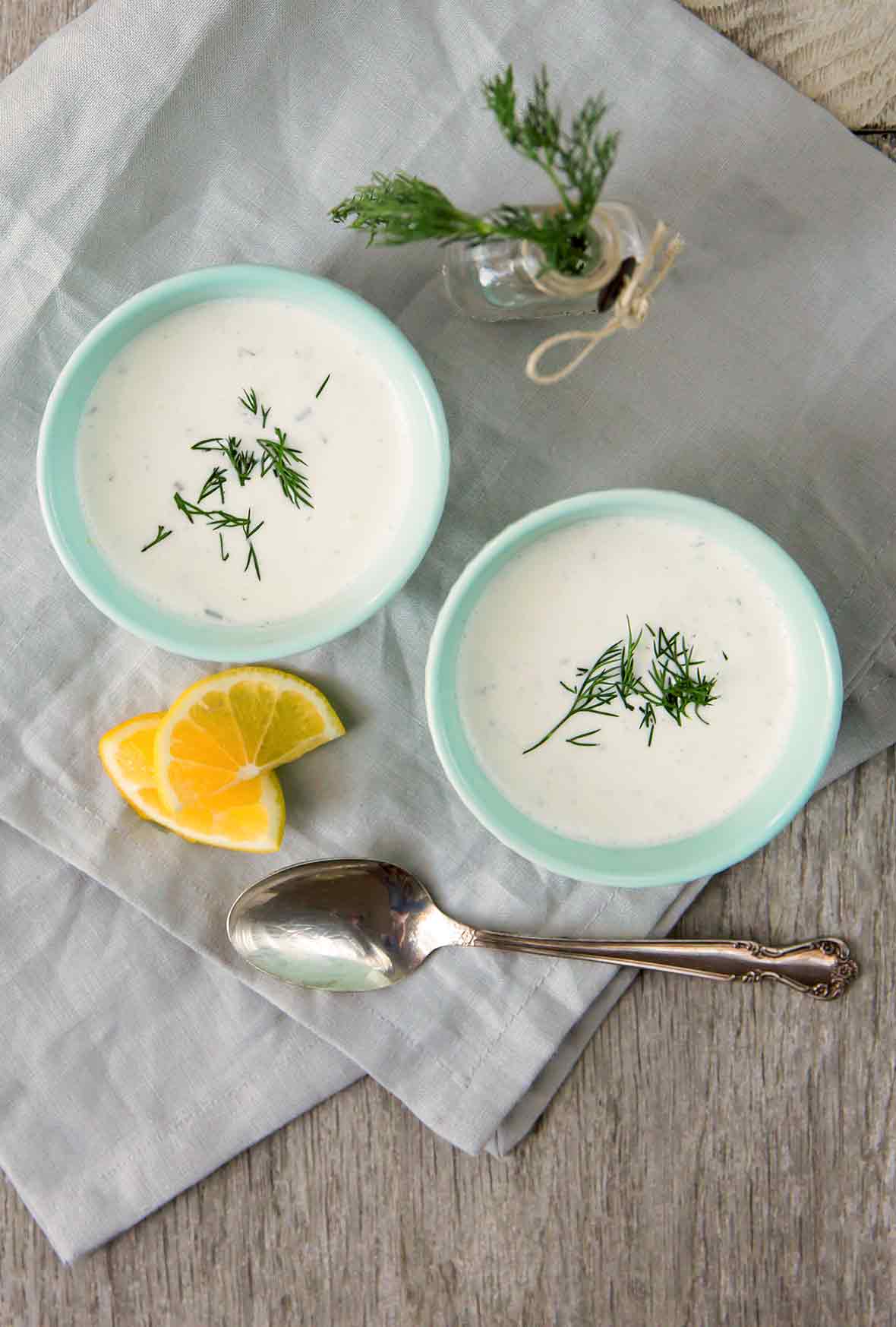 This cold cucumber soup with yogurt and dill is a quick weeknight dinner fix on hot summer days. No need to touch the stove dial. Even better, no need to spend any more than 20 minutes in the kitchen.
Recipe
This cantaloupe soup and prosciutto-mozzarella sandwiches is a quick no-cook meal made with simply pureed melon along with baguette of cold cuts and cheese.
Recipe
This luscious hybrid dish combines Portugal's fave shellfish, crab, with a white gazpacho for a refreshing dish with a little bit of delish richness.
Recipe
Few soups are simpler than this summer classic, but here I make it slightly more complicated by giving the vegetables a quick turn over a smoky fire to lightly flavor them, not cook them.
Recipe
Fresh, green, and incredibly tasty, this soup is a delight all year round. Try it cold for a refreshing summer supper.
Recipe
This summer borscht, this more refined and lighter version of the hearty beet soup popular in eastern Europe is made with beets, carrots, celery, and tomatoes and served chilled.
Recipe
As you can see from the instructions, this green gazpacho is simple to make. There may be many ingredients but they're straightforward and don't need much prep. It's certainly worth the effort. A delicious soup that's perfect on a hot day.
Recipe
I have used the following gazpacho recipe for years. I do not peel the tomatoes—if you use a food processor, the skin all but disappears.
Recipe
Inspired by Indian raita (except you eat it with a spoon), it is refreshing and so pretty, making it the perfect starter for lunch or dinner on a sweltering day. Stay in the shade, listen to the cicadas, and make this chilled soup. Cooling off doesn't get any simpler than this!
Recipe
© 2021 Leite's Culinaria. All rights reserved. All materials used with permission.