These spicy snowflake cookies call for cloves, cinnamon, and ginger for a bit of spice in each bite. Christmas cookies that are as dramatic as they are delicious.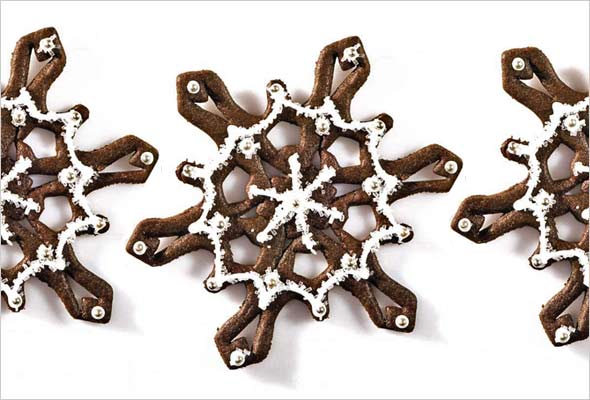 These classic Christmas cookies, just like the winter cold, are ever so slightly like a light slap in the face from all the spices. In the most inviting possible way. Sorta like waking you up. Not just to their flavor. To the magic of the season. Originally published November 23, 2008.–Renee Schettler Rossi
LC Cookie Decorating Diva Note
We confess. We didn't decorate that stunning snowflake cookie, that's for darn sure. If you're seeking some expert advice, we suggest you take a cue from Tish Boyle. You can sample her style by taking a look at the decorating instructions in her recipe at Tish Boyle's Snowflake Cookies. And be patient with yourself. If yours don't appear exactly as hers, bear in mind, they shouldn't. After all, no two snowflakes are alike.
Spicy Snowflake Cookies
Quick Glance
1 H
1 H, 30 M

Makes about 30 intricate cookies
Print Recipe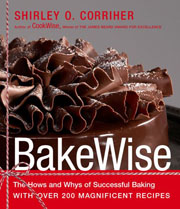 Ingredients
1/4 cup vegetable shortening

1/3 cup light brown sugar, packed

1/2 cup unsulphured molasses, such as Grandma's brand

1 1/4 cups spooned and leveled all-purpose flour, plus more for the work surface

1 1/2 teaspoons baking soda

1 1/2 teaspoons ground cloves

1 1/2 teaspoons ground cinnamon

1 1/2 teaspoons ground ginger

Nonstick cooking spray (optional)
Directions
1. In a large bowl, beat the shortening and sugar with a standing or handheld electric mixer until fluffy, about 3 minutes. Add the molasses and beat, scraping the sides of the bowl, until well blended, about 1 minute.

2. In another large bowl, stir together the flour, baking soda, cloves, cinnamon, and ginger. Add 1/3 of the flour mixture to the molasses mixture and blend on the lowest speed. Add another third and blend, and then add the final third and blend. Cover the dough with plastic wrap and leave on the counter overnight. (Letting the dough stand overnight allows the moisture to be evenly spread, which in turn ensures there are no wet spots that stick to the rolling pin or work surface and also that there are no dry spots that tear. This is vital for a crisp cookie which requires that the dough be rolled as thinly as this one.)

3. Preheat the oven to 325°F (163°C). Adjust the oven rack to the center of the oven.

4. On a lightly floured work surface, take about 1/3 of the dough and shape it into an 8-inch disc about 1 inch thick. Keep the rest of the cookie dough tightly covered. If the disc of dough is sticky, use a large, lightly floured flour sack towel as a surface to roll out the dough or simply roll the dough between a couple large sheets of plastic wrap. You want to use only the smallest amount of flour possible as you roll the dough to keep the dough from sticking. This takes practice. Ideally you'll roll the cookie dough to 1/8 inch thickness. The closer the dough is to 1/8 inch, the less it spreads when rolled, which makes it ideal for intricate cut-out cookies to retain their shape when baked.

5. Cover a baking sheet with Silpat or parchment sprayed with nonstick cooking spray. Cut the cookies with a 2 1/2-inch cookie cutter and place on the baking sheet, about 1 inch apart. Bake for 8 to 10 minutes, until edges just begin to color. (The longer you bake the cookies, the crisper they become. Our findings were that at 8 minutes the cookies are chewy, at 10 minutes sorta chewy in the center and crisp at the edges, and at 12 minutes crisp throughout. Follow your heart.)

6. Transfer the Silpat or parchment and the cookies to a wire rack to cool for 2 minutes, then transfer the cookies sans Silpat or parchment to a rack to cool completely. Store in an airtight container.
Spicy Snowflake Cookies Recipe © 2008 Shirley O. Corriher. Photo © 2008 Akel studio. All rights reserved. All recipes and photos used with permission of the publisher.
If you make this recipe, snap a photo and hashtag it #LeitesCulinaria. We'd love to see your creations on Instagram, Facebook, and Twitter.