These spiced peach shortcakes call for a classic baking powder biscuit to be filled with fresh peaches that have been simmered with brown sugar, cinnamon, nutmeg, vanilla, and lemon juice. On top is a dollop of fresh whipped cream.
You're familiar with classic shortcake made with ethereally airy biscuits, strawberries so fresh they make the soul ache, and dollops of gently whipped cream, yes? No one ever said shortcake was limited to berries. And if someone did, well, where's your rebellious streak? These unconventional spiced peach shortcakes are something of a surprise—and not just in terms of the sweetly spiced stone fruit but the sweet-but-not-too-sweet baking powder biscuits. (We have a penchant for sprinkling a little turbinado sugar over the dough before baking to ensure extra sweet, extra sparkly shortcakes, just 'cause we can.) And even if you find yourself craving the classic strawberry shortcake, we think these slightly sweet biscuits would work admirably in that capacity as well. Originally published June 3, 2004.–Renee Schettler Rossi
Spiced Peach Shortcakes
Quick Glance
30 M
55 M

Makes 6 to 8 shortcakes
Special Equipment: 3-inch (8-cm) biscuit cutter
Print Recipe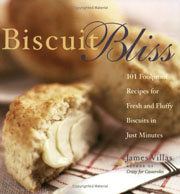 Ingredients
For the peach filling

5 medium ripe but firm peaches, peeled, pitted, and cut into 1/2 inch (12 mm) pieces

1/2 cup firmly packed light brown sugar

1/4 teaspoon ground cinnamon

1/8 teaspoon ground nutmeg

1/8 teaspoon almond or vanilla extract

2 teaspoons fresh lemon juice

For the biscuits

2 cups all-purpose flour , plus more for the work surface

1 tablespoon baking powder

2 tablespoons granulated sugar

1/2 teaspoon salt

1 1/4 cups heavy cream

Milk, for brushing the biscuit tops

Whipped cream, for dolloping
Directions
Make the peach filling

1. In a large, heavy saucepan off the heat, gently combine the peaches, brown sugar, cinnamon, nutmeg, almond or vanilla extract, and lemon juice. Bring the mixture to a gentle simmer over medium-low heat, cover, and cook just until the peaches are soft but not mushy, 5 to 10 minutes, depending on the ripeness of your peaches. Remove from the heat and let cool.

Make the biscuits

2. Meanwhile, preheat the oven to 425°F (220°C).

3. In a large bowl, whisk together the flour, baking powder, granulated sugar, and salt. Add the cream and stir just till a soft dough forms. Transfer the dough to a lightly floured work surface and knead about 8 times. Gently pat the dough to 1/2 inch thickness and cut out rounds with a 3-inch biscuit cutter. Pat the dough scraps together and cut out more rounds. You should have 6 to 8 rounds.

4. Arrange the rounds about 1 inch apart on a baking sheet. Lightly brush the tops of the rounds with milk and bake until golden, about 15 minutes. Transfer the biscuits to a wire rack to cool.

Assemble the shortcakes

5. Split each cooled biscuit in half and arrange the bottom halves, split side up, on individual dessert plates. Mound equal amounts of the peaches on each biscuit and sandwich with the other half of the biscuit half. Smother with a generous dollop whipped cream. Serve immediately.
Recipe Testers Reviews

This recipe is quick and easy to make. The flavor is good and the portions are huge. (I actually think you could make 8 rather than 6 shortcakes.)
The shortcake recipe is almost exactly the same as Marion Cunningham's cream biscuit recipe. My mixture was a bit dry so I added a touch more cream. (Cunningham's recipe calls for up to 1/2 cup more cream, but I didn't need that much.) The peach filling takes about 10 minutes to make, which is halfway through the baking of the shortcakes. So before doing anything else, I put everything for the peaches in the pot and let it sit there for the flavors to mingle. After the shortcakes were in the oven, then I cooked the peaches. I would prefer a little more spice, actually. The whipped cream is a great addition.
Spiced Peach Shortcakes Recipe © 2004 James Villas. Photo © 2004 Alexandra Grablewski. All rights reserved. All recipes and photos used with permission of the publisher.
If you make this recipe, snap a photo and hashtag it #LeitesCulinaria. We'd love to see your creations on Instagram, Facebook, and Twitter.