Few other applications reveal roasting's power the way this garlic recipe does. Roasting turns garlic from intensely pungent to nutty, sweet, and spreadably soft with minimal work. The softened cloves are perfect for spreading onto bread; they also add rich flavor to simple condiments. This recipe can be adjusted for as many or as few garlic heads as you want. Serve the garlic with crusty bread or use in aioli or dressings.–America's Test Kitchen
HOW LONG WILL ROASTED GARLIC LAST?
Roasted garlic can be refrigerated in a sealed container for up to 1 week.
Easy Roasted Garlic
For this easy, foolproof method, we simply trimmed off the top of each head of garlic, exposing the tops of the cloves, and drizzled them with olive oil. Sealed tightly into an aluminum foil packet, the cloves turned buttery soft in a 425ºF oven; opening up the packet for the last 20 minutes allowed the tops of the cloves to caramelize.
Ingredients
4

large (10 oz)

garlic heads

2

teaspoons

extra-virgin olive oil

Salt
Instructions
Adjust oven rack to middle position and heat oven to 425°F (220°C).

Cut 1/2 inch (12-mm) off the top of each garlic head to expose most of the tops of the garlic cloves. Place garlic heads, cut side up, in the center of a large piece of aluminum foil. Drizzle each with 1/2 teaspoon oil, season with salt, and gather foil tightly around the garlic to form a packet.

Place packet directly on oven rack and roast for 45 minutes. Carefully open just the top of the foil to expose garlic and continue to roast until garlic is soft and golden brown, 5 to 10 minutes.

Remove garlic from oven and let cool for 20 minutes. When cool, squeeze garlic from skins into a bowl.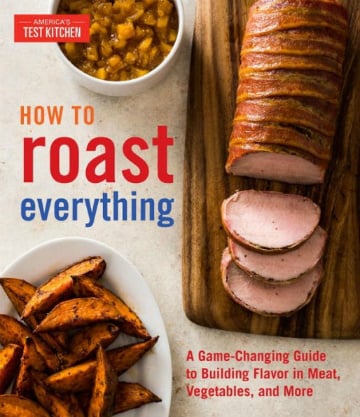 Nutrition
Serving:
1
tablespoon
Calories:
10
kcal
Carbohydrates:
1
g
Protein:
1
g
Fat:
1
g
Saturated Fat:
1
g
Polyunsaturated Fat:
1
g
Monounsaturated Fat:
1
g
Sodium:
1
mg
Potassium:
2
mg
Fiber:
1
g
Sugar:
1
g
Vitamin A:
1
IU
Vitamin C:
1
mg
Calcium:
1
mg
Iron:
1
mg
Nutrition information is automatically calculated, so should only be used as an approximation.
Recipe © 2018 America's Test Kitchen. Photo © 2018 Keller + Keller. All rights reserved.
---
Recipe Testers' Reviews
If you can call garlic seductive, easy roasted garlic is just that. The scent as it is caramelizing is irresistible. Sweet and pungent, permeating every room, it invites you to dinner. The spicy raw fragrance from the cut garlic bulb transforms into a mellow, creamy, and sweet richness when taken out of the oven.
This easy roasted garlic is simple, yet makes you seem like a chef with secret knowledge when you add this to your sauce, butter, or as a spread for toasted bread drizzled with olive oil. It also makes a luxurious substitute for butter on your pasta.
This easy roasted garlic is a product you must always have in your fridge. You can use it to spread on toasted bread, to stir in the juices of roast pork or lamb, on mashed potatoes, as a condiment to dressings, even in soups.
The cloves slip out very easily with one little squeeze and you get a soft and spreadable paste, that can be stored in the fridge, in an airtight jar, with its surface covered by a thin layer of olive oil, for one or two weeks. You can add thyme or bay leaf to increase flavor.
I am giving this easy roasted garlic a TC, based on the deliciousness of roasted garlic, and the countless things that you can do with it. I remember reading somewhere that Julia Child once said that if you can smell something, it is probably telling you that it is done. I am paraphrasing here, and may not be anywhere close to anything she actually said. It was soft and golden at the 45-minute mark.
The second time I made this, I made it in my toaster oven and baked it for 40 minutes, not 45. The head of garlic was soft and starting to brown. I put it back in the oven, uncovered, for 10 more minutes, after which I checked on it. It was, indeed, golden brown, and needed no more cooking. I let my roasted garlic cool, before squeezing the soft, unctuous cloves into a bowl.
Roasted garlic is fabulous. I have seen folks who don't even like garlic because of the sharpness it can have, like roasted garlic because of how it mellows. I used some of my garlic smeared on a baked chicken, sausage, onion, and potato dish and some of it spread on a piece of focaccia. Both were excellent. This gave me the opportunity to remember just how much we like roasted garlic, and how much you can do with it. I think that having a jar of this in the refrigerator at all times might be the way to go.