One of the many things that boggles my mind is that as food bloggers become more proficient in their cooking skills–and technology get better, faster, and easier–the images of their dishes become shockingly good. I mean, perversely good. Take a look at smittenkitchen.com, 101 Cookbooks, or Cupcake Bakeshop. Some of those pictures are cookbook-worthy. And after having been in advertising for years, as well as being on set for the shoot for my own cookbook, I know the amount of work (and the tricks) that go into shooting the perfect image. For every cookie in a shot, a dozen are baked. For every pound of braised beef ribs nestled in a pot on the cover of a magazine, four pounds are cooked. Then the food stylist picks through pan, pot, or baking sheet finding that one specimen the camera will love.
But my guess is most bloggers aren't making four, five, or, God forbid, six times the amount require in a recipe for one fleeting shot on their blogs. I think it's a do-or-die, one-photo-has-to-make it phenom. A fact that left me banging my head against my kitchen cabinets today when I pulled out my latest loaf of bread, only to discover the pathetic, glutenous mess awaiting me in the pot. I could have left my camera in my bag, telling no one, but I decided to buck up, face the music, and photograph my miserable failure for all the world to see. No toasty loaf here. No tender, open crumb and crackly crust. No image that will make the round of the Internet or be a universal fave on Flickr. It's just a one-inch-high cow flap that bears not even a passing resemblance to its forbearer. View it and snicker, dear reader, while I weep.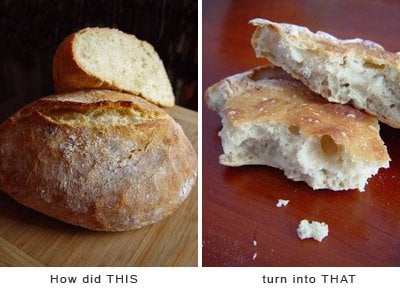 You might recall I'm going full throttle with the New York Times' No-Knead Bread. After having incredible success on my first try, I've been revisiting the recipe weekly, with diminishing return. (If I keep this up, by next week, I'll pull matzoh out of the pot.) I tried to figure out what went wrong, but I've come up empty-handed. The loaf was baked in the same oven, in the same pot, using the same flour and yeast as the prior glorious loaf.
I think the problem is I've lost my baking mojo. In keeping with our "Month of Comfort" theme over on the homepage (yes, I actually cook from our site), I destroyed Ina Garten's idiot-proof Lemon Cake (it rose beautifully, then collapsed, leaving behind a sink hole the size of my fist) and drastically over baked a delicate shortbread so its pale complexion was more the color of a Hollywood spray-on tan. My only success in the past seven days: Diane Morgan's Garlic and Herb-Rubbed Crown Roast of Pork.
But I'm a baker at heart. I get off on the precision of measurements, the exactness of temperatures, the mental fretwork that goes into creating the perfect piece of sweet goodness. So the fact that I was able to pull off a succulent roast with nary a thought of reaching for a Xanex says less about Diane's excellent recipe and more about some "Freaky Friday" catastrophe, where my normally preternatural adeptness at the art of baking and my quivering reaction when I have to face the stove with a piece of raw meat in my hands changed places.
I can only hope this curse, this godforsaken run of baker's bad luck ends soon. I have cookies to make and cakes to frost. My friends are starting to give me that perplexed, IQ-of-a-philodendron look Jeff Bridges gives Karen Allen in "Starman," and it's making me uncomfortable.
© 2009 David Leite. All rights reserved. All materials used with permission.