The 10 most popular recipes of September 2021 were a lot of comforting, creamy dinners and chocolatey desserts. It must be the chill in the air that's making us all want a little bit of spice and sauce on our plates. Foods like butter chicken, cacio e pepe, smothered pork chops, and a stunning SweeTango rose apple tart herald the beginning of autumn eats.
Sweet, crunchy apples crown this elegant, easy apple rose tart. Because the apples aren't baked, their crisp bite of honey and citrus shine through, and the creamy apple-butter custard adds a luscious mouthfeel.
Recipe
Simmer pieces of chicken in an aromatic, delicately spiced, creamy curry sauce that tastes like the butter chicken masala you love to eat in restaurants. Serve with rice and naan bread to make the most of all the sauce.
Recipe
Challenged by dear childhood friends who wanted the perfect gluten-free chocolate chip cookie, I developed this recipe and got a true test of how successful it was when I took a batch to a Super Bowl Party. Everyone demolished the entire batch of cookies without knowing they were gluten-free and told me they were the best they had eaten. When I revealed they were gluten-free, all of the party-goers were shocked!
Recipe
Smothered pork chops are traditional Southern comfort food of pan-fried pork chops covered in a rich onion gravy. Serve with corn bread, wild rice, potatoes, anything that will sop up the rest of that creamy onion sauce.
Recipe
To make these easy croque madame muffins from Rachel Khoo, sliced bread is buttered then pressed into muffin tins. Each bread cup is filled with ham, eggs, and Gruyère cheese then baked until golden.
Recipe
This gooey pull-apart bread is stuffed with apples, butter, cinnamon, and sugar and topped with the creamiest maple cream cheese frosting. Make this bread irresistible by frosting it while it's still warm.
Recipe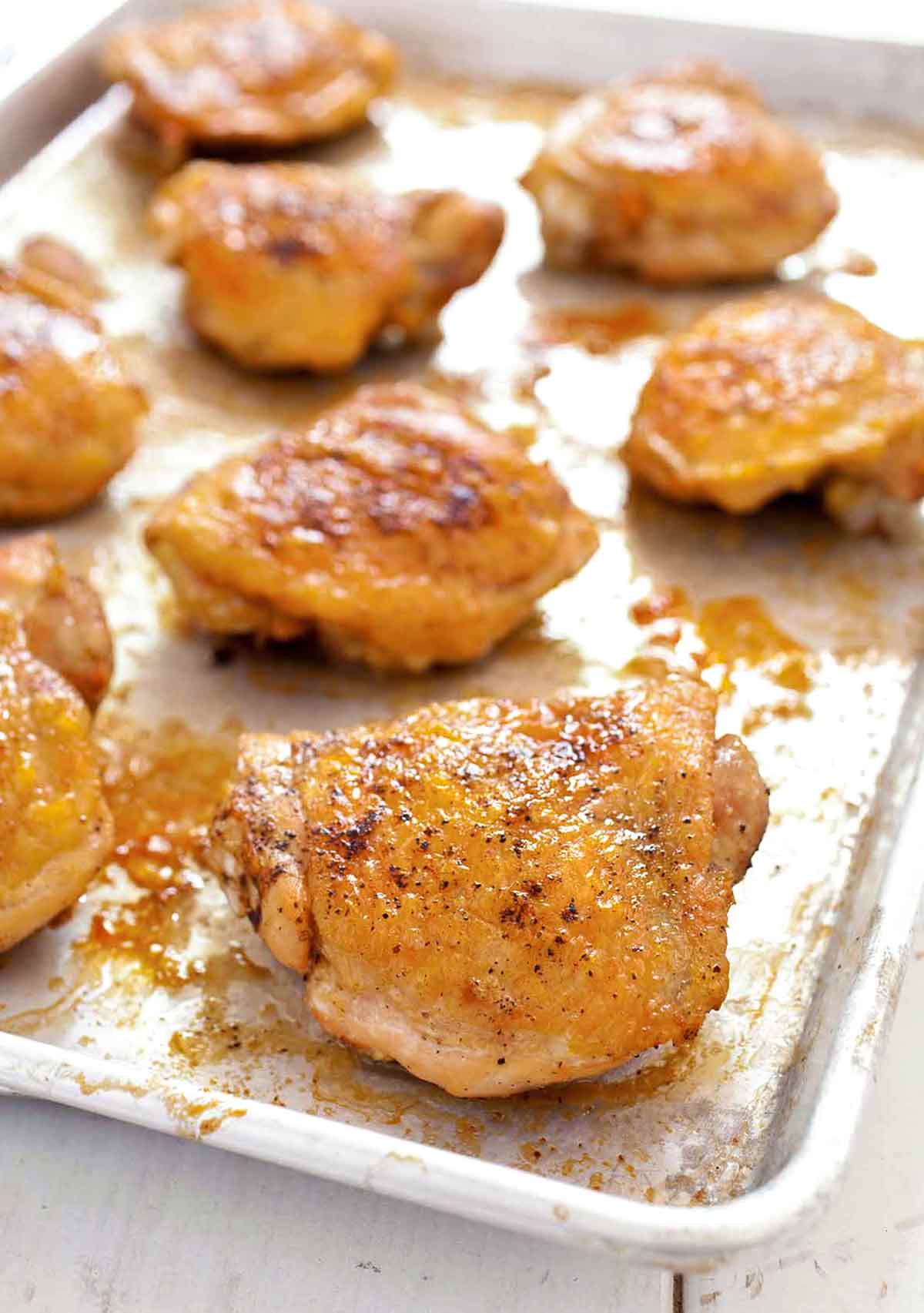 This oven roasted chicken thighs so ingenious is the technique. Bone-in, skin-on chicken thighs are baked until cooked through and then broiled to crisp the skin. The result? Juicy, flavorful chicken. Marvelously crisp skin.
Recipe
This sheet pan taco bake has seasoned ground beef, onions, tomatoes, cilantro, and Cheddar and Monterey Jack cheeses enveloped in tortillas and baked until crunchy and golden. Great party food for feeding a crowd.
Recipe
This authentic cacio e pepe recipe relies on pantry staples of pasta, cheese, salt, pepper, and olive oil as well as a nifty cooking technique to put dinner on the table before you know it.
Recipe
These chocolate pecan bars were made with kid bakers and little hands in mind. But that doesn't mean that they don't bake up as a pretty sophisticated adult dessert, too. A buttery nut crust, a sweet filling, and topped with dark chocolate, they'll appeal to everyone.
Recipe
© 2021 Leite's Culinaria. All rights reserved. All materials used with permission.