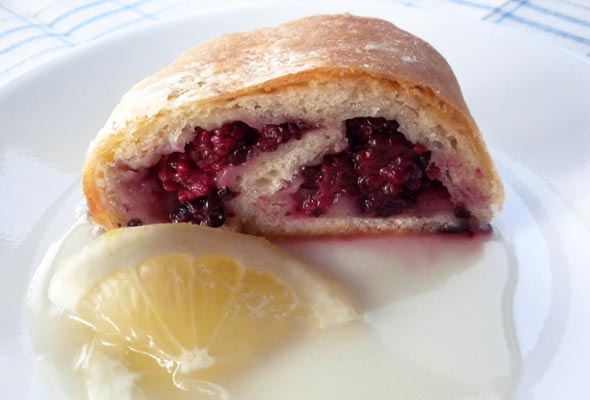 One of the recipes in my great-grandmother Elizabeth's box had a name that intrigued me. The words roly-poly, written in her elegant hand, jumped out at me like a secret that had been kept hidden inside the box for too long.–Cory Schreiber
LC Holy Moly, Roly-Poly Note
Holy moly! This roly-poly sorta defies description, seeing as it's sorta cake and sorta bread. Best to just experience it for yourself.
Blackberry Roly-Poly
Quick Glance
45 M
1 H, 30 M

Serves 8
Special Equipment: Two 12-inch loaf pans
Print Recipe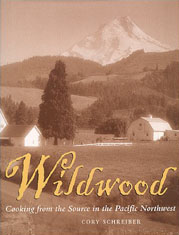 Ingredients
Email Grocery List
2 cups flour, plus more for the work surface

2 teaspoons baking powder

1/2 teaspoon salt

4 tablespoons unsalted butter, chilled, plus 2 tablespoons butter, melted, plus more for the pans

3/4 cup milk

1 1/2 cups fresh blackberries

6 tablespoons granulated sugar

For the lemon sauce

1/2 cup granulated sugar

2 tablespoons cornstarch

1/4 teaspoon salt

1 1/2 cups water

1/3 cup fresh lemon juice

1 vanilla bean, split and scraped, or 1 teaspoon vanilla extract

3 tablespoons unsalted butter

1 to 2 lemons, preferably Meyer lemons, peeled, halved lengthwise, seeded, and cut into paper-thin crosswise slices on a mandoline or by hand
Directions
1. Preheat the oven to 350°F (180C°). Lightly butter two 12-inch loaf pans.

2. Sift the flour, baking powder, and salt together into a medium bowl. Using a pastry blender or 2 knives, cut in the 4 tablespoons cold butter until the mixture resembles crumbs. Add the milk and mix with a fork until the dough comes together. Turn the mixture onto a floured board and knead 4 or 5 times, or until smooth. Cut the dough in half. Roll half the dough into a rectangle 8 inches wide and 1/4 inch thick. Brush with half the melted butter, top with 3/4 cup blackberries, and sprinkle with 3 tablespoons sugar. Roll the dough up jelly-roll style, forming an 8-inch-long roll. Place the roll, seam side down, in 1 of the prepared pans. Repeat with the remaining dough and filling. Bake in the pans for 35 to 40 minutes, or until the crust is firm and beginning to brown. Remove the roly-poly from the oven and let cool in the pans for 10 minutes, then turn it out onto a wire rack to cool completely.

3. In a medium saucepan off the heat, blend together the sugar, cornstarch, and salt. Add the water, lemon juice, vanilla bean and scrapings, and stir until smooth. (If using vanilla extract, wait to add until the syrup is removed from the heat.) Cook over medium heat, stirring, for 5 minutes, or until the mixture is thick and clear. Remove from the heat, add the butter, and continue to stir until the butter is melted and completely combined. Let the sauce cool slightly, and then stir in the lemon slices. Remove and discard the vanilla bean, if using. (The lemon sauce is best served the day it's made, although it will keep, covered and refrigerated, for 3 to 4 days. It will thicken when refrigerated; simply stir just before serving .)

4. To serve, cut the roly-poly into 2-inch slices and serve with the lemon sauce.
Recipe Testers Reviews

I have to admit, the name "roly-poly" intrigued me enough to want to make this pastry. It's fun, easy-to-make, and brings a little rustic elegance to your dessert table. Sweet and simple—it's a humble creation of blackberries baked in a biscuit. What's not to love? The biscuit rolls out to the correct dimension to accommodate the berries, and bakes up flaky and golden brown. When sliced, the rolled look is revealed, full of baked, plump blackberries. The lemon sauce is the perfect accompaniment—it ties all of the flavors of the pastry together, and leaves a refreshing taste on your palate. Use blackberries or your favorite summer variety—even try a mixed blend. Either way, I'm sure you'll be pleased with the results.
Blackberry Roly-Poly Recipe © 2000 Cory Schreiber. Photo © 2010 Karla M. Cyr. All rights reserved. All materials used with permission.
If you make this recipe, snap a photo and hashtag it #LeitesCulinaria. We'd love to see your creations on Instagram, Facebook, and Twitter.