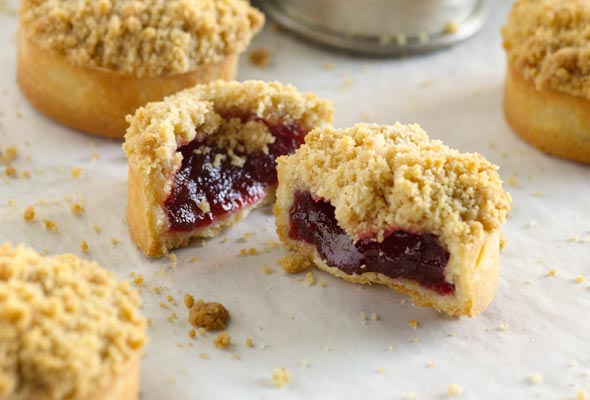 It's easy to underestimate just how delicious these easy little tartlets are. The crust is crisp and buttery, the jam a little sharp, and the streusel is nice and sweet. They are the perfect little mouthfuls. They were inspired by a visit to L.A. Burdick Bakery in Waypole, New Hampshire, where I stopped one day when traveling. These tartlets are excellent served as an after-school snack, for tea, or for a picnic, as they travel quite well and don't need to be refrigerated. Try them with your favorite jam.–John Barricelli
LC Wee Tartlets in Whatever Size Note
Technically, these charming little tartlets require 2-inch tart molds. But wait! Don't stop reading. If you're the rebellious sort or the prudent type or both, simply do what we did and pull out your standard-size or mini-muffin tins, relying perhaps on a smidgen more or less jam as you deem appropriate. You can also, of course, play free and easy with the flavor of jam as well as the pans.
Jam Tartlets
Quick Glance
1 H, 10 M
3 H, 55 M

Makes 16 tartlets
Special Equipment: Sixteen 2-inch tart molds (or substitute standard-size muffin tins)
Print Recipe
Ingredients
For the pâte sucrée

2 cups all-purpose flour

1 cup (2 sticks) unsalted butter, at room temperature

1/4 cup sugar

1 teaspoon coarse salt

1 large egg

1 large egg yolk

For the tartlets

1/2 recipe pâte sucrée, chilled

1/2 cup all-purpose flour, plus more for the work surface

1/2 cup firmly packed light brown sugar

1/4 teaspoon coarse salt

1/8 teaspoon ground cinnamon

1/4 cup (1/2 stick) cold unsalted butter, cut into 1/4-inch cubes, plus more for the molds

1/2 cup seedless raspberry jam

3 to 4 tablespoons confectioners' sugar, for dusting
Directions
Make the pâte sucrée

1. In a bowl, whisk the flour to aerate it.

2. In the bowl of a standing mixer fitted with the paddle attachment, beat the butter, sugar, and salt on medium-high speed until light and fluffy, about 3 minutes, scraping down the sides of the bowl halfway through. Add the egg and yolk and mix to combine. Add the flour and beat until it has been absorbed.

3. Scoop about half of the dough onto a sheet of plastic wrap, shape into a flattened disk, and wrap tightly. Repeat with the remaining dough. Refrigerate until firm, at least 2 hours. This makes enough for 1 double-crust or 2 single-crust 9-inch pies.

Make the tartlets

4. Line a baking sheet with parchment paper or a nonstick silicone baking mat. Butter sixteen 2-inch tart molds (or muffin tins).

5. On a lightly floured work surface, roll the dough to about 1/8 inch thick. Cut as many 2 1/2-inch rounds as possible and fit them into the prepared molds. Chill and re-roll the scraps. Cut out the remaining number of rounds and fit them into the remaining molds. You should be able to line 16 tartlet molds. Arrange the molds on the prepared baking sheet and refrigerate for 20 minutes.

6. To make the streusel, in a medium bowl, use a fork to stir together the flour, brown sugar, salt, and cinnamon. Add the butter, and using your fingertips, quickly work it into the dry ingredients until pea-size crumbs form. Cover and refrigerate.

7. Set the oven rack in the bottom third of the oven. Preheat the oven to 350°F (175°C).

8. Spoon about 1 teaspoon jam into each tart shell. Mound 1 rounded tablespoon of streusel on top of each tartlet, scrunching the crumbs together in order to make large crumbs which will give the topping texture.

9. Bake, rotating the baking sheet after about 12 minutes, until the edges of the tarts are golden brown and the streusel is cooked, 20 to 25 minutes. Remove from the oven and let cool on a wire rack.
Jam Tartlets Recipe © 2010 John Barricelli. Photo © 2010 Ben Fink. All rights reserved. All recipes and photos used with permission of the publisher.
If you make this recipe, snap a photo and hashtag it #LeitesCulinaria. We'd love to see your creations on Instagram, Facebook, and Twitter.