Whether you're trying to go keto, Paleo, Whole30, vegetarian, vegan, or just want to feel a little healthier, we've got recipes for you.
Chicken Burrito Bowl
Spice-rubbed chicken is paired with a warm bean and corn salad, along with shredded romaine lettuce and cheese. A scoop of guacamole and a drizzle of lime sour cream are the pièce de résistance. The recipe makes a big batch of guacamole, so feel free to halve it if you're not so avocado-obsessed.
Recipe
This burrito bowl recipe is very easy to follow and even more delicious. The instructions were very clear and easy to follow. The sweet and citrus flavors from the sauces mix very well with the savory and spicy flavors of the chicken and grain, and the textures from all the foods work very well together.

This recipe is also very inclusive to dietary needs such as gluten-free and dairy-free, as you can simply add or take away certain ingredients and you'll still end up with an amazing dish.

evan z.
Roasted Cauliflower Curry
Never underestimate the power of cauliflower! Such a simple ingredient that makes an epic 'take away' style dish. A mainstay weekday meal, hearty and flavourful, this is made in one big tray and roasted in the oven with tons of spice.
Recipe
Kohlrabi and Pear Salad
This kohlrabi and pear salad, made with crisp raw kohlrabi, ripe pear, mixed greens, and a salty sour soy and lime dressing, is an easy, surprising, healthy salad.
Recipe
With a few gorgeous kohlrabi and pears on hand from the farmer's market, I was thrilled to come across this recipe that uses both in their natural state! I loved the combination of the sweet cubes of ripe, tender pear with the crunchy texture of the kohlrabi and the splash of the tart yet sweet vinaigrette.

I had some peppery arugula on hand, so that is the green I used for the base of the salad. I highly recommend this salad! It was lovely as a side to a quick-and-spicy shrimp-and-peanut stir fry over rice noodles.

anna s.
Instant Pot Lentil Soup
This Instant Pot lentil soup transforms everyday pantry ingredients, including French lentils, carrots, onion, celery, potatoes, tomatoes, and vegetable broth, into a satiating vegetarian meal.
Recipe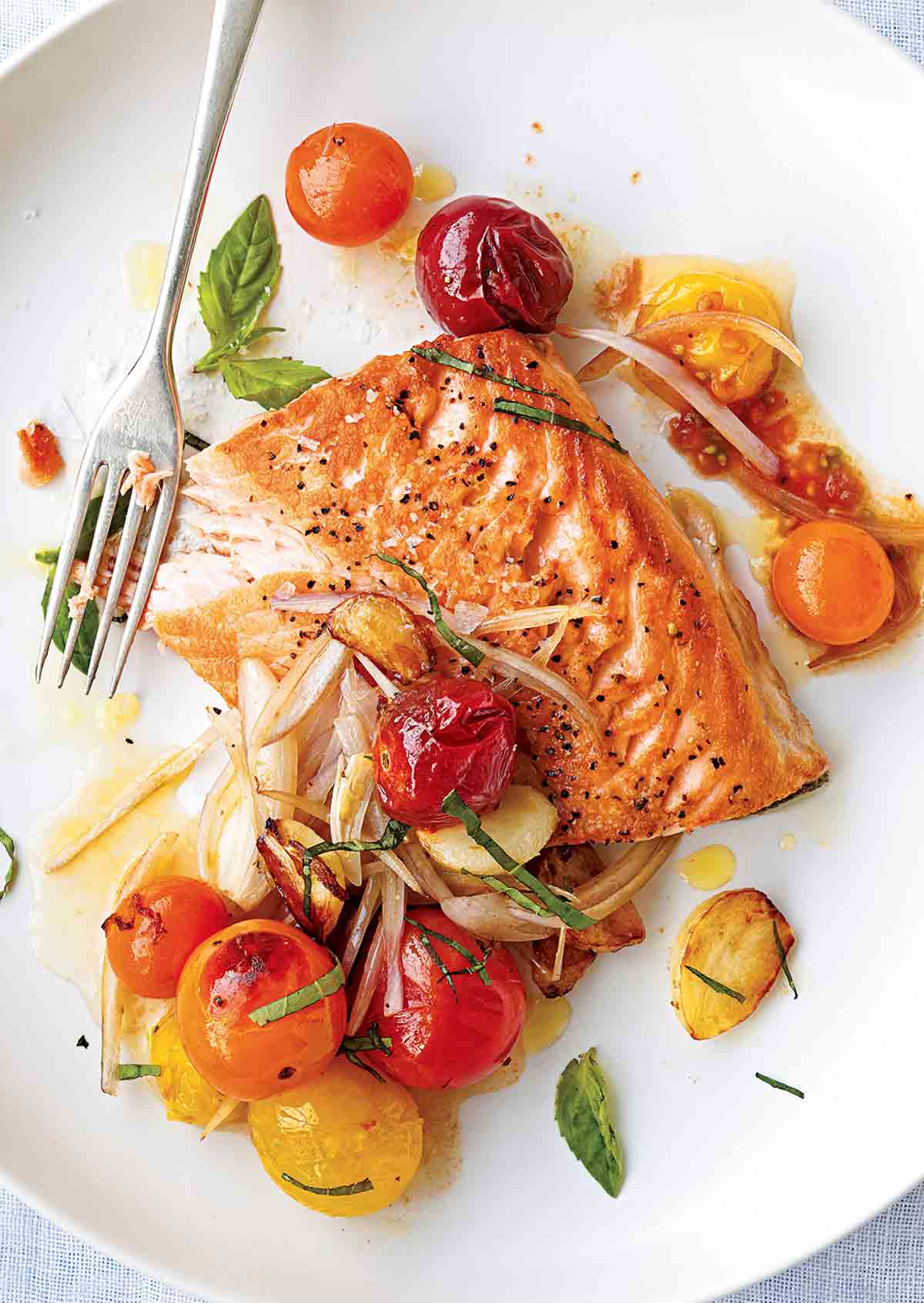 Salmon with Cherry Tomatoes
This salmon with blistered cherry tomatoes is quick, easy to make, and healthy. In other words, perfect weeknight fare.
Recipe
This salmon and cherry tomatoes dish is such a nice recipe! Made for a quick, easy dinner full of bright flavors. Will make this again.

After reading the testers' reviews, I felt free to follow some ideas so we could make this with the ingredients at home. We were short on tomatoes and fresh basil, but it came out great, although we would have enjoyed the full amount of tomatoes and the basil. My garlic browned quickly (guessing my oil was too hot), so I pulled it out of the pan before blistering the tomatoes.

Tossed our tomato mixture with some blanched snow peas and served it with orzo. A healthy meal on the table in under 25 minutes from when I turned the oven on to preheat.

mary joan
Quinoa Chili
This quinoa chili is a vegetarian's delight. Quinoa, black beans, kidney beans, tomatoes, onions, and garlic are cooked in a broth infused with chili powder, cumin, cinnamon, and unsweetened cocoa. Piled on top are diced avocado, grated Cheddar cheese, sour cream, crumbled pita chips, and cilantro leaves.
Recipe
This is the best veggie chili I have ever made (and I've been cooking vegetarian since the late '70s.) It's hearty, rich, and fragrant. Love the combo of cinnamon and unsweetened cocoa.

This recipe is a staple in my home now, and I'll definitely check out her cookbook.

randi k.
Thai-Inspired Chicken Salad with Peanut Dressing
This easy Thai-inspired chicken salad with tangy peanut dressing makes lunch something to look forward to, with loads of veggies and chicken.
Recipe
Whether your goal is to add an extra meatless meal to your cooking each week or boost your fruits and veggies, we've got plenty of breakfast, lunch, and dinner ideas for you to choose from. Check out our whole collection of healthy recipes and get cooking.