Are your favorite parts of the Super Bowl the snacks and the half-time show? Us, too. We can help you with the snacks but you'll have to look after jazzing up your outfit yourself. We're just gonna wrap ourselves in napkins and dive right in.
This recipe is inspired by Korean fried chicken, where boneless chicken thighs are fried and tossed either in a sticky, savory sauce or with lots of crispy garlic.
Recipe
These tender slow cooker French dips are so simple to make that you'll be having them every week. Flank steak is so underrated but this recipe will show you just how incredible it is. And don't forget the pickled onions!
Recipe
Yes, you can make spicy fried classic buffalo chicken wings at home. And it's easier than you may think. Here's how.
Recipe
This football cheese ball with bacon is, well, exactly what the title proclaims. A cheese ball in the shape of a football. Made with both Cheddar and cream cheese as well as jalapeño and, yes, bacon. Perfect for Super Bowl.
Recipe
Long ago in Nashville, the only place to get hot chicken was Prince's Hot Chicken on Ewing Drive. These days, hot chicken is all the rage in Nashville, and you can find it in a lot of restaurants. I love it all, but Prince's is still the gold standard for me. These sliders are my nod to Ms. André Prince Jeffries, who still serves up the best hot chicken I've ever tasted!
Recipe
This is one of the first recipes ever developed for our very extensive Betty Crocker Kitchens recipe database. We've made them even better with butterscotch chips inside and a fantastic butterscotch glaze that doubles the butterscotch flavor.
Recipe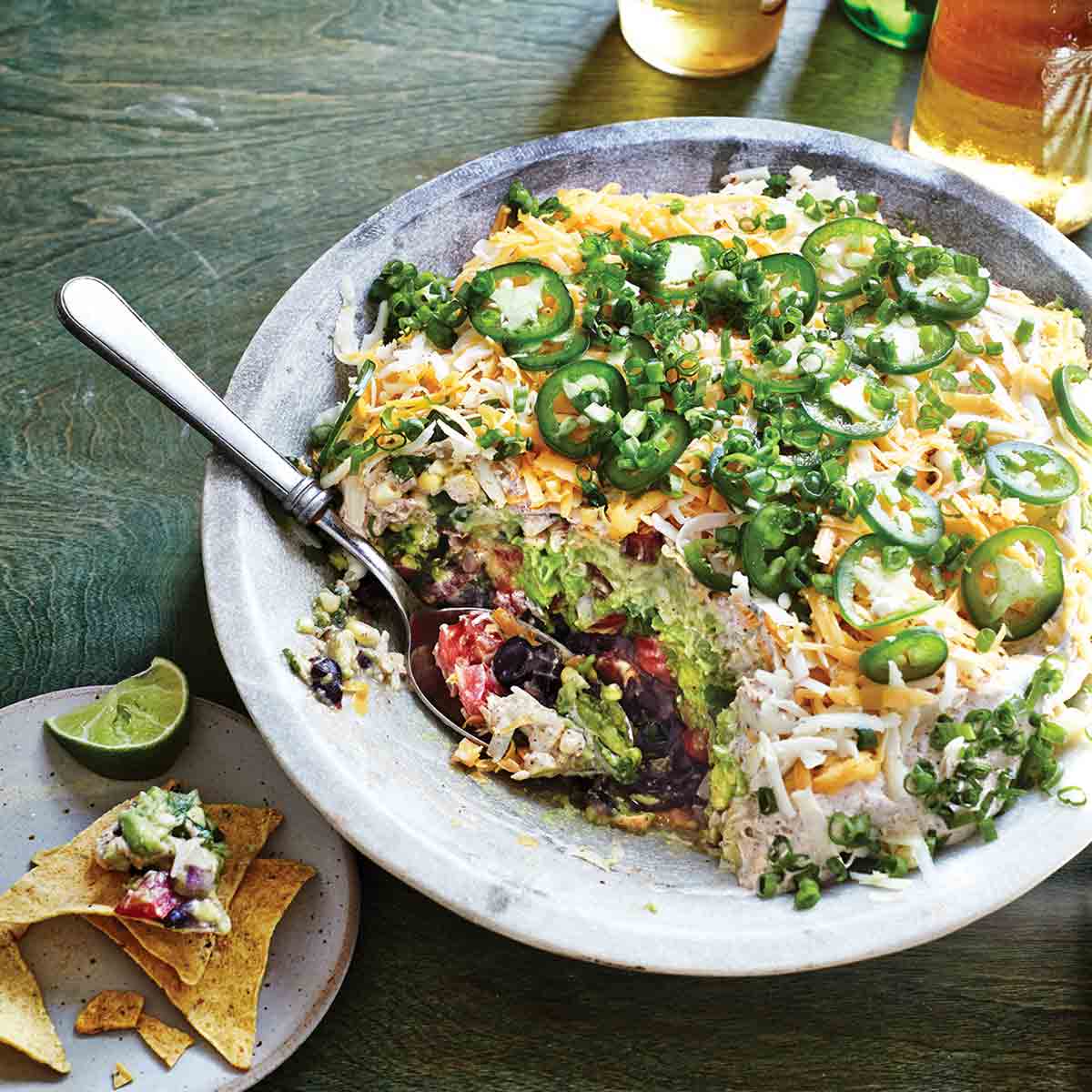 Seven layer dip is a Mexican-inspired party staple made with beans, cilantro, cheese, avocado, tomatoes, and jalapeño. It's crazy easy to make as well as quite healthy. And it requires no cooking whatsoever. And this is the best darn rendition of it we've ever had.
Recipe
Spicy bacon caramel corn is just what it sounds like. Smoky, salty, spicy, sweetly enticing, and a little difficult to stop eating. Made with beer and a pleasure to nosh alongside the rest of the bottle.
Recipe
My mama used to say after every meal, "Now I just need a little something sweet!" From family traditions like my dad's favorite fried pies and my uncle Wilson's ice cream concoctions to my banana split nachos, I can always find something to suit my sweet fancy.
Recipe
Originally published 5 February 2022
© 2022 Leite's Culinaria. All rights reserved. All materials used with permission.