Given the rising cost of food, and the quality of canned and jarred food available now, it deserves a place in your arsenal. And we're not just talking about soup and tuna. Here, we share 5 underrated canned foods and recipes to use them in.
Canned Hominy
A staple of Mexican cuisine, hominy is made by soaking dried field corn in a weak lye solution. While both dried and canned hominy is readily available, preparing dried hominy requires soaking and a long simmer to soften. Canned hominy is ready to use. Use it in pozole or try this indulgent cheesy hominy gratin.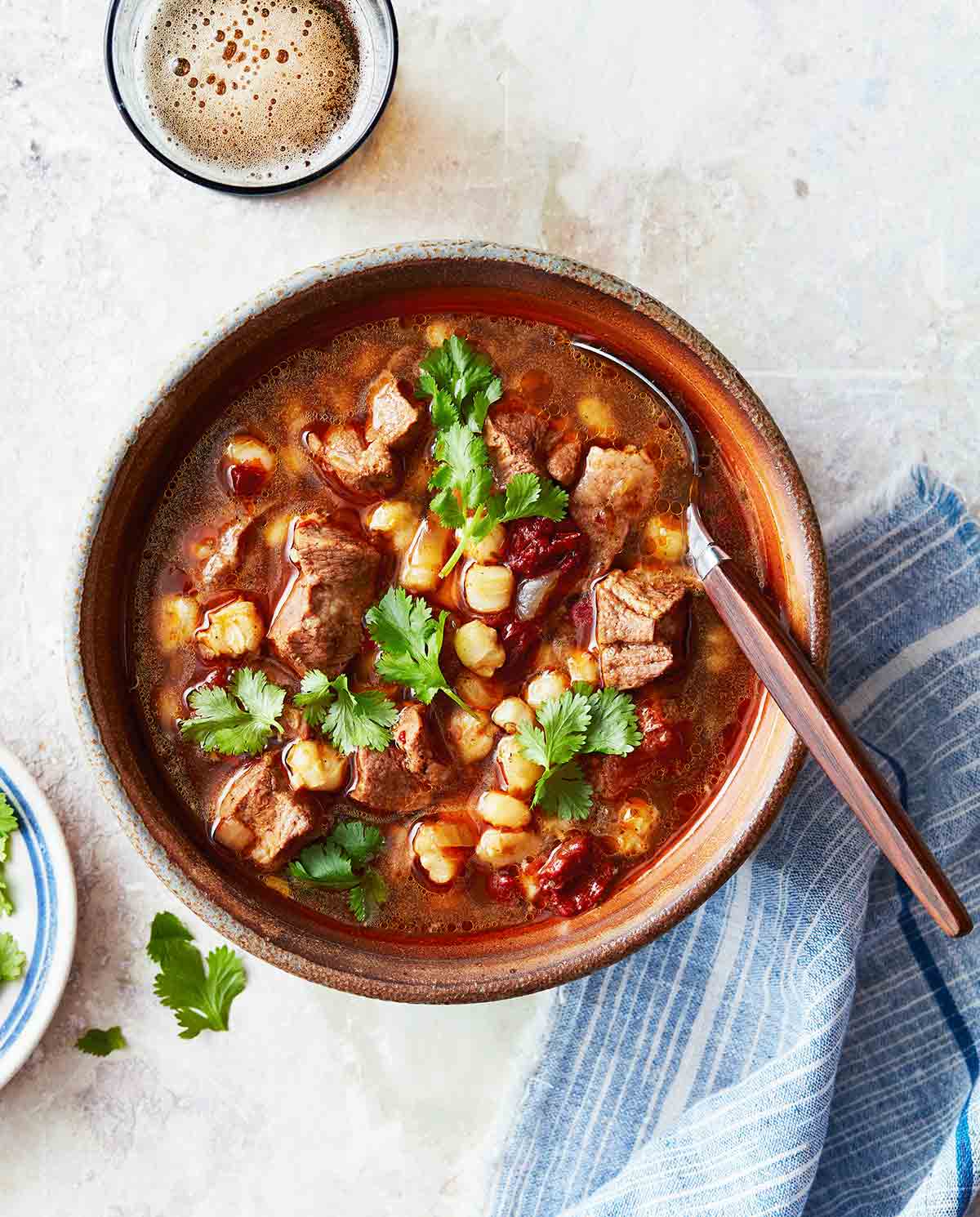 This Instant Pot pork stew with hominy has that tender cooked-all-day comfort vibe, except it's ready in just a little more than an hour. You're welcome.
Recipe
Chopped Clams
Not only are canned chopped clams cost-effective, but they're also a time saver as you don't need to source, clean, or discard any of them. They work beautifully in clam chowder and seafood soup, and are a great flavor boost to flatbreads and pizza.
New England clam chowder is a classic creamy soup made with clams, bacon, potatoes, leeks, shallot, white wine, and cream base that's luxuriously creamy. This recipe adds poblano peppers for a little kick. Cold weather comfort food at its finest.
Recipe
Jarred Artichoke Hearts
These may be our favorite underrated canned food. While fresh artichoke hearts are delightful, their availability is limited and they require a significant amount of work to prepare. However, jarred artichoke hearts are available in most grocery stores, and the only effort required is twisting the lid, dumping them into a colander to drain, and folding them into your dip, pasta, or spring vegetable stew.
This spring vegetable stew turns an array of irresistible early-season produce, including peas, asparagus, artichokes, greens, and fava beans, into a lovely—yet also healthy and vegetarian—supper.
Recipe
Water Chestnuts
Water chestnuts are a slightly sweet, crunchy aquatic vegetable that are frequently used in East Asian cuisine. Try them tossed into lettuce wraps, salads, stir-fries, or even folded into a creamy dip for added texture and sweetness.
These lettuce wraps are easy, healthy, flavorful, and will probably get your kids eating some vegetables. Definitely a weeknight winner in my book.
Recipe
Canned Chipotle Peppers
Perhaps the most versatile of all of our favorite underrated canned foods, the options are endless when it comes to canned chipotle peppers in adobo sauce. Blend it into salsa to spoon over your tacos, add to chili to give it a spicy, smoky kick, make an easy dipping or barbecue sauce, or zhuzh up your grilled pork tenderloin with an easy chipotle glaze.
These avocado breakfast tacos are made with easy components—cheesy scrambled eggs, crisp bacon, cool avocado, and smoky chipotle salsa. So satisfying that they'll be on repeat each weekend.
Recipe
© 2022 Leite's Culinaria. All rights reserved. All materials used with permission.