The 94th Oscar ceremony airs on live Sunday, March 27th, 2022 on ABC. And it's a night we've had marked in our calendars for months now. If you're like us, it's not just about the red carpet and the awards. It's also about the food, natch: what our favorite characters ate, the food from the countries represented, dishes inspired by our beloved movies. We've put together a roundup that showcases some of our fave recipes based on this year's nominees.
Without further ado, here are our nominations for Best Dinner to Eat While Watching the Oscars.
Being the Ricardos
JAVIER BARDEM (actor in a leading role), NICOLE KIDMAN (actress in a leading role)
Nominated for numerous awards (3 Oscars, 3 BAFTAs, 3 Golden Globes, and the list goes on…), Being the Ricardos looks like one of those Oscar must-see movies. But don't go hungry while you watch. Take a spin through the flavorful dishes of Cuba. Or just revel in the beauty of Kidman's recreation of Lucy's iconic grape-crushing scene–but maybe crush these grapes with a spoon as they'll be quite hot.
This roast pork with crushed grapes is an elegant yet easy and affordable autumn meal of rosemary-seasoned roast pork loin in a black grape and Marsala wine sauce.
Recipe

Spencer
KRISTEN STEWART (actress in a leading role)
A must-see for fans of The Crown and anything Anglo, Spencer might not be a heartwarming story, but it does have its share of food inspiration. While we don't have anything like the pearl soup that the Princess forces down in a stress-induced nightmare, we have a better option. In the movie's final scene, Diana refuses to let her two young sons participate in a pheasant hunt, bundles them into her convertible, and drives them all to a KFC in London.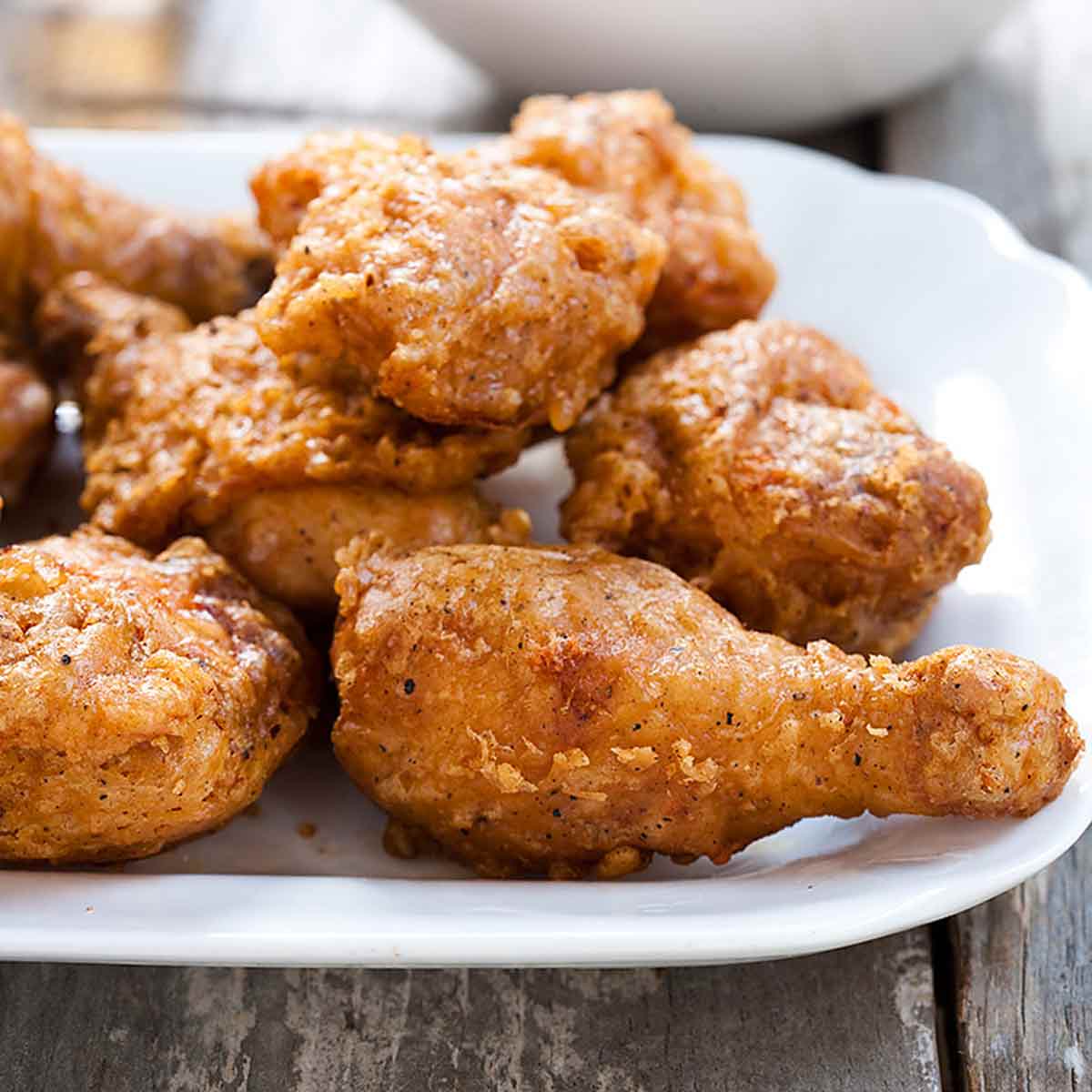 This batter-fried chicken calls for the pieces to be quickly brined and then dipped in a seasoned batter for a crisp Southern-style crust. Simple as can be. This is the real deal. Includes secrets for that crunchy crust.
Recipe
We're not kidding about these being perfect French fries. We're also not going to lie to you. Perfection takes time. We swear it's worth the wait.
Recipe

Belfast
BEST PICTURE
Set during the troubles in Northern Ireland in 1969, the Oscar-nominated Belfast follows Buddy (Jude Hill) and his family through one of the UK's longest nationalistic conflicts. In the film, Buddy's attempt at looting only earns him laundry detergent and a dire scolding, when all he really wanted was a box of sweets. If you've had your fill of St. Patrick's Day corned beef, give the pan boxty a try. No one ever said no to a potato, did they?
This pan boxty is essentially an Irish potato pancake. Just a few ingredients–grated potatoes, a little flour, and butter–constitute this classic Irish dish. Lovers of colcannon, rösti, latkes, and hash browns will find comfort here.
Recipe
Colcannon is so much more than mere cabbage and potatoes. Still not convinced? Taste this version with kale and bacon and beer and get back to us. A twist on the traditional Irish dish. Excellent for St. Patrick's Day.
Recipe

Licorice Pizza
BEST PICTURE
Okay, you got us. Licorice pizza isn't actually a dish–it's a slang term for vinyl records that was used in the late '70s. But hear us out…the movie, another coming of age story, begins in 1973 and chronicles the life of fictional child actor turned waterbed salesman, Gary Valentine. The Italian restaurant he favors as a hang-out during most of the film doesn't serve an actual licorice pizza but let us suggest that instead of making a licorice pizza you turn to licorice–flavored fennel to serve an homage to the movie. We've already started calling LPs "licorice pizzas" again and we've never felt cooler.
Cooking sausage in the pan before adding the dough infuses the crust with porky flavor. Mmm porky.
Recipe
Miami chef Michael Schwartz tops his phenomenal beer-spiked pizza crust with tender braised fennel, caramelized onions, olives and lots of gooey cheese.
Recipe

West Side Story
BEST PICTURE
"Life matters, even more than love."–Valentina (the luminous Rita Moreno) says in the reboot of West Side Story, which won her an Oscar for the role of Anita in 1961. We'd like to suggest that food is right in-between those things, even though it's unlikely that neither the Jets nor the Sharks would agree with us. A modern-day Romeo and Juliet, they're not going to stop for lunch. None of these singing, dancing, finger-snapping toughs are going to put off a fistfight just because they're peckish. But, just between us, they'd probably fight a lot less if they weren't so hormonal and hungry.
This Puerto Rican-style ropa vieja is made by slowly braising beef chuck roast in a fragrant sauce of onions, peppers, tomatoes, olives, and raisins until meltingly tender.
Recipe

Luca
BEST ANIMATED PICTURE
In this Pixar animated feature, a sea-monster-turned-real-boy makes friends with the children of Portorosso, Italy, while training for a triathlon made up of swimming, biking, and pasta-eating. Obviously, for a young sea-monster, the swimming is his strong suit. But fortunately, slurping down a bowl of trenette al pesto (pasta with pesto, green beans, and potatoes) isn't too hard either. Riding a bicycle after that? No grazie!
Trenette al Pesto from Pixar's movie Luca with kid-friendly instructions and illustrations.
Recipe

Encanto
BEST ANIMATED PICTURE
If you have kids, then you already know all about Encanto. And if we know anything, it's that an Oscar-nominated animated musical about a magical family has the power to take over parents' lives for the next three years, at the very least. If you can't beat 'em, you might as well join 'em. Whip up some of the movie's tasty dishes (how can animated food even look so delicious?) and experience the joy that the family Madrigal conjures up at every meal together.
Arepas are the healing food in Encanto. These corn griddle cakes stuffed with melty mozzarella cheese are nothing short of magical
Recipe
Ajiaco is a Colombian stew of chicken, corn, and potatoes. Serve this recipe on a cold night with a Spanish Albarino wine.
Recipe
While none of us knows who will walk away with Oscar statues the night of March 27th. But the one thing we do know–and we can predict with complete certainty–is you'll be a winner by making any or all of these dishes.
© 2022 Leite's Culinaria. All rights reserved. All materials used with permission.