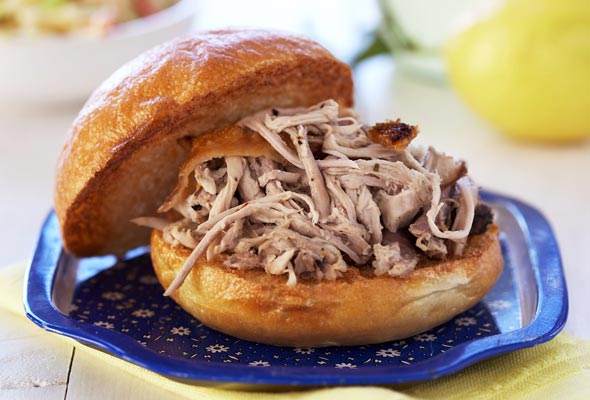 This is the relatively dry, spicy style of pork barbecue, complete with a little skin crackling, for which eastern North Carolina is renowned. It's featured at hundreds of barbecue joints and social pig pickin's throughout the region. The cooked meat is either chopped or pulled and doused not with the sweeter, tomatoey sauces used for Lexington-style barbecue in the western part of the state, but the classic vinegar moppin' sauce.
Traditionally, whole hogs are slowly smoked on huge grates over hickory and/or oak fires. Given the impracticality of digging a large pit in the ground and roasting a whole pig, a very good approximation of eastern-style Carolina 'cue can be accomplished with pork shoulder and an ordinary kettle grill. Typically, this barbecue is served with coleslaw, Brunswick stew, maybe baked beans, hush puppies, and either beer or iced tea.–James Villas
LC Pork Aplenty
The author notes something quite important–the chopped barbecue freezes well. He (and we) think you really ought to consider roasting two pork shoulders (aka pork butts) rather than one. We don't think we need to divulge why.
North Carolina Eastern-Style 'Cue
This is the relatively dry, spicy style of pork barbecue, complete with a little skin crackling, for which eastern North Carolina is renowned.
Equipment
a small (1 1/2 – to 2-pound) bag hickory wood chips and a 10-pound bag charcoal briquets
Ingredients
2

cups

white vinegar

1

cup

cider vinegar

1

tablespoon

granulated sugar

1

tablespoon

red pepper flakes

1

tablespoon

store-bought or Tabasco sauce

1

tablespoon

salt

1

tablespoon

freshly ground black pepper

One

(9-to 10 -pound)

pork shoulder butt

(all skin and fat left on, thank you very much)
Directions
Soak 6 handfuls of the wood chips in water to cover for 45 minutes.

Get the grill ready. Open one bottom and one top vent on a kettle grill, place an aluminum drip pan in the bottom of the grill, stack charcoal briquets evenly around the pan (not in the center), and ignite the coals. When the coals are ashen (30 to 45 minutes), sprinkle 2 handfuls of the soaked chips evenly over the hot coals. Place the grate on the grill about 6 inches over the coals.

In a nonreactive bowl, combine the vinegars, sugar, red pepper, Tabasco, salt, and pepper and stir until the sugar is dissolved and the sauce is well blended.

When the coals are ready on the grill, position the pork butt, fatty side up,on the grate over indirect heat. Mop the pork with the sauce—a brand spanking new pastry or paint brush works well for this. Close the lid on the grill and cook for 3 hours, mopping the meat every hour and replenishing the coals and chips as they burn up.

Turn the pork butt, close the lid, and cook until the meat is quite tender, 2 to 3 hours more, mopping every hour and replenishing the coals and chips as needed. Reserve any unused moppin' sauce.

Transfer the pork butt to a chopping board. Remove and discard any chunks of fat. Either coarsely chop the meat and crisp skin or pull it into shreds. Transfer the pork to a roasting pan, drizzle with about 1 cup of the sauce, and toss well, nibbling as you do so to ensure you've added just the right amount of sauce. Serve immediately or cover with foil and keep warm.

To serve, mound the barbecue on plates or hamburger buns and pass the remaining sauce on the side.
Show Nutrition
Serving:
1
portion
Calories:
432
kcal
(22%)
Carbohydrates:
2
g
(1%)
Protein:
54
g
(108%)
Fat:
20
g
(31%)
Saturated Fat:
7
g
(44%)
Polyunsaturated Fat:
2
g
Monounsaturated Fat:
9
g
Cholesterol:
185
mg
(62%)
Sodium:
962
mg
(42%)
Potassium:
988
mg
(28%)
Fiber:
0.4
g
(2%)
Sugar:
1
g
(1%)
Vitamin A:
259
IU
(5%)
Vitamin C:
3
mg
(4%)
Calcium:
49
mg
(5%)
Iron:
4
mg
(22%)
If you make this recipe, snap a photo and hashtag it #LeitesCulinaria. We'd love to see your creations on Instagram, Facebook, and Twitter.
Recipe Testers' Reviews
I don't believe it's possible to write a recipe for barbecue of any kind. There are too many variables: the type of cooker you have, the size and shape of your hunk of meat, the weather, the type of wood or charcoal you use—too many variables to distill into one tried-and-true recipe. All one can really do is say, this is how I do it, best of luck to you!
With that in mind, I'd encourage you to try this recipe. This recipe is written for a Weber kettle grill, and I don't own one—so if you're like me, don't let that part stop you. The important thing is to come up with a method of indirect grilling. I used a Brinkmann vertical smoker, adjusting the time for the difference in temperature. Mine took about 8 hours total, cooking at around 225 degrees.
It took me a few tries to find a cut of pork that was the right size, with enough skin and fat. This is important. You don't want a cut that's been trimmed clean. Talk to the butcher; you may need to special order one.
The sauce recipe here is a traditional Eastern North Carolina vinegar sauce. It's great with a fatty cut like pork shoulder because the acidity balances the fat in the meat. I'd encourage you to try it.
Just be flexible and prepared to adjust the timing. One modification I would suggest is using large chunks of soaked hardwood instead of wood chips, to provide smoke. The wood chips, even soaked, will burn up very quickly. The larger chunks will last you about an hour, and by that time, you'll need to add more coals anyway. Barbecue is fickle. You aim for a time and a temperature, but it's done when it's done, so have another beer and enjoy the process.
Originally published June 28, 2010
Recipe © 2010 James Villas. Photo © 2010
Lucy Schaeffer
. All rights reserved. All materials used with permission.