Croustade is just another way to say "rustic tart," but it sounds good, doesn't it? These individual croustades look so sweet on a dessert plate. And because they're rustic, there's no need to worry about shaping the pastry—just fold up a little border and you're done. I take these a step beyond a simple fruit tart by sprinkling them with crunchy glazed spiced walnuts, but they're perfectly lovely unadorned, too.–Martha Holmberg
LC Can You Say
Funny how as soon as you call something by its French name, guests suddenly feel even more impressed and grateful. And if you can't say "croustade" the way the French do, you can always settle for the slightly clunky American pronunciation. Still sounds impressive. In the meantime, we're going to start looking up more French names for things….
Honey-Ginger Apple Tarts with Walnuts
Quick Glance
45 M
1 H, 25 M

Makes six 3 1/2-inch croustades
Print Recipe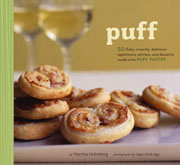 Ingredients
For the cinnamon-sugar walnuts

1/2 cup walnut halves

2 tablespoons granulated sugar

Pinch kosher salt

1/8 teaspoon ground cinnamon

For the tarts

2 tablespoons unsalted butter, plus about 2 tablespoons, melted, for glazing

1 1/4 pounds (about 5 medium) Braeburns or Fuji apples, peeled, cored, and cut into 1/2-inch chunks to make about 5 cups

1 tablespoon honey

1 teaspoon finely grated ginger

1/4 teaspoon ground cinnamon

Pinch kosher salt

1 sheet (about 9 ounces) frozen puff pastry, thawed
Directions
Make the cinnamon-sugar walnuts

1. Line a plate with aluminum foil. Put the walnuts, sugar, and salt in a small skillet and heat over medium-high heat. Cook, stirring occasionally, until the sugar starts to melt but is not yet syrupy and the walnuts start to smell toasty. Don't let the sugar caramelize. Pour the nuts onto the plate, sprinkle with the cinnamon, and let cool completely.

2. Place the nuts in a heavy plastic bag and crush them with something heavy. You want mostly small pieces with a little powder. Taste and add more salt or cinnamon to taste.

Make the tarts

3. Heat 2 tablespoons butter in a large skillet over medium-high heat until sizzling. Add the apples and toss to coat. Saute until a lot of the moisture from the apples has evaporated and the apples just start to soften and turn brown, 8 to 10 minutes. Add the honey, ginger, cinnamon, and salt and toss to blend. Taste and add more of any of these flavorings, if desired. Set aside to cool.

4. On a lightly floured work surface, roll the pastry into a 10-by-15-inch rectangle. Cut into six 5-by-5-inch squares, then trim the corners of each square to make a rough round.

5. Heat the oven to 400°F (200°C).

6. Arrange the pastry rounds on a baking sheet and prick each one at 1/2-inch intervals. Divide the apple filling evenly among the pastry rounds, leaving about a 1/2-inch border of pastry. Wet the border with a little water and loosely pleat it to create an edge that embraces the apples. The pastry shouldn't cover the center of the apple filling. Brush the edge of the pastry with some melted butter.

7. Bake the tarts until the pastry is pale gold and set, about 18 minutes. Brush a little more butter onto the pastry and continue baking until the pastry is puffed and a rich golden brown on the border and undersides, another 5 to 7 minutes.

8. Slide the tarts onto a cooling rack. Sprinkle each one with a heaping tablespoon cinnamon-sugar walnuts and let cool for at least 15 minutes or up to 1 hour before serving.
Recipe Testers Reviews

These are beautiful right out of the oven—and with a hefty scoop of vanilla, they're divine. But even sans ice cream, they're really tasty. Some tips: When baking, space them as far apart as you can, so the crusts can crisp up without steaming each other. Also, there's no measurement for honey listed—perhaps this is an oversight. I used 2 tablespoons of honey, and that was just fine.
Honey-Ginger Apple Tarts with Walnuts Recipe © 2008 Martha Holmberg. Photo © 2008 Ngoc Minh Ngo. All rights reserved. All recipes and photos used with permission of the publisher.
If you make this recipe, snap a photo and hashtag it #LeitesCulinaria. We'd love to see your creations on Instagram, Facebook, and Twitter.