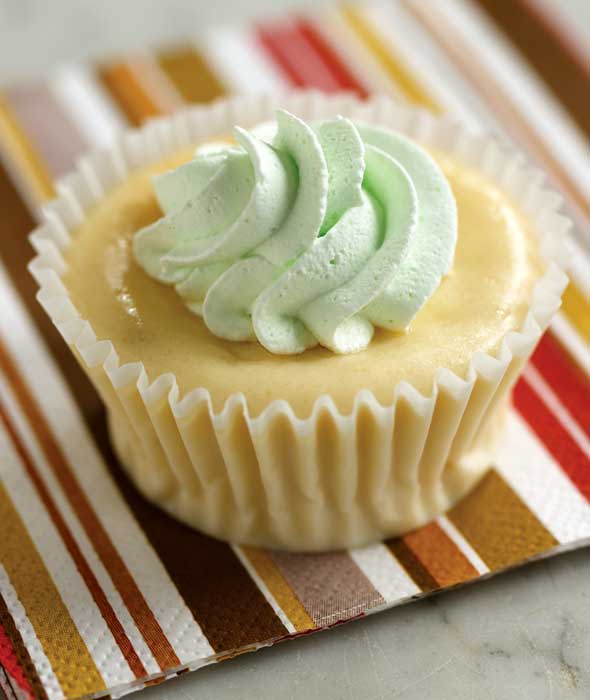 There seems to always be another Key lime recipe to try, and this one is worth pulling out the muffin tin for. It's a small version of Junior's cheesecake crowned with a party-perfect topping of delicious lime mousse that tastes surprisingly like the traditional Key lime pie filling. The authentic Key lime pie recipe does not add color to the lime filling. Junior's doesn't either, but if you want a hint of a greenish tint, add 1 or 2 drops of green food coloring — no more. Go ahead and double the recipe—these little cakes freeze well.–Alan Rosen and Beth Allen
LC Junior's Cheesecake Recipe Note
Junior's cheesecake recipe, folks. Right here. People spend lifetimes coveting a slice of this stuff. And here it is. Made in miniature, yes. Dolloped with lime-infused whipped cream, yes. But this is the real deal. Consider yourself one of the fortunate ones. (What are you still doing reading? Shouldn't you be in the kitchen gathering ingredients?)
Mini Key Lime Cheesecakes
Quick Glance
45 M
5 H

Makes a dozen little fellas
Ingredients
Email Grocery List
For the Junior's cheesecake

Two 8-ounce packages cream cheese (use only full fat), at room temperature

3/4 cup granulated sugar

3 tablespoons cornstarch

1 tablespoon vanilla extract

2 extra-large eggs

1/3 cup heavy cream

1 teaspoon grated lime zest

For the decorator's whipped cream

1 teaspoon unflavored granulated gelatin

1 tablespoon cold water

1 cup cold heavy cream

1 tablespoon granulated sugar

1 teaspoon vanilla extract

For the lime mousse

1 recipe Decorator's Whipped Cream

1/4 cup frozen limeade concentrate, thawed just until spoonable

1 to 2 drops green food coloring (optional)
Directions
Make the Junior's cheesecake

1. Preheat the oven to 350°F (175°C). Line a standard 12-cup muffin tin with silicone, foil, or paper liners.

2. Dump 1 package cream cheese, 1/4 cup sugar, and the cornstarch in a large bowl. Beat with an electric mixer on low speed until creamy, about 3 minutes, scraping down the bowl a few times. Blend in the remaining cream cheese. Increase the speed to medium and beat in the remaining 1/2 cup sugar and then the vanilla. Add the eggs, 1 at a time, beating well after each addition. Last, beat in the cream, mixing just until it's thoroughly blended. Be careful not to overmix the batter. Stir in the lime zest.

3. Divide the batter among the 12 muffin cups. Place the muffin tin in a large shallow pan and add hot water until it comes about 1 inch up the sides of the tin. Bake the cheesecake until set at the edges and the centers are slightly puffy and golden, about 45 minutes.

4. Remove the muffin tin from the water bath, transfer it to a wire rack, and let cool for 2 hours. Leave the cheesecake in the muffin tin and cover with plastic wrap. Place in the freezer until cold, maybe 1 hour. Don't worry if the cheesecake settles a little in the center, as you'll be filling it with lime mousse.

5. To remove the cheesecake from the muffin tin, lift each cheesecake with your fingertips and peel off the liner. Place the cheesecake, top side up, on a platter or on individual dessert plates.

Make the decorator's whipped cream

6. Place the gelatin in a heatproof measuring cup. Stir in the cold water and let it stand until it swells and thickens, about 1 minute. Cook the gelatin in the microwave on high for about 30 seconds or over a pan of simmering water for about 1 minute, until the mixture is clear and completely melted.

7. In a medium bowl, whip the cream with an electric mixer on high until it thickens and soft peaks just begin to form. With the mixer still running, add the sugar and beat just until the cream stands up in peaks (don't overmix or the cream will curdle). Beat in the vanilla. Add the melted gelatin all at once and beat until thoroughly incorporated. Refrigerate for at least 30 minutes but not more than 1 hour.

Make the lime mousse

8. Have the Decorator's Whipped Cream ready, then stir in the limeade concentrate (it's best if it's still slightly frozen). Add the food coloring, if you wish. Cover and refrigerate the lime mousse for 30 minutes.

9. If using a pastry bag, fit it with a medium closed-star tip (#31) or a medium open-star tip (#32), pack it with the lime mousse, and pipe the lime mousse on top of each cheesecake, finishing each off with a "star" rosette on top. If you don't have the time or patience for using a pastry bag, delicately dollop about 2 tablespoonfuls lime mousse in the center of each cheesecake. Using the small pointed end of a paring knife, make deep swirls in the mousse, finishing each off with a high peak in the center.

10. Refrigerate the cheesecake until ready to serve. (You can cover and refrigerate the cheesecake for up to a few days or wrap and freeze the cheesecake for up to 1 month.)
Recipe Testers Reviews
I like cheesecake, but I find a big slice to be more of a lunch than a dessert. These little devils made in muffin tins are the perfect answer for those who, like me, want just a little dessert. I made them even smaller by using mini muffin tins and reducing the baking time to 30 minutes. The yield in the mini muffin tins was 48 tiny cheesecakes. The recipe worked perfectly. Great for a party or potluck. If you choose, as I did, not to use the food coloring, the whipped cream topping will be white, instead of green as in the photo, but will still pack a lime punch.
Mini Key Lime Cheesecakes Recipe © 2007 Junior's Cheesecake, Inc.. Photo © 2007 Mark Ferri. All rights reserved. All materials used with permission.
If you make this recipe, snap a photo and hashtag it #LeitesCulinaria. We'd love to see your creations on Instagram, Facebook, and Twitter.