"Try a Real Black Cow—It's Moovelous!" (1950s slogan for Hires Root Beer) The ability to designate National Food Days is one of the more unusual perks given to the President of the United States. It may seem a frivolous use of the office, but one can only imagine the lobbying efforts designed to promote just about any foodstuff. For instance, don't you find it oddly comforting to think that the powerful root beer float lobby has been hard at work in the West Wing, wooing the halls of power with frosty ice cream sodas, just to ensure there's a National Black Cow Day?  (Incidentally, it falls on June 10 this year.) Although actually, the first true black cow day seems to have occurred on August 19, 1893. That's when the notion of combining root beer and ice cream into a frothy concoction is rumored to have occurred to Frank Wisner, owner of a soda fountain as well as a mining company in Cripple Creek, CO. Although soda fountains were rampant at this point in our country's culinary evolution, iced cream sodas didn't yet contain ice cream. Instead, they were commonly made from either syrups combined with cream and cold soda water or cream mixed with flavored syrup. As the story goes, on that particular moonlit night, Wisner was gazing at the dark Cow Mountain when its snow-capped peak inspired him to float a scoop of vanilla ice cream on top of his Myers Avenue Red root beer. Sure enough, he swapped root bear for cola, and ice cream for cream, and called the sweet creation "Black Cow Mountain." It proved immensely popular, not just with the town's children, but their mothers and the miners whom one might expect to find elsewhere—say, in a saloon or worse. Regulars promptly shortened the title to "Black Cow," and since then, the term has been used interchangeably to describe root beer floats both with and without a dose of chocolate sauce. Consider trying it both ways before passing judgment. Either way, the float's frothy sinfulness, with ice cream slowly melting into carbonated goodness, has wooed far more palates than just those walking the dusty streets of Cripple Creek. Or, for that matter, the hallowed halls of the White House. —Gary Allen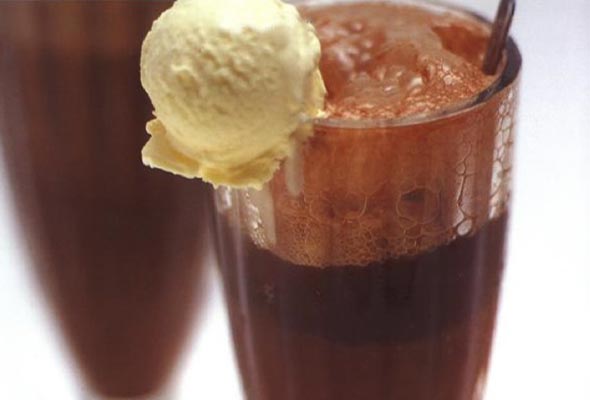 This classic ice float is pure nostalgia for the true ice cream parlor lover. Root beer makes the cow black, cola makes her brown.–Elsa Petersen-Schepelern
Black Cow
Quick Glance
5 M
5 M

Serves 1
Print Recipe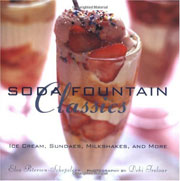 Ingredients
1 1/2 tablespoons Hot Chocolate Sauce, at room temperature (if you must, you may substitute store-bought syrup)

About 1 1/4 cups root beer

2 scoops vanilla ice cream
Directions
1. Drizzle the chocolate sauce or syrup into the bottom of a large ice cream soda or pint glass. Add half of the root beer and mix well with a long spoon.

2. Add 1 scoop of ice cream, then top off the glass with the remaining root beer. Traditionally, the remaining scoop of ice cream is balanced on the rim of the glass—press it down firmly so it doesn't plop into the table or swan dive into the float—although you could just plunk it in the root beer.
Brown Cow
Substitute cola for the root beer.
Black Cow Recipe © 2001 Elsa Petersen-Schepelern. Photo © 2001 Debi Treloar. All rights reserved. All recipes and photos used with permission of the publisher.
If you make this recipe, snap a photo and hashtag it #LeitesCulinaria. We'd love to see your creations on Instagram, Facebook, and Twitter.