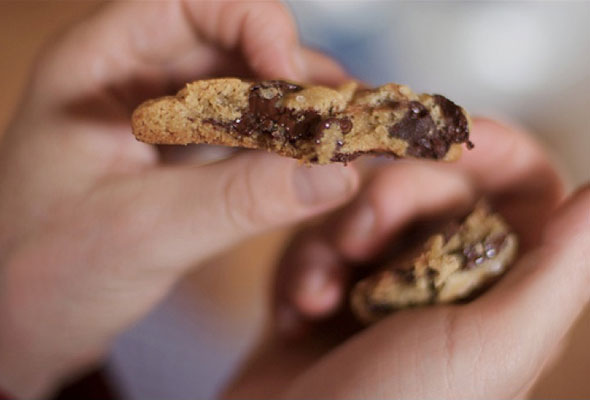 The first batch, made with rice flour and cornstarch, tasted like packing material. Another early attempt came out heavy enough to fling at a burglar's head. Garbanzo bean flour may have the necessary protein to replace the protein lost with gluten, but cookies made with it taste like falafel larded with chocolate chips. No thanks. I started using amaranth flour instead, as it has ample protein but doesn't taste like beans. Sorghum flour has the texture of whole-wheat flour and lent the dough some heft, while tapioca and potato starch offset its heaviness. This time, we didn't forget to add the xanthan gum. After all this, the thought of baking with all-purpose flour actually seemed pretty boring to me.
As I tried different flours and varying methods, Lucy learned to roll over and pull herself up to stand. She was nearly ready to wait expectantly at the kitchen counter by the time the batch came out of the oven. They were warm, disappeared quickly, and inspired companionable silence. I didn't care if these cookies weren't exactly the same as what I'd grown up with. Everyone in the room agreed: these cookies—these gluten-free cookies—were the best chocolate chip cookies any of us had ever eaten. Ever.
This is no longer David's recipe. It's my chocolate chip cookie recipe now, the one I bake with Lucy. She and I stand side by side while we make them. As I turn toward the cupboard to grab the flours, I see her stretch her arm toward the bowl of chocolate chips for another taste. "Hey Boo," I call out, and she draws back her hand, smiling. She's not even two. She's still listening to me.
Yes, we're making chocolate chip cookies together, from the recipe that I'll pass along to her someday when the edges are frayed and stained with chocolate. Our recipe.–Shauna James Ahern
LC Note
This recipe, which originally appeared on Shauna's blog, inspired no fewer than 92 comments at last count. Suffice it to say, there were a lot of deliriously happy home bakers in the days after this recipe first went public–and there are even more today.
Gluten-Free Chocolate Chip Cookie
Quick Glance

(6)

15 M
1 H, 15 M

Makes 1 to 2 dozen, depending on the size
Ingredients
Email Grocery List
Directions
Sift each of the flours into a bowl. Add the xanthan gum, baking soda, baking powder, and salt and whisk.
Place the butter and the sugars in the bowl of a stand mixer and, using the paddle attachment, when you're noticing that they're well combined, mix for 1 minute more. Don't overmix.
Add the eggs, 1 at a time, making sure each is fully incorporated before adding the next. Add the vanilla extract and mix.
Add the flour mixture into the batter, 1/2 cup at a time, mix just until the dry ingredients have been incorporated before adding the next addition. Add the chocolate and mix just for a moment.
Cover the dough with plastic wrap and refrigerate for 36 hours. (Yep. Really. 36 hours.)
When it's time to bake, pull the dough from the refrigerator and preheat the oven to 350°F (175° C). Line a baking sheet with parchment paper.
Scoop generous balls of dough from the bowl. You can determine the size for yourself. (If you want them to mimic the indulgently sized cookies found in pastry shops, the dough should be the size of golf balls (about 3 1/2 ounces each). Place 6 of them on the baking sheet. Poke any errant pieces of chocolate back into the dough. Sprinkle the top of each cookie with the sea salt.
Bake the cookies about 18 minutes, less if you make smaller cookies, or until the tops have turned golden brown. The middles should still be somewhat soft. Take the baking sheet out of the oven. Let the cookies cool on the baking sheet for 10 minutes. Then transfer the cookies to a wire rack and let them cool for a few more moments.
Eat your warm gluten-free chocolate chip cookies and be grateful.
Recipe Testers Reviews

I'd already made these once before our official testing, and was delighted to have another excuse to make them. I only can say that these are amazing chocolate chip cookies. They're soft in the middle, slightly crispy on the outside (they soften up after a day or so, though), with just a wonderful moist, yet slightly dense, texture. I love these. I used granulated cane juice, light brown sugar, and a different brand of semisweet chocolate chips, as I can't find Dagoba. It's problematic for me to have these sit for three days, though—I can't seem to leave the batter alone.

This recipe rules and is my definite favorite chocolate chip cookie recipe. The combination of the flours and starches gives excellent results. Sometimes the proper ratios in gluten-free recipes are tricky. In this recipe, all the work is done for me! My non-celiac husband adores these cookies and prefers them to gluten cookies I've made in the past. I hate to admit this, but even the raw dough is great! The texture is so lovely and soft, yet chewy. These cookies make me smile. They are simply delicious.
Gluten-Free Chocolate Chip Cookie Recipe © 2010 Shauna James Ahern. Photo © 2010 Shauna James Ahern. All rights reserved. All materials used with permission.
If you make this recipe, snap a photo and hashtag it #LeitesCulinaria. We'd love to see your creations on Instagram, Facebook, and Twitter.