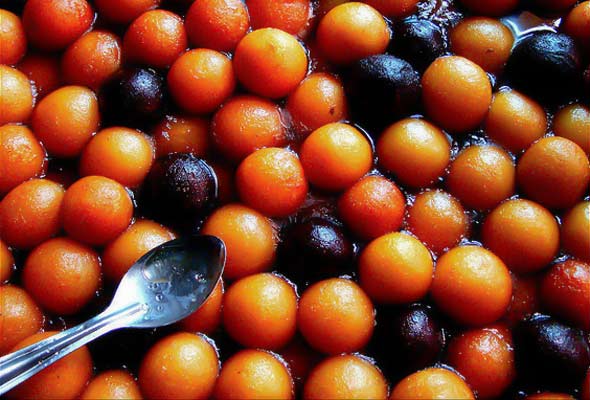 Gulab jamun is a traditional Hannukah recipe among the Bene Israel of Bombay, combining the holiday's two primary food symbols — dairy and fried. Although gulab means "rose water" in Hindi, some people omit it from the ingredients in this recipe. Originally, this dish was made by cooking the milk over low heat for an extended period until thickened. The invention of dry milk powder led to this easier version. [Editor's Note: Although we certainly didn't note any lack of milky richness in this recipe by using powered milk, Marks notes in his Encyclopedia of Jewish Food that a scoop of vanilla ice cream on the side more than makes up for any lack of dairy goodness—real or imagined.]–Gil Marks
LC Shubh Diwali Note
Besides being a Hannukah treat, these rich Indian milk fritters are also a traditional Diwali sweet. Diwali is the grandest holiday of the year in India, and it tends to fall between mid-October and mid-November. It's also celebrated in several Southeast Asian countries, and it's known as the festival of lights, signifying the triumph of light over dark—although given the spectacular desserts that abound, heck, it may as well be dubbed the festival of sweets. Our resident gulab jamun expert, recipe tester Sita Krishnaswamy, explains that the key to achieving silky, moist jamuns is to actually simmer the just-fried fritters in the sugar syrup, rather than just dribble it over their tops, so be mindful of not skipping that step in your haste to tuck into these little orbs of fried marvelousness. Shubh Diwali. (That's "Happy Diwali" in Hindi.)
Indian Milk Fritters
Quick Glance
30 M
40 M

Makes about 20 balls
Print Recipe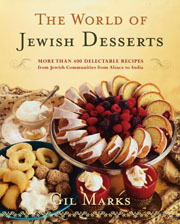 Ingredients
For the dough

1 cup nonfat dry milk powder

1/4 cup unbleached all-purpose flour

1/4 teaspoon baking soda

3 tablespoons unsalted butter, melted and cooled

3 to 4 tablespoons milk

Vegetable oil for deep frying

For the syrup

2 cups granulated or brown sugar

2 cups water

4 to 5 cardamom pods (or substitute 1/4 to 1/2 teaspoon ground cardamom)

1 teaspoon rose water (optional)
Directions
Make the milk fritter dough

1. Stir together the milk powder, flour, and baking soda in a large bowl. Add the butter and rub the mixture between your fingertips until it resembles fine crumbs. Gradually stir in the milk and mix just until the dough begins to hold together. Knead briefly until smooth. Divide the dough into 20 equal balls, each about 1 1/2 teaspoons.

2. Heat at least 1 inch oil in a deep-sided pot over medium heat to 350°F (175°C).

3. Add the dough balls to the oil in batches, being careful not to crowd the pot. Cook, turning frequently, until golden brown on all sides, about 4 minutes. Remove with a wire mesh skimmer and transfer to a wire rack to drain. Let cool.

Make the syrup

4. Stir the sugar and water in a large, wide skillet over low heat until the sugar dissolves, about 5 minutes. Stop stirring, increase the heat to medium, and cook until the mixture is slightly thickened and registers 225°F (110°C) on a candy thermometer, about 5 minutes.

5. Meanwhile, remove and discard the cardamom pods and crush the seeds. Stir the cardamom seeds into the syrup and keep the syrup at a very gentle simmer. As you fry the jamuns, use a slotted spoon to transfer them to the simmering syrup and let soak until soft and moist. The jamuns will swell in size as they soak up the syrup. Let cool and then sprinkle with rose water, if desired. (Alternatively, you can instead simply drizzle the warm syrup over the cooled fritters and let them stand for at least 3 hours for slightly more crisp, less moist jamuns.)

6. Serve the milk fritters, chilled or at room temperature, in a small puddle of the syrup. The fritters can be kept in the syrup in a resealable container in the refrigerator for up to 1 month.
Indian Milk Fritters Recipe © 2000 Gil Marks. Photo © 2000 Rajeev Moudgil. All rights reserved. All recipes and photos used with permission of the publisher.
If you make this recipe, snap a photo and hashtag it #LeitesCulinaria. We'd love to see your creations on Instagram, Facebook, and Twitter.