These barbecued beef back ribs are easy to make. Just coat with a sweetly spicy rub and then slooooooowly cook them to tender terrificness. Here's how to make them.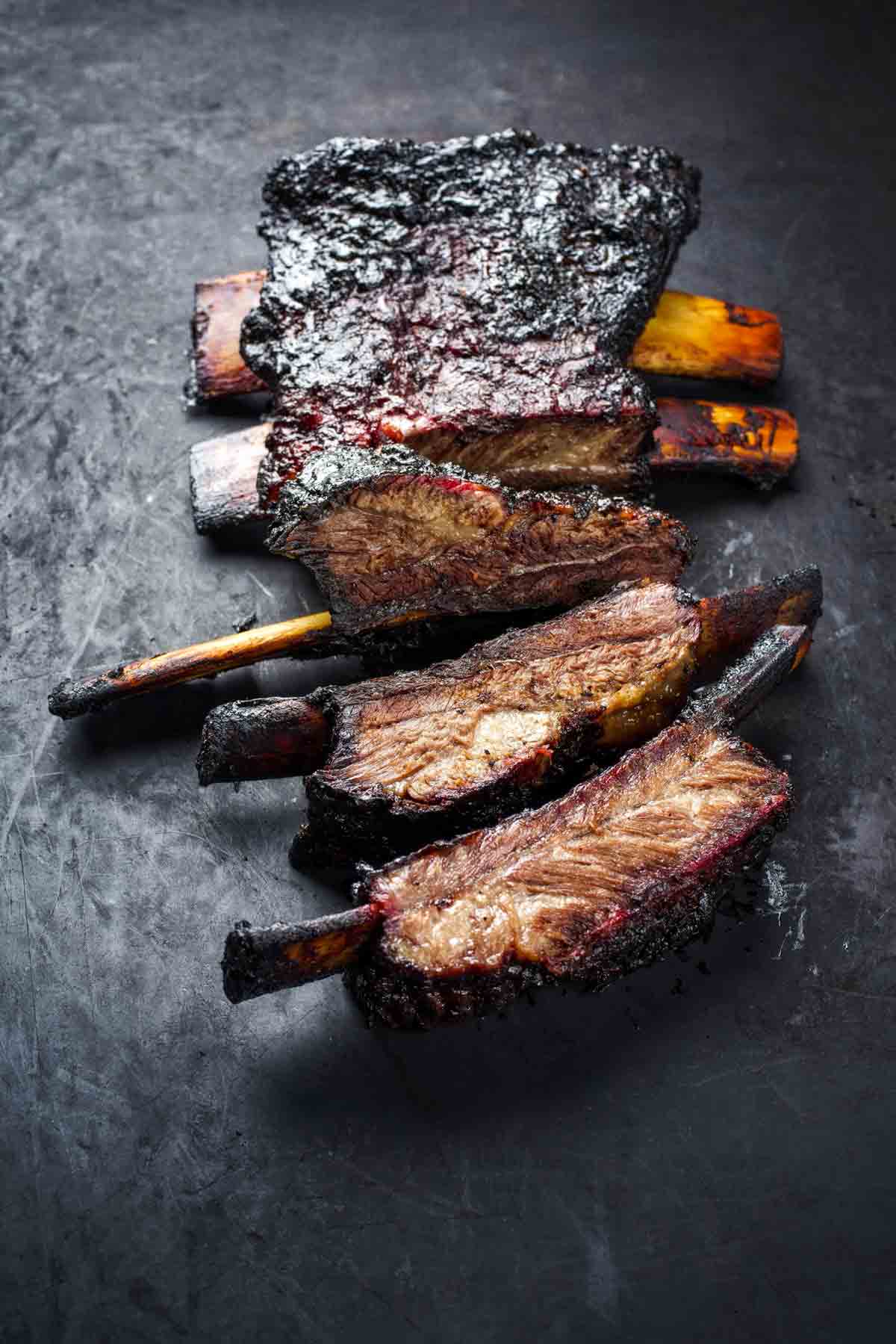 You'll usually see beef back ribs in 4-to-6 bone pieces and they typically don't have much meat on them. They're usually pretty cheap, and that's a good thing because, like I said, there just isn't much meat on them. The meat needs a lot of cooking to make it tender, but when it's cooked right, it's really good meat, so it's worth the effort.  Wrapping these in foil is essential to get them tender.
If you're the adventurous type, add a half cup of strong coffee to the package when you wrap the ribs. I think you'll find it to be a pleasant surprise. These would go very well served with baked beans and potato salad. –Ray Lampe
Barbecued Beef Back Ribs
These barbecued beef back ribs are easy to make. Just coat with a sweetly spicy rub and then slooooooowly cook them to tender terrificness. Here's how to make them.
Ingredients
For the rub
3/4

cup

raw or turbinado sugar

1/4

cup

salt

or more, depending on your tolerance for the stuff (up to 1/2 cup)

1/4

cup

paprika

2

tablespoons

finely ground black pepper

1

tablespoon

granulated garlic

1

tablespoon

onion powder

1

tablespoon

ground cumin

1

teaspoon

dry mustard

1

teaspoon

ground coriander

1/2

teaspoon

cayenne pepper

1/2

teaspoon

ground allspice
For the ribs
5

pounds

beef back ribs*

2

cups

your favorite barbecue sauce
Directions
Make the rub
Combine all the ingredients. Mix well and take a taste. If it needs more salt, shake some in. The rub can be stored in an airtight container for up to several weeks. Makes about 1 1/2 cups.
Prepare the ribs
Peel the membrane off the back side of the ribs and discard it. (It tends to be sort of slippery. If you have a hard time getting a grip, try sliding a bowl-side down spoon under there to loosen up a piece, then grab it with a paper towel and see if that helps.) Season the ribs liberally on both sides with some of the rub.

Prepare the grill for cooking over indirect heat at 250° F (121°C) using oak or hickory wood. Place the ribs, meaty side up, directly on the grill grate. Cook for 2 1/2 hours, maintaining the temperature of the grill as steady as possible.

Flip the ribs and cook for 30 minutes more.

Place a double layer of some big sheets of heavy-duty aluminum foil next to the grill and place the ribs on the foil, meaty-side up. Wrap the ribs, sealing the package tightly. Place the foil-wrapped ribs on the grill for 1 hour. (Wrapping the ribs in foil is essential to get them tender so don't omit this step. If you're planning to add that half cup of strongly brewed coffee to the ribs, this is the time to do it.)

Move the foil-wrapped ribs to a platter. Increase the temperature of the grill to 400°F (204°C). Remove the ribs from the foil, place them on the grill grate, and brush with the barbecue sauce. Cook for 5 to 15 minutes, depending on how charred you like your ribs.

Flip the ribs, brush with the sauce again, and cook for 5 to 15 minutes more.

Place the ribs on a platter and serve with additional barbecue sauce, preferably warm, on the side.
Notes
*What are beef back ribs?
Beef back ribs are what is left once a butcher removes the prime rib and ribeye steaks. There isn't a lot of beef left at the top of the bones but what's left between those ribs is meaty, fatty, and deliciously tender. They also have the very same marbling and flavor as prime rib and ribeye, so you really can't go wrong. You'll often see them in abundance around Christmas and New Year's when people are buying a lot of rib roasts. Typically, a rack of ribs comes in either 4- to 6 or 8- to 12- chunks. You'll need at least 2 to 3 ribs per person.
Show Nutrition
Serving:
1
portion
Calories:
1142
kcal
(57%)
Carbohydrates:
102
g
(34%)
Protein:
81
g
(162%)
Fat:
44
g
(68%)
Saturated Fat:
18
g
(113%)
Polyunsaturated Fat:
2
g
Monounsaturated Fat:
19
g
Cholesterol:
244
mg
(81%)
Sodium:
1745
mg
(76%)
Potassium:
1950
mg
(56%)
Fiber:
3
g
(13%)
Sugar:
85
g
(94%)
Vitamin A:
753
IU
(15%)
Vitamin C:
14
mg
(17%)
Calcium:
127
mg
(13%)
Iron:
12
mg
(67%)
Recipe Testers' Reviews
The first thing that came to mind while making this recipe was how awesome it would be to make on a lazy summer day. Almost a zen-like kind of effort goes into this slow process. And with a very good result.
Here are some small adjustments that could make a nice impact. When applying the rub by sprinkling, and then pressing it into the ribs, the turbinado sugar simply rolled off. Most of the sugar was left on the prep surface. This is a shame, as I suspect the sugar would have created a nice caramelized exterior. Perhaps if a light mild oil went on first, the mixture would adhere better. Alternately, light or dark brown sugar could be a substitute. The rub recipe made a hearty sum and I used only 1 cup with 1/2 cup saved for later.
My only criticism of the recipe is that I wanted the ribs to be more tender. This could have everything to do with my own error. My ribs were whole and very large, making wrapping them a bit difficult. I ended up stacking a couple on top of each other. I did use strong coffee before wrapping the ribs in foil. At the end of cooking the coffee had evaporated. Good news, I thought. However, there could well have been a hole in the foil that prevented the necessary steaming. This may be why my test result was not as tender as expected. I would continue to stress the wrapping of the ribs as an essential step to ensure a tender result.
I used Bobby Flay's barbecue sauce recipe. So good.
In our home, barbecuing is usually about pork and occasionally about chicken. This is a straightforward recipe producing great results with beef ribs with very little effort.
The spice quantities specified will make enough rub for about 3 batches of ribs. I see no reason why it won't keep as long as all of the constituent spices—months, easily, if kept airtight. Perhaps I am salt-tolerant; I used 1/2 cup of salt and didn't find the end result to be overly salty.
The butcher in my local grocery store removed the membrane from the back of the ribs before packaging them so I wasn't bothered by that step. I've removed the membrane myself in the past and it's not that tough but if you're not so inclined, ask your butcher. They may do it for free.
Rather than cook over a wood grill, I used a pellet smoker with a temperature sensor. I followed the recommended temperatures and timing closely and was pleased with the results. Don't try to cut corners here! I'm sure the hour of foil-wrapped tenderizing is particularly important.
As for coffee with the ribs in the foil pack, I am not a coffee drinker, but reading "...if you're the adventurous type..." is like waving a red flag at a bull for me. I have a jar of Folgers coffee crystals for cooking emergencies like this. It recommends 1 heaping teaspoon of crystals per 6 ounces of water. I used a heaping tablespoon and 4 ounces of water, so the coffee was definitely strong. I couldn't taste coffee in the finished ribs.
Servings are hard to say. I served 2 with lots of leftovers. Some were removed from the bone and went into a very tasty pasta sauce, chopped coarsely. The recipe also works with short ribs but might be better for them with a longer cooking time.
Originally published August 30, 2010
Recipe © 2010 Ray Lampe. Photo © 2010
HLPhoto
. All rights reserved. All materials used with permission.
If you make this recipe, snap a photo and hashtag it #LeitesCulinaria. We'd love to see your creations on Instagram, Facebook, and Twitter.