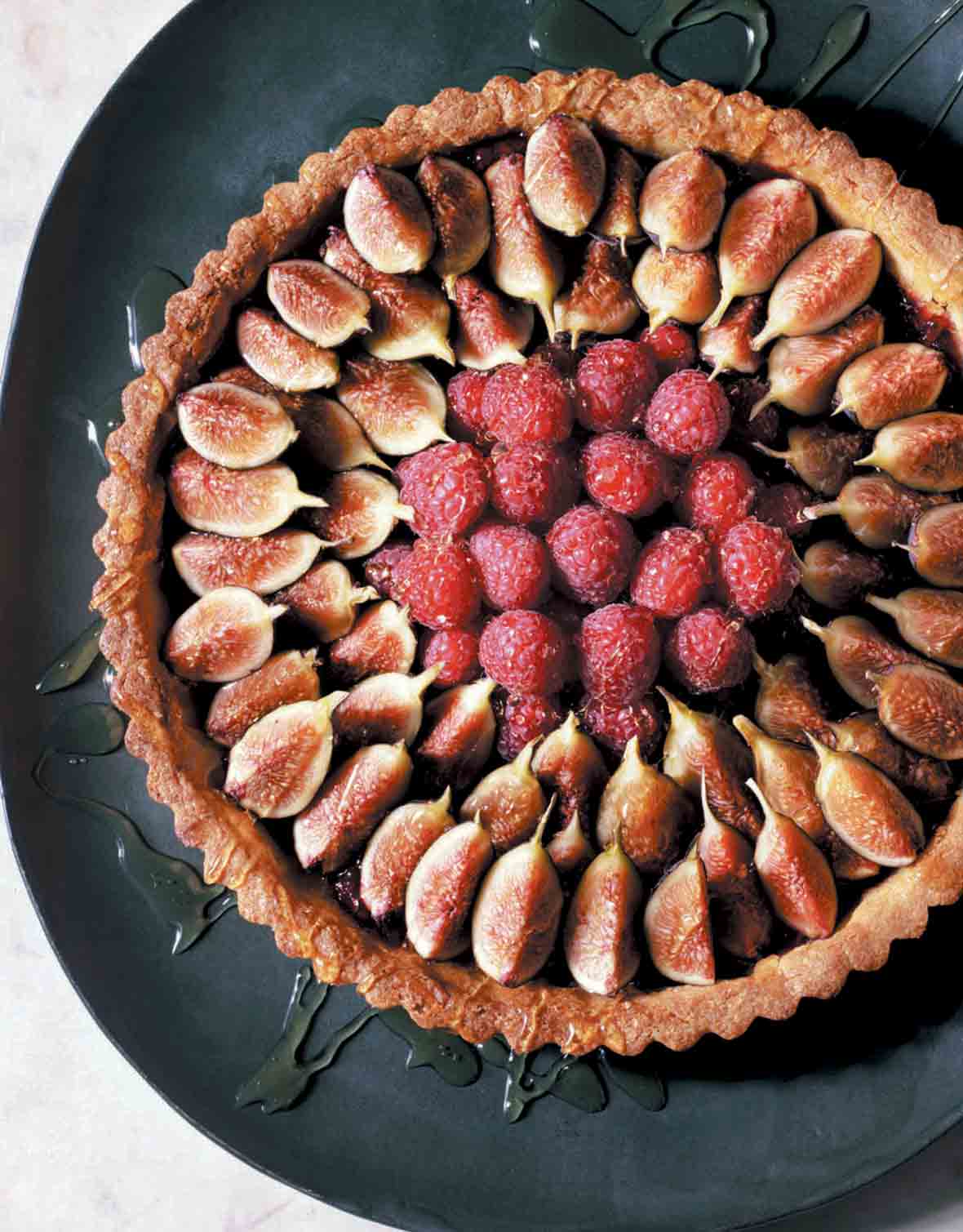 The first time I saw a fresh fig was nearly three decades ago when I was living in upstate New York. I had no idea what it was. Then I moved to California and saw them everywhere. I can't say for sure that fresh figs were the reason I stayed put there for so long, but they certainly were one of them.–David Lebovitz
LC When in Paris... Note
We left the metric equivalents in this recipe intact, not to mess with your math skills or because they provide greater accuracy in baking but for sort of sentimental reasons. The author, David Lebovitz, lives abroad. And, well, you know, when in Paris…
Fresh Fig and Raspberry Tart with Honey
Quick Glance
30 M
1 H, 20 M

Makes one 9-inch tart; 8 servings
Print Recipe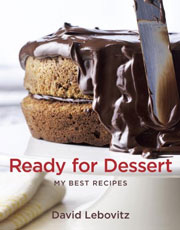 Ingredients
For the tart dough

1 cup (140 grams) all-purpose flour

1/2 cup (40 grams) sliced blanched almonds

1/2 cup (100 grams) sugar

1/2 teaspoon salt

6 tablespoons (3 ounces/85 grams) unsalted butter, cut into 1/2-inch pieces and chilled, plus more for the dish

2 large egg yolks

3/4 teaspoon almond extract

For the tart filling

1/4 cup (65 grams) raspberry jam (with seeds or seedless)

12 ripe figs

1 1/4 cups (6 ounces/170 grams) raspberries

3 tablespoons (45ml) honey, warmed
Directions
Make the tart dough

1. In a food processor fitted with the metal blade, grind the flour, almonds, sugar, and salt until the almonds are very fine and powdery. Add the butter and pulse until the butter is in very small pieces about the size of grains of rice. (Be careful not to over-process the mixture or the resulting crust will become dense and tough.)

2. Add the egg yolks and the almond extract to the processor, then let the machine run just until the dough starts to come together. (Again, be careful not to over-process the dough.) Transfer the dough to a work surface, knead it briefly with your hands until smooth, then press the dough into a disk.

3. Very lightly butter a 9-inch (23 centimeter) tart pan with a removable bottom. Transfer the disk of dough to the pan. Using your hands, lightly press the dough as evenly as possible into the bottom and up the sides of the pan. Freeze the dough-lined tart pan for at least 30 minutes.

4. Preheat the oven to 375°F (190°C).

5. Set the tart pan on a baking sheet and prick the frozen tart dough about 10 times with a fork. Line the dough with a sheet of aluminum foil and fill with pie weights or dried beans. Bake the tart shell on the baking sheet until the dough is set, about 20 minutes. Remove the foil and pie weights and continue to bake until the tart shell is deep golden brown, about 10 more minutes. Let cool completely.

Make the tart filling

6. Spread the raspberry jam over the cooled tart shell in an even layer.

7. Trim the hard stem ends from the figs and quarter each fig lengthwise. Arrange the figs in the tart shell in 2 concentric circles, cut sides up, fitting the figs snugly against the sides of the tart shell and each other. Arrange the raspberries snugly in the center of the tart. Drizzle the warm honey over the tart.

8. Remove the tart pan sides from the tart pan bottom by setting the tart on an overturned bowl or other tall, wide surface (a large can of tomatoes works well). Gently press down on the outer ring and let it fall to the countertop. Set the tart on a flat surface. Release the tart from the pan bottom by sliding the blade of a knife between the crust and the pan bottom, then slip the tart onto a serving plate. (If it doesn't release cleanly, simply serve the tart on the pan bottom.)
Recipe Testers Reviews

"Wow," was all my guests could say. The combination of fig, raspberries, honey, and almond all made for a very delightful summer dessert. The tart dough is very simple and comes together quite easily in the food processor. It's a perfect base for the figs and raspberries. I did, however, use more than 1/4 cup of raspberry jam. It was more like 1/2 cup, and even this was a very thin layer of jam.
Fresh Fig and Raspberry Tart with Honey Recipe © 2010 David Lebovitz. Photo © 2010 Maren Caruso. All rights reserved. All materials used with permission.
If you make this recipe, snap a photo and hashtag it #LeitesCulinaria. We'd love to see your creations on Instagram, Facebook, and Twitter.