Behold, our top 100 recipes and ways to help keep yourself sated while keeping your kitchen cool during the dog days of summer. Includes stuff to sip, to have for supper, and, natch, satisfy a craving for something sweet.
This past July, I made the mistake of baking a pie from scratch. It was magnificent. But when the air is so heavy that even a feeble waft from a quick flip of a magazine page offers relief, it's too hot to turn any oven dial—let alone bake a pie.
If you're anything like a lot of us, kitchen production comes to an almost screeching halt during these slow-moving dog days of late summer. And while can't do anything about the heat outside, we can help you turn down—or rather, not turn up—the dial in the kitchen.
We've gathered all our no-cook recipes to get you through one sweltering day after another of late summer. Not a single one of these cold kitchen recipes requires you standing and staring down at the stove. Not even to boil water. So if you can, peel yourself off that couch and shuffle your way to the fridge. You've got some non-cooking cooking to do.—Cynthia Furey
Sippers
A little something to keep you company throughout the day, whether you prefer things naughty or nice.
(If you don't have simple syrup already on hand, don't bother making it. Instead, just stir in the same amount of sugar until it dissolves.)
How to Make a Perfect Smoothie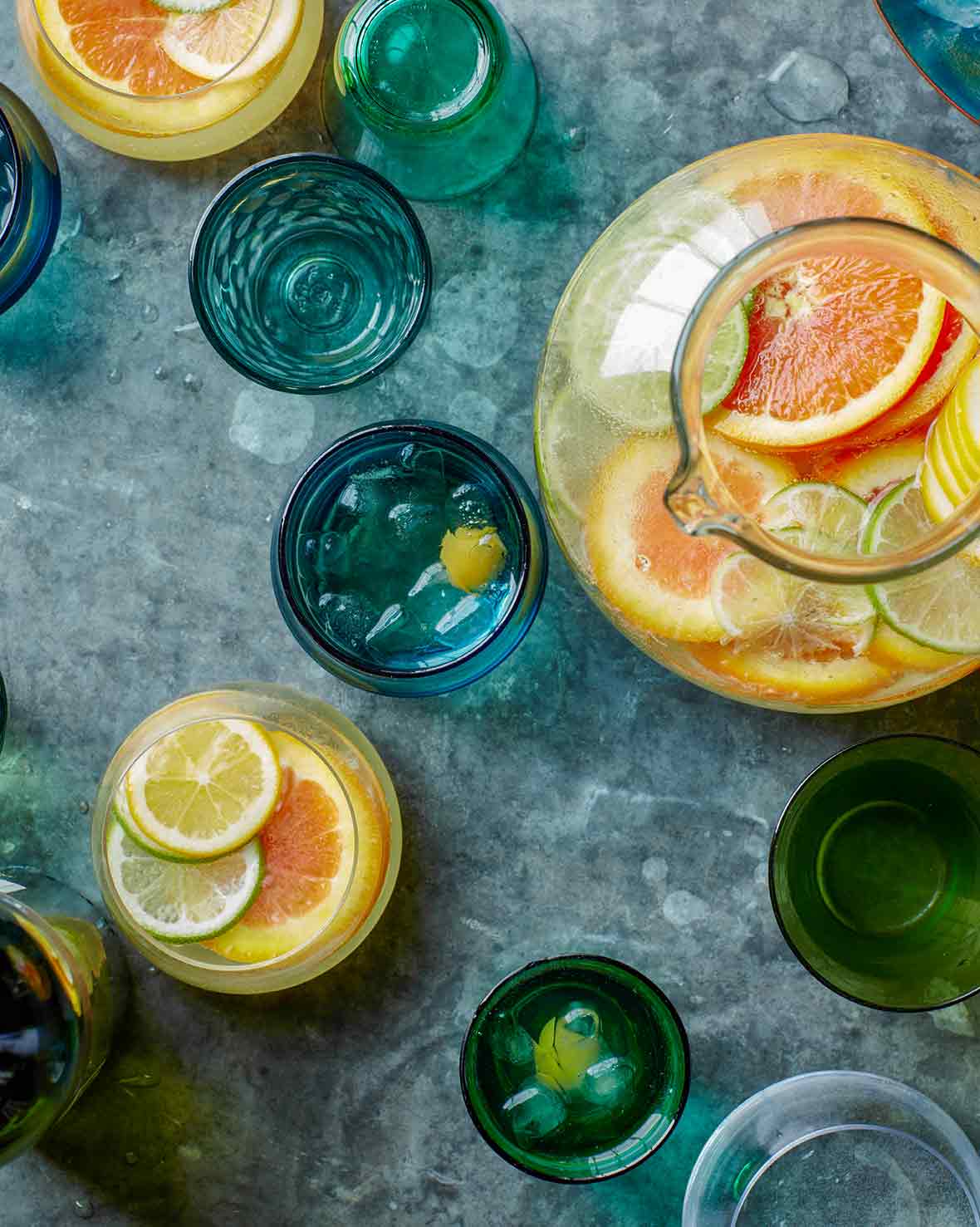 Peanut Butter & Jelly Smoothie
Buddha-ful Beet and Apple Juice
Cucumber Water
Starters (aka shortcut suppers)

All manner of dips and finger foods.
Buttermilk Dressing with Winter Crudites
Seven-Layer Dip (ignore the part about warming the beans and simply drain, rinse, and mash them)
Herbed Marinated Olives
Salami and Cheese Tapa
Cheese-Stuffed Dates with Prosciutto
Miso with Japanese Crudites
Place some yellow miso in a small bowl. Add a splash of rice vinegar, some hot pepper flakes, and a ton of ground sesame seeds. Add cold water, whisking constantly, until the mixture has the consistency of a creamy dip. Serve with veggie sticks—carrots, daikon, snow peas, sugar snaps, celery, green beans, fennel, kohlrabi, and whatever else you find in season at the greenmarket.—Chiyo Ueyama, LC Recipe Tester
Salads
We're not just talking leafy greens here (though of course there's some of that, too).
Bibb Wedges with Blue Cheese Dressing
Moroccan Salad of Oranges, Red Onion, and Olives
Salmon, Fennel, and Apple Salad
Kachumbari Tomato and Red Onion Salad
Endive Salad with Gorgonzola, Pine Nuts, and Honey
Arugula, Fennel, and Orange Salad
Apple, Parmesan, and Mixed Green Salad with Mustard Vinaigrette
Arugula Salad with Pear and Blue Cheese
Tomato, Watermelon, and Feta Salad
Butter Lettuce and Fresh Herbs with Maytag Blue Cheese
Panzanella (forget sautéing the bread and simply use day-old bread drizzled with olive oil instead)
Fennel, Orange, and Watercress Salad
Chickpea and Spinach Salad with Cumin
Pear, Basil, and Pecorino Toscano Salad
Sliced Tomatoes and Sweet Onion
Slice a Creole tomato (or any kind that you have growing in the back garden) and toss with very thinly sliced sweet onion and your favorite balsamic and olive oil. You can add sliced olives and chunks of any kind of cured sausage you might happen to have on hand as well as sliced mozzarella or feta. Basil is also nice. Actually, this is a blank canvas just waiting for any other toss-ins.—Karen Depp, LC Recipe Tester
The Iconic Watermelon, Mint, Feta, Balsamic Salad
Chop chilled watermelon and feta into chunks and toss with mint, balsamic vinegar, and olive oil.—Brenda Carlton, LC Recipe Tester
Not Exactly A Salad Fruit Salad
Slice or dice Hawaiian papaya away from its peel, scoop out the seeds, and squeeze with lime.—Renee Schettler, LC Editor in Chief
Debbie's Salad
Tomatoes, cut into bite-size chunks
Raw sweet corn, sliced off the cob
Bocconcini (little fresh mozzarella balls)
Basil, cut into chiffonade
Vinegar, whatever kind sounds good
Olive Oil
Coarse sea salt
Stir all of the ingredients together right before you're going to serve, because you don't want to refrigerate the tomatoes and the basil doesn't improve after being cut.  It might not be the most original but I've been making it for a long time and never had a real recipe.—Debbie White, LC Recipe Tester
Cheese!

No one ever said a cheese course can't constitute supper.
Goat Cheese with Olives, Lemon, and Thyme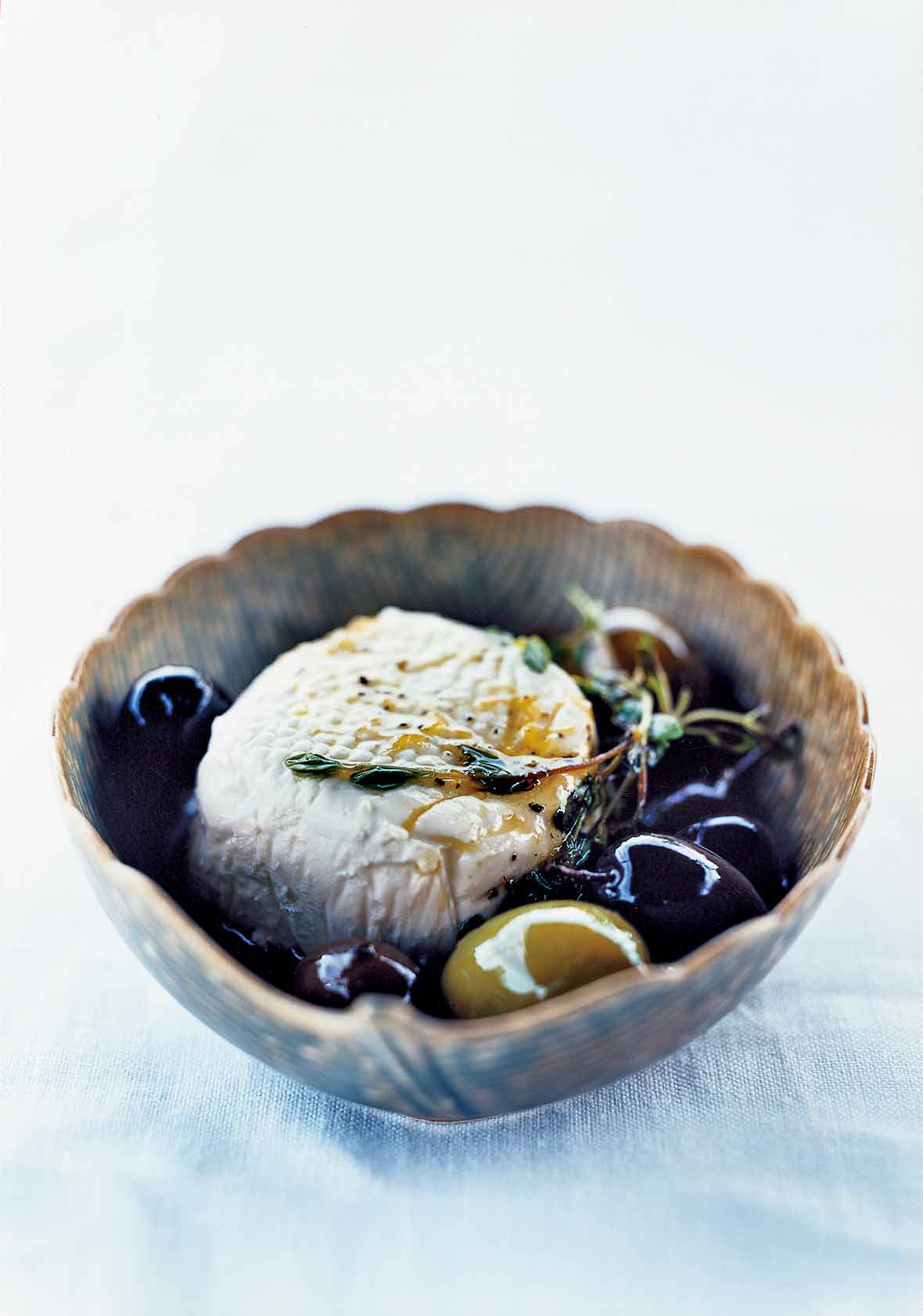 Peach, Burrata, and Basil Salad
Fresh Figs with Ricotta and Honey
Sides

Sometimes a sleeper of a side can surprise you and turn into supper.
Kale Slaw
Shaved Summer Squash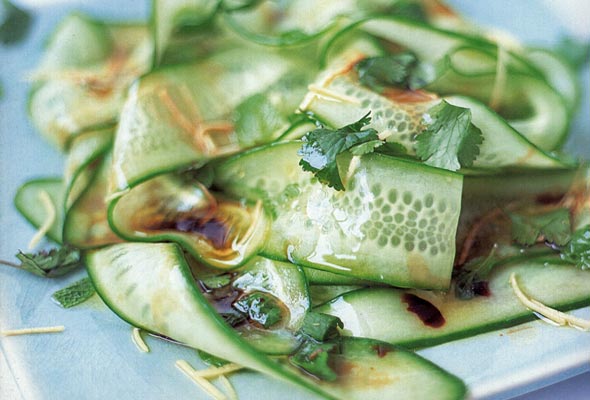 Cannellini Beans and Tomatoes
(Simply stir raw chopped tomatoes in with the beans in place of the roasted tomatoes on the side.)
Radishes with Butter Dressing
(Let the butter turn into a puddle at room temperature.)
Cucumber and Black Bean Salad
Toss together canned, drained black beans, diced cucumbers, chopped and seeded tomatoes, lime juice, hot sauce, and cilantro.—Chiyo Ueyama, LC Recipe Tester
Simple Italian Kale
Just wash and dry a bunch of Lacinto or Nero di Tosca kale and then thinly shred or slice the leaves crosswise into ribbons, as if for slaw. Toss the kale with a vinaigrette made from not-too-pungent olive oil, fresh lemon juice, and lemon zest to taste. Refrigerate for at least an hour or two, season with salt and pepper to taste, and serve.— Marilyn Canna, LC Recipe Tester
Chilled soups (aaaaaah)
No pan. No burner. No sweat. A knife, a cutting board, and a blender are pretty much all you need.
Cantaloupe Soup with Prosciutto-Mozzarella Sandwiches
Portuguese White Gazpacho with Crab
Something more substantial

Some of these require a little creativity to get into the no-cook category, but we've included our tricks to keep you cool.
Steak and Quinoa Salad 
(This requires a little easy forethought in making some extra quinoa and grilling a little more steak than usual next time you do cook and stashing them in the fridge where no one will demolish them)
Vietnamese-Style Chicken Salad
Caesar Salad
(Forget the croutons and use leftover grilled chicken or shrimp to keep it oven-free.)
Pea Shoot Salad with Chicken
(It's easy enough to rely on leftover grilled or rotisserie chicken rather than cooking anything fresh.)
Chinese Chicken Salad
(Use leftover grilled or rotisserie chicken rather than hearing up the grill or kitchen just for this recipe)
Hiya-Yakko
This is a classic no-cook tofu dish for the loooong, hot summer in Japan. Place a block of silken tofu (you can cut it in four or six pieces if you'd like) on a plate. Scatter lots of grated ginger and chopped scallion over the top and drizzle with really good, full-sodium soy sauce.—Chiyo Ueyama, LC Recipe Tester
Leftovers Salad
These days when it hits 90 plus, I'm not very innovative. It's mostly salads with greens from the garden or farmer's market and whatever leftover protein scraps are in the refrigerator. A freshly made vinaigrette with herbs from the garden can change the whole nature of whatever meat or cheese or bean dish we had two nights before.—Cindi Kruth, LC Recipe Tester
Sweets
Nothing wrong with some seasonal stone fruits, berries, or melon for dessert. Although sometimes you're in the mood for something a little more surprising…
Strawberry Cheesecake Ice Cream
Vegan Caramel
Grapefruit in Moscato
Vegan Banana Ice Cream
Strawberry Mascarpone Tart
Girl Scout Cookies
Preferably from that stash you keep in the freezer. (You DO keep your GSC in the freezer, don't you?!)—Renee Schettler, LC Editor in Chief
Yogurt Pops
Take the ripest fruit on the counter—cherries, berries, bananas, peaches—and mash with a little sugar. Then stir into plain unsweetened yogurt. Freeze the pops in plastic molds using popsicle sticks from the craft store. Serve with some carrot sticks and sliced bell peppers to the little ones for dinner.—Cindi Kruth, LC Recipe Tester
Originally published August 2, 2010
© 2010 Cynthia Furey. Photo © 2020
Oleksandr Delyk
. All rights reserved. All materials used with permission.