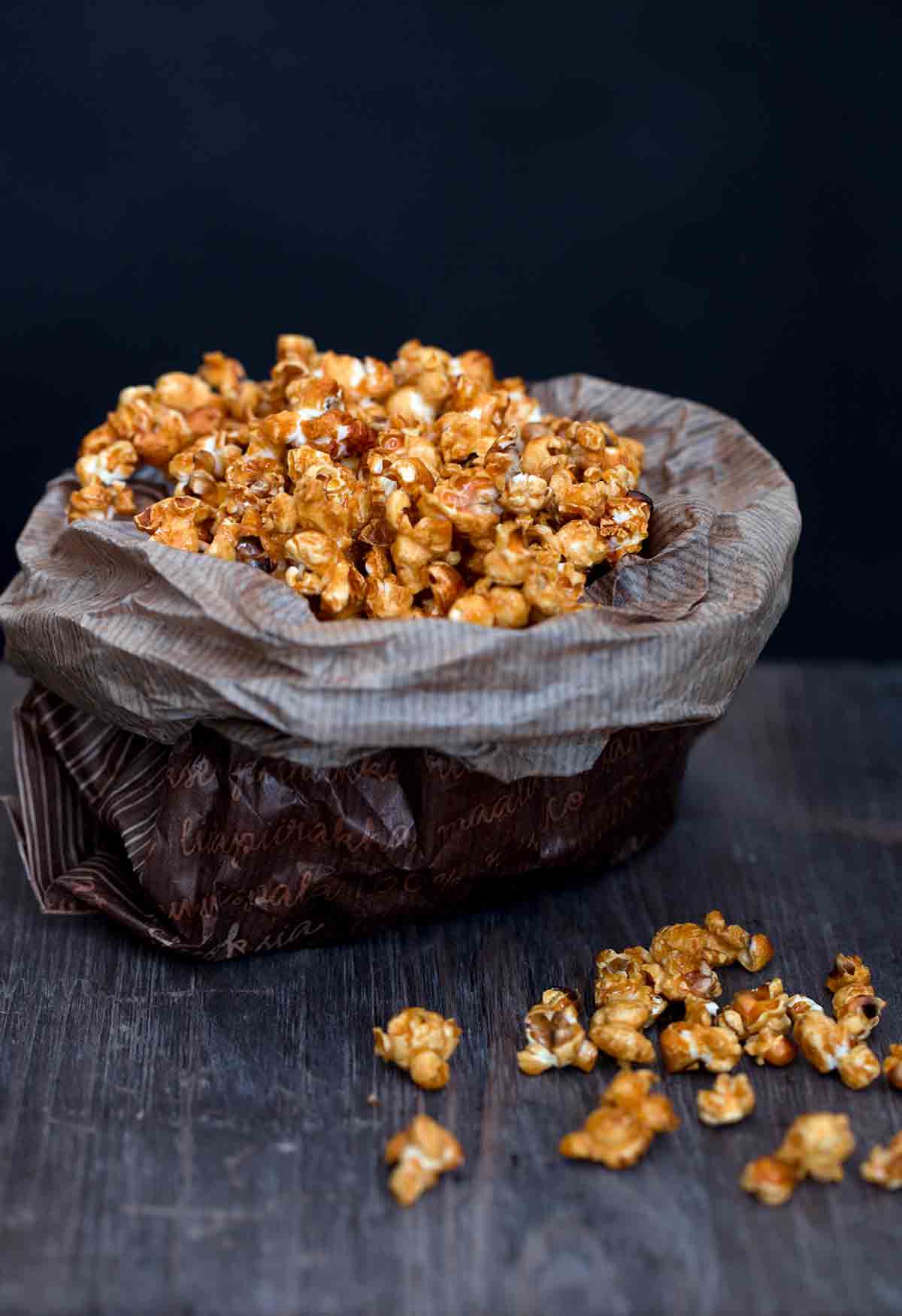 We like caramel popcorn as much as the next person—perhaps more. Quite a lot more, actually, when it comes to this old-fashioned, crowd-pleasing recipe. The beauty of homemade caramel popcorn is that no matter what you do, it's still vastly more delicate and buttery than the stale sort of stuff you get at the ball park.
So if you're a Cracker Jack fan, consider doubling the ratio of caramel to corn and dump in honey-glazed peanuts sometimes, other times cashews or pecans, although allergy-aware moms can just skip nuts entirely. Homemade caramel popcorn doesn't have the same shelf life as the store-bought kind, but that's fine, too—this won't last more than an inning.–Allison Parker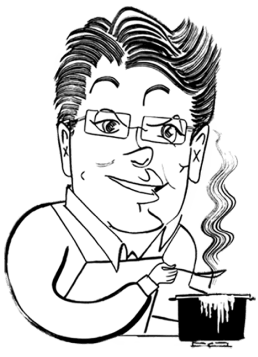 Why Our Testers Loved This
This tasty snack earned rave reviews from our testers who loved that it was "easy to make," "nice and crisp," and "a caramel corn recipe that works!"
Notes on Ingredients
Salted butter–If substituting unsalted butter, add an extra large pinch of salt to the caramel.
Corn syrup–This is added to the caramel to prevent sugar crystallization during cooking. It keeps your caramel from becoming grainy.
Baking soda–This is added to make the caramel sauce foam up and increase in volume. It makes it easier to coat all of the popcorn evenly.
How to Make This Recipe
Preheat the oven to 200°F. Pop the popcorn kernels on the stovetop, in an air popper, or in the microwave. Divvy the popcorn between two large roasting pans.

Make the caramel. Melt the butter and brown sugar until the sugar dissolves. Add the corn syrup and salt and boil for 5 minutes.

Stir in the baking soda. Pour the caramel over the popcorn, stirring to coat each piece evenly.

Bake the popcorn for 1 hour. Stir every 15 minutes. Let it cool for 1 hour, and stir again before serving.
Recipe FAQs
What is the best way to make popcorn?
You have a few choices for making popcorn for this recipe. You can use the old-fashioned stovetop method in a large pot or wok, you can make it in the microwave, or use an air popper designed for making popcorn.
Can I add nuts to this caramel corn?
Definitely. To make this more like Cracker Jack, mix in roasted nuts before coating everything in caramel. You may want to make extra caramel if you're doing this so that everything gets coated.
What's the difference between caramel corn and kettle corn?
Both are sweet popcorn snacks, however, caramel corn is candy-coated after popping, while kettle corn has a lighter coating and texture, as sugar and salt are applied during the cooking process.
Helpful Tips
For crunchier popcorn, increase your baking time by 30 minutes.
Store leftover popcorn in a sealed container at room temperature. It will stay fresh for at least 4 days.
This homemade caramel popcorn recipe is suitable for gluten-free diets.
Write a Review
If you make this recipe, or any dish on LC, consider leaving a review, a star rating, and your best photo in the comments below. I love hearing from you.–David
Caramel Popcorn
Caramel popcorn is a sweet and salty snack that nearly everyone loves. Buttery brown sugar, popcorn, and peanuts will make you feel like a kid again.
Ingredients
1 1/4

cups

unpopped popcorn kernels

1 1/2

sticks

salted butter

1

cup

packed brown sugar

,

(preferably light brown, although dark brown will work if that's all you have)

1/3

cup

light corn syrup

1

teaspoon

salt

1

teaspoon

baking soda
Instructions
Preheat the oven to 200° F (93°C). (If your oven doesn't go this low, simply heat it to the lowest temperature it can maintain and take a few minutes off the total baking time.)

Pop the popcorn in an air popper or the conventional stove-top way (some may refer to this as the "old-fashioned" way). The unpopped kernels should yield about 6 to 8 quarts (24 to 32 cups) of popped corn. Transfer the popcorn to 2 large roasting pans.

In a small saucepan, heat the butter and brown sugar until the butter melts and the sugar dissolves. Add the corn syrup and salt and bring to a boil. Keep at a rolling boil for 5 minutes.

Remove the pan from the heat and immediately and carefully stir in the baking soda (the mixture may roil and sputter). The caramel will be thick.

Quickly pour the caramel over the popcorn, drizzling it back and forth as you stir the popcorn with a wooden spoon. The caramel should be pretty evenly distributed, although it may be impossible to coat every single piece of popcorn. This is okay.

Bake the caramel corn for 1 hour total, stirring it every 15 minutes. (The corn will not darken appreciably. Just trust us on the overall timing.)

Remove the pans from the oven and let the popcorn cool for 1 hour, if you can wait. Then stir again.
Notes
Storage–Keep any leftover popcorn in an airtight container at room temperature. It will stay fresh for at least 4 days.
Crunchier popcorn–For crunchier caramel popcorn, bake it for 15 to 30 minutes more.
Making Cracker Jack–To add nuts to this popcorn, stir them into the popcorn before pouring the caramel over. You may want to make extra caramel if adding nuts.
Nutrition
Serving:
1
portion
Calories:
393
kcal
Carbohydrates:
57
g
Protein:
3
g
Fat:
18
g
Saturated Fat:
11
g
Polyunsaturated Fat:
1
g
Monounsaturated Fat:
5
g
Trans Fat:
1
g
Cholesterol:
46
mg
Sodium:
582
mg
Potassium:
112
mg
Fiber:
3
g
Sugar:
38
g
Vitamin A:
529
IU
Calcium:
31
mg
Iron:
1
mg
Nutrition information is automatically calculated, so should only be used as an approximation.
Recipe © 2010 Wendy Bazilian. Photo © 2010 kriina2000. All rights reserved.
---
Recipe Testers' Reviews
Based on the quick disappearance of the entire bowlful, I'll make a double batch next time. I'll absolutely use the slow-kettle-on-the-stove approach to popping, as I think the corn had a better texture than with an air popper. I'll also worry less with subsequent batches about how the coating looked, since it tasted delicious, was universally popular among my tasters, and disappeared so quickly!
And I'll add peanuts, making something akin to Cracker Jack. This recipe cried out for nuts, which would snuggle in comfortably between the thickish caramel and the popped corn.
I used popcorn kernels from ears of corn that are part of our CSA and popped them in the conventional (some may say old-fashioned) way, on the stovetop. It was difficult to drizzle the caramel evenly over the popcorn in the roasting pan as the caramel was a bit on the thick side and the loose kernels of popcorn wanted to pop (no pun intended) over the edges of the roasting pan.
As a result, there were some kernels that were as well-coated as commercial caramel corn and others without any caramel coating, but bite by bite, there was enough of the delicious caramel to earn the name Caramel Corn.
In terms of keeping and accurately determining the number of servings, it's hard to tell. About a dozen people nibbled on it as a snack and it was gone.
Were they sated? Likely, no. Would they have eaten more? Likely yes—a lot more. Should there be any concern about whether the lack of solid or even caramel coating affects its appeal? No, not a bit.
I can also tell you it keeps overnight, since we made it in the evening, let it cool overnight, and served it the following day.
Now, here's a caramel corn recipe that works! The key is all the stirring as the caramel corn bakes as well as when it's cooling, so make sure you have a large enough pan to do this.
I did halve the recipe, so 3/4 cup kernels gave me about 14 cups of popcorn. After an hour in the oven, the caramel corn was, well, a nice caramel color, and smelled heavenly. Only good sense kept me from sneaking a taste right then.
You could probably serve 6 people with the half recipe, but only if you portioned it out to them. Four of us went through it fast while watching a movie.
This is very easy to make (although it does take some time while waiting for it to bake and cool) and is nice and crisp. My husband and I both kept inhaling it!
Even though the weather has been unbearably humid, three days later the caramel corn is still nice and crisp. I made this using store-brand popcorn on the stovetop and got a much bigger yield than stated in the recipe. I also used much less than what popped; probably about 12 cups.
The caramel turns slightly darker as it bakes, and it cools in much less time than the recipe indicates. I'll be making this recipe again, but I think I'll add some nuts to the mixture.