In France, this sophisticated manner of salvaging an abundance of stone fruits and extending their season is known charmingly as vieux garcon or, loosely translated, "bachelor's jam." It's simply fruit, spirits, and sugar left to macerate and the flavors left to meld. Something simple enough for even a bachelor to make and, fittingly, to warm the soul on a cold winter's night.–Renee Schettler Rossi
Bachelor's Jam
This bachelor's jam is a simple French method of preserving fruits in sugar and vodka so that you can enjoy them (and their boozy liquid) long after summer is gone.
Equipment
Wide-mouth 1-gallon (3.8-l) crock or glass jar with lid
Ingredients
Assorted fresh stone fruits, such as cherries, apricots, plums, nectarines, and peaches

Granulated sugar

,

(1 cup [198 g] for every 2 cups fruit)

Vodka
Instructions
Rub the fruits with a kitchen towel. Remove any stems and pierce the fruits all over with a sterilized needle.

Any small fruits, like cherries and apricots, can be left whole. Larger fruits, such as peaches and nectarines, can be halved, pitted, and then quartered, if desired.

To the crock or glass jar, add the prepared fruit, one type at a time, and sprinkle with the sugar. Add vodka to cover.

Use a small saucer to weigh down and submerge the fruit. Seal the jar.

Ideally you'd start in June with cherries and smother them with sugar and booze. Then as various stone fruits ripen, you add thenm in the exact same fashion and proportions: fruit, sugar, booze.

If the kitchen isn't too hot, the jar can sit on your kitchen counter, but it should be kept out of the sunlight.

Let the fruit macerate for at least 3 months before sipping a glassful of the amber-rose liquid or sampling the alcohol-infused fruit. Sip the strained fruit-infused spirits straight, over ice, or spoon the fruit and spirits over ice cream or pound cake. It will keep for up to 1 year in a cool, dark place.
Notes
What You Need To Know About Using Youp Bachelor's Jam
There are no rules here. Let your imagination run away with you…and your spoon.
Sip it straight up as an aperitif or add a splash of sparkling mineral water for a little less inebriation
Splash a little into a glass Prosecco or gin
Spoon the macerated fruit over pound cake and dollop with whipped cream
Serve the fruit with a scoop of good-quality vanilla ice cream
Use the fruit to make sangria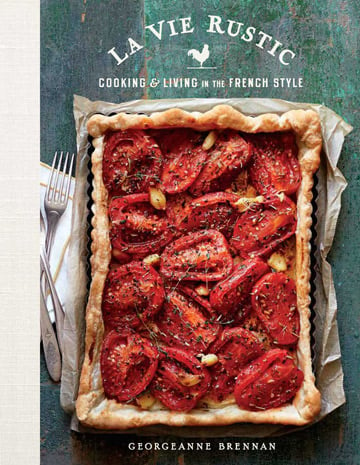 Nutrition
Serving:
2
tablespoons
Calories:
167
kcal
Carbohydrates:
20
g
Protein:
0.3
g
Fat:
0.2
g
Saturated Fat:
0.01
g
Polyunsaturated Fat:
0.03
g
Monounsaturated Fat:
0.03
g
Sodium:
5
mg
Potassium:
47
mg
Fiber:
1
g
Sugar:
20
g
Vitamin A:
123
IU
Vitamin C:
2
mg
Calcium:
2
mg
Iron:
0.1
mg
Nutrition information is automatically calculated, so should only be used as an approximation.
Recipe © 2017 Georgeanne Brennan. Photo © 2017 Sara Remington. All rights reserved.
---
Recipe Testers' Reviews
Little did I know that this recipe would turn into a taste adventure. I started this recipe 4 months ago in February and we ate it in June. I added fruit and sugar to it 7 times and I added vodka only when there wasn't enough liquid to cover the fruit. Then I let it sit.
I wasn't sure what I was going to do with it, so it sat in my refrigerator. Then on a hot summer's Sunday evening, I invited friends over for a last-minute dinner. This was the perfect time to try what had been brewing in the refrigerator for months. I whipped up a pound cake and thought I would serve it on the cake for dessert. When my guests arrived, I told them about the "Orchard in a Jar" and we each had a sip of the liquid to determine if we would like it as an aperitif. We loved it. We drank it straight up, over ice, and one person added gin and ice to his. Although we all thought adding gin was an odd thing to do, we all tasted it and agreed it was great.
Then came dessert. I served pound cake to everyone and passed a bowl of the fruit and a bowl of freshly made whipped cream. The fruit was great on the pound cake, particularly with a little added liquid. Adding whipped cream to this was splendid. Then we tried just the fruit and the whipped cream without the cake. Delicious. That was before we got out the vanilla ice cream. The fruit on good vanilla ice cream was wonderful, and a little whipped cream was quite nice as well. One of the surprises of the fruit was that the fruit hadn't become mushy. The peaches and plums, in particular, held their shape and texture.
I am going to keep adding to this as the summer goes on and serve it when I want to serve something easy and special. I served this to 4 people and have enough to serve at least 8 to 12 more people.
This recipe works really well, but you'll need some patience while the fruits properly macerate. I started the project with 2 cups peaches, 1 cup mango, 2 cups blackberries, 2 1/2 cups sugar, and 1 1/2 cups vodka.
Twenty-four hours later I added 20 cherries, 1 cup peaches, 1 cup nectarines, 1/4 cup vodka, and 1 cup sugar.
A few weeks later, I added a cup of strawberries and a cup of raspberries. At this point, the fruits were all well submerged so I didn't add any more vodka or sugar. Then I waited 3 months. I did taste the liquid a few times. In the beginning it was very sweet but as the months passed, there was a better balance between the sugar and the alcohol.
The final yield was 5 cups of liquid and 4 cups of fruit. The peaches, strawberries, and cherries looked the best at the end of 3 months. The nectarines were dark and not super appealing. The blackberries and raspberries were pretty much disintegrated. The number of servings will depend on what you decide to do with the liquid and the fruit. I strained the fruit and so now they're separated from the liquid. I think the fruits would be nice to serve as a dessert with some whipped cream or ice cream. They could also be added to a sangria or a glass of wine. I made a cocktail with half a glass of the liquid over ice and filled the rest of the glass with prosecco. I garnished with an orange slice. The prosecco and the orange helped to balance the sweetness of the liquid.
I'm sure there are many other ways to serve both the liquid and the fruits, just let your imagination run wild!