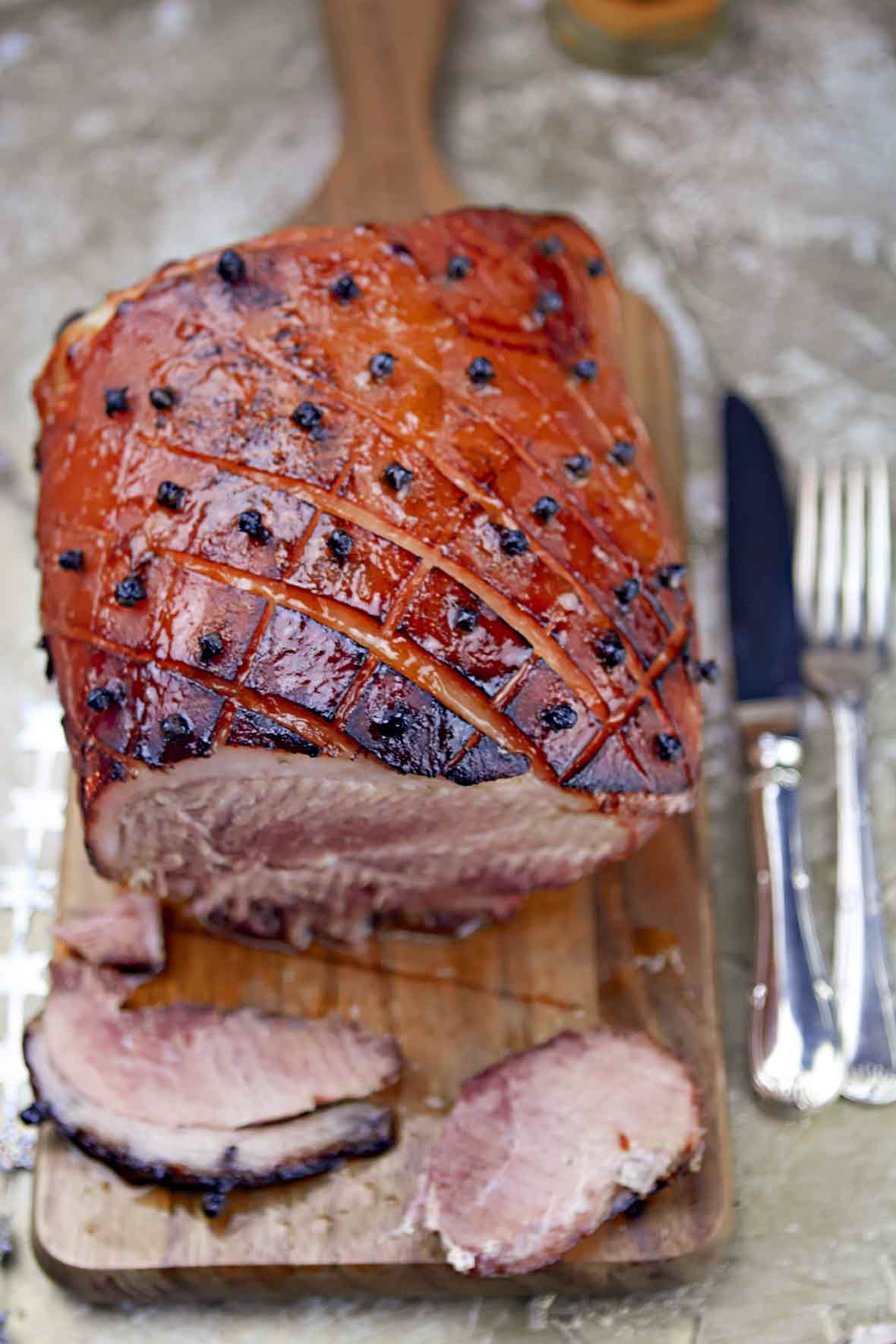 Edward A. Barq of Biloxi, Mississippi, developed his root beer in 1898. Soft drinks (as opposed to "hard" alcoholic drinks) gained popularity during the temperance movement of the later nineteenth century and claimed to have health-giving properties. Dr Pepper (1885), Coca-Cola (1886), and Pepsi-Cola (1896) were all developed in the South and are rooted in this movement.
Root beer is an effervescent blend of infusions and extracts either slightly fermented to produce carbon dioxide or mixed with carbonated water. Sassafras roots and bark, dandelion, wild cherry, burdock, spruce, wintergreen, ginger, nutmeg, cloves, and anise are flavorings found in root beers, and all make a wonderful enhancement to smoky ham.–Martha Hall Foose
Barq's Root Beer-Glazed Ham
Quick Glance
30 M
4 H, 30 M

Serves 8 to 10
Ingredients
Email Grocery List
For the root beer glaze

1 cup root beer

1/2 cup ketchup

1/2 cup dark brown sugar

Grated zest and juice of 1 lemon

2 tablespoons yellow mustard

For the ham

One (3-pound) whole or butt end, bone-in, fully cooked, "city," cured, smoked ham

About 1/2 cup root beer

Whole cloves
Directions
Make the root beer glaze

1. Combine the root beer, ketchup, brown sugar, lemon zest and juice, and mustard in a saucepan. Simmer, stirring often, over low heat for abut 10 minutes until a thin saucy consistency.

Make the ham

2. Preheat the oven to 250°F (120°C).

3. Line a large roasting pan with foil. Place the ham in the pan fat side up for shank end and whole hams, or position the meat cut side down for butt end hams. Add the root beer or enough to cover the bottom of the pan by 1/4 inch. Let sit awhile, at least 30 minutes, to come to room temperature.

4. Tent the ham loosely with foil. Bake undisturbed until a thermometer inserted in the center of the ham reads 110°F (43°C). (1 to 3 hours depending on size and cut of ham).

5. Remove the ham from the oven and increase the oven temperature to 325°F (160°C). Pour off any accumulated pan juices and reserve for the sauce. Cut away excess fat. Score the ham in a diamond pattern, cutting 1/4 inch into the meat. Brush a thin layer of Root Beer Glaze over the scored surface of the ham. Insert whole cloves at the intersections of the cuts.

6. Bake the ham until the internal temperature reaches 120°F (49°C), approximately 1 hour. Let the ham rest on a cutting board or platter for at least 15 minutes before carving.
Recipe Testers Reviews
Strangely, I've never really made a ham before, but I was cooking a simple buffet lunch and this recipe looked intriguing. I bought a 3 1/2-pound, bone-in, smoked shoulder ham and cooked it exactly as directed, although I basted it more often with the yummy root beer glaze. The recipe yields a glazed ham that's a little spicy, a little sweet, and a little pungent from the mustard. Definitely a winner. The amount of glaze is rather overwhelming, so I would halve it next time for a ham this size.
I really enjoyed this ham. I used a pork shoulder or pork butt, or, as we call it in the Midwest, a cottage ham. The root beer glaze is wonderful, although I wouldn't bother saving the drippings for the sauce, as I found it thinned the glaze a bit too much and altered the flavor as well. I also brushed the glaze on the ham a couple extra times at about 10-minute intervals, which produced a nice, thick, caramel coating. The rich scent of cloves and ham will take you instantly back to your grandmother's house. Not a bad way to spend a Sunday afternoon!
This glaze was AMAZING! It was not too sweet but just absolutely perfect. The glaze is also very versatile and doesn't have to just be for ham. I used it on pork tenderloin, which I coated in grill seasoning and browned, and then finished off in the oven with the glaze, and that came out amazing, too! Usually ham glazes overpower you with clove, but this one had just the perfect amount. The balance of the seasonings to the sweetness of the root beer was fantastic. And so rediculously easy—just add the ingredients and simmer!
Barq's Root Beer-Glazed Ham Recipe © 2008 Martha Foose. Photo © 2008 Bart. All rights reserved. All materials used with permission.
If you make this recipe, snap a photo and hashtag it #LeitesCulinaria. We'd love to see your creations on Instagram, Facebook, and Twitter.