In our latest podcast, Dorie Greenspan discusses her new book, Around My French Table, and learns she is the recipient of a long-held crush.
The hardest part of interviewing the always-charming Dorie Greenspan is, well, connecting with her when we're both on the same continent. Dorie, as most of you know, is one of those infernally blessed people who get to split her time between Paris and New York (with frequent sojourns to Connecticut). And it's this bifurcated life that gave rise to her latest book, Around My French Table. It's a personal chronicle of the recipes, foods, and dishes she cooks and serves chez Dorie.
What's so refreshing about Around My French Table is that it slips out of the handcuffs of tradition and often gives needed CPR to staid dishes. Dorie's not afraid to wrestle French classics to the ground, pin them, and have her way. But never in a bullying manner–that's so un-Dorie.
☞ LISTEN TO MORE
Instead, she enhances them, often lightening them, but always interpreting them with just the slightest American accent. Case in point: Almond Flounder Meunière. It reminds me of that old Osmond ditty, "A Little Bit Country, A Little Bit Rock and Roll." The dish is the love child of sole amandine and sole meunière. Flounder (in place of the classic but shamefully expensive sole) is coated with almonds like the former and then cooked in brown butter, like the latter. Simple, easy, and accessible.
Dorie also enjoys taking supermarket ingredients and making them devilishly "stylish and haute." Take her Cinnamon-Crunch Chicken. It's little more than a chic version of the American standard of chicken breasts in a cream sauce. Her twist is to use crème frâiche and to stir in crushed speculoos (AKA cinnamon spice biscuits). It's one of those I-wish-I-had-thought-of-it-first recipes.
During our conversation, we cover a lot of ground–everything from my confession of my long-held feelings (Dorie is my culinary crush), to life as a true jet setter, to what prompted her to write such a personal book, and how Around My French Table nicely bookends her previous work, Baking: From My Home to Yours. Take a listen.
Around My French Table Recipes
Almond flounder meunière is an inventive mashup of two classic dishes–sole amandine and sole meunière. My version uses baby flounder that is lightly breaded, cooked in brown butter, and sprinkled with toasted almonds.
Recipe
If the French celebrated Thanksgiving, I'm sure they'd find a place at the table for this cauliflower gratin recipe. Simply made, appealingly rustic, and very tasty, it can sit alongside the main course or, with a little salad (and maybe even some cranberry sauce), take the stage alone for brunch, lunch, or supper.
Recipe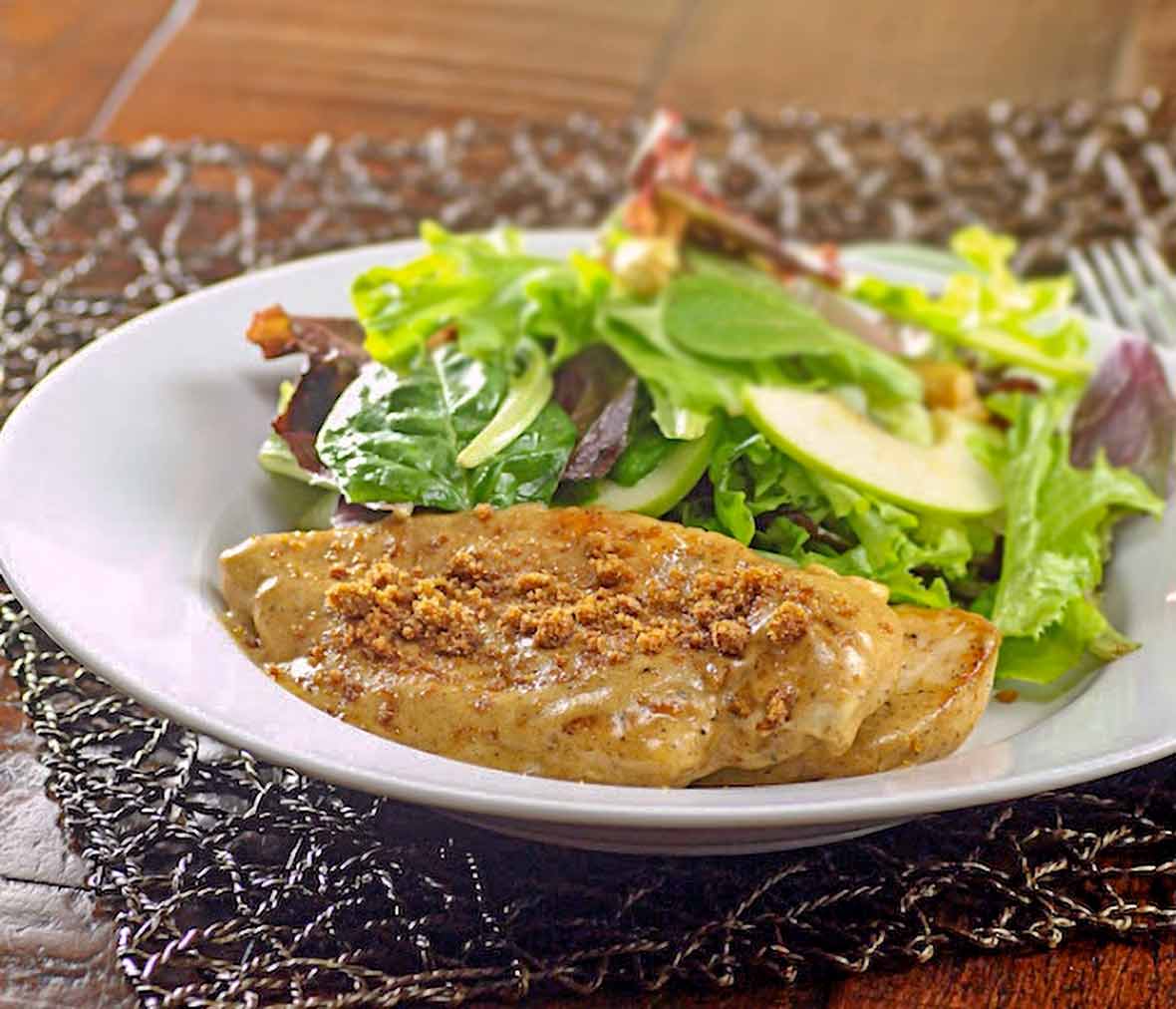 Cinnamon crunch chicken has only three main ingredients, chicken breasts, crème fraîche, and speculoos, and it takes just 10 minutes to prepare.
Recipe
Have a question for Dorie about Around My French Table? Or want to leave her a message? You know what to do below.
© 2010 Leite's Culinaria. All rights reserved. All materials used with permission.