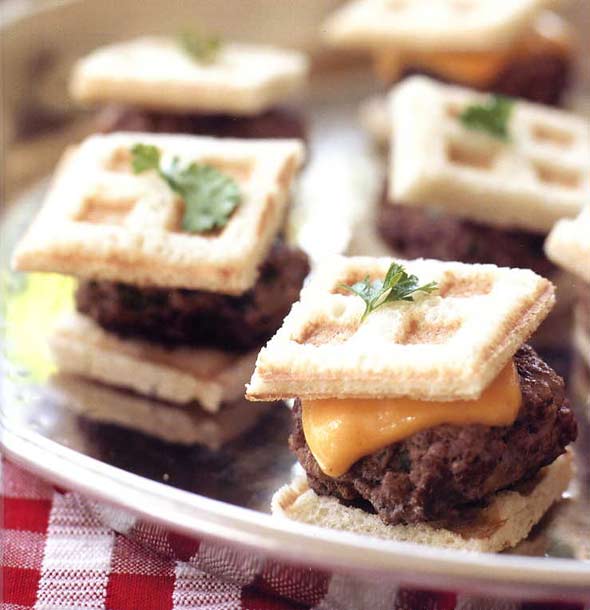 Mini burgers make perfect party food since guests can hold them in one hand. Because mini-burger buns are not easily purchased, I place a piece of white bread, crusts trimmed, in a heated nonstick waffle iron, then press down long enough to toast it and leave waffle indentations in the bread. Try topping with other flavors such as fresh herbs, a dab of ketchup, a sliver of roasted bell pepper, or a pinch of ground spice. There are endless possibilities to add more flavor and color to these versatile minis.–Rebecca Bent
LC What Cute Dimples! Note
Remember your great auntie, the one who used to pinch the dimples in your cheeks till you wanted to kick her in the shins? Remember what she'd used to say? We're going to utter the same words, "Oh, what cute dimples!" No, not yours. The ones on these waffled slider buns. (Well, actually, maybe yours. We don't know. We'd need to see a picture in order to say for certain….)
Mini Burgers with Waffled Bread
Quick Glance
Quick Glance
25 M
25 M

Serves 4
Print Recipe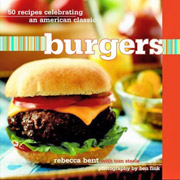 Ingredients
Email Grocery List
Directions
Heat an electric nonstick waffle iron to medium.
Place a slice of bread in the center of the hot waffle iron and press down hard until the bread is browned and imprinted with the waffle design, about 1 minute. Repeat with the remaining bread. Cut each slice of toast into square pieces about 1 inch by 1 inch. You should have enough bread for about 12 mini-burgers.
In a medium bowl, combine the beef, salt, and chopped parsley, and mix well with your hands. Grab a heaping tablespoon of the mixture (a little less than 1 ounce) and roll it into a ball. Flatten it slightly into a patty no thicker than 1 inch. You should have 12 mini-burgers.
Warm a cast-iron skillet over medium-high heat. Slick the skillet with the olive oil or, if using a grill, cook the patties on a sheet of aluminum foil perforated several times with a fork so as not to allow the wee sliders to fall through the grill rack. Cook the patties no more than 1 minute per side for medium-rare. If using the cheese, top each patty with the cheese immediately after you flip it.
Serve each burger between 2 slices of waffled bread with a sprig of parsley.
Print Recipe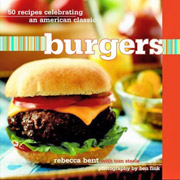 Recipe Testers Reviews

These are so much fun and would be great for kids or as appetizers. I made two recipes, one with ground beef as suggested and one with ground turkey since my daughter doesn't eat red meat. I was really surprised at how much flavor the burgers had using only parsley, salt, pepper, and a bit of olive oil for pan frying. I bet they'd be delicious on the grill, and I like the suggestion of using foil that has been perforated with a fork if using that method of cooking. Most of my family loves Cheddar cheese so we used that on most of the burgers. My white bread must've been smaller than the author's since after cutting off my crusts and toasting them in the waffle maker (an ingenious idea, btw) I could only get 2 "buns" instead of 12. I let my family add whatever toppings they desired. Heirloom baby tomatoes are perfect for these and I agree with the author that the possibilities for topping these little gems are endless.
Mini Burgers with Waffled Bread Recipe © 2004 Rebecca Bent. Photo © 2004 Ben Fink. All rights reserved. All materials used with permission.
If you make this recipe, snap a photo and hashtag it #LeitesCulinaria. We'd love to see your creations on Instagram, Facebook, and Twitter.