Dorie Greenspan's cinnamon crunch chicken is fast, easy, and tastes unusually good. Tangy crème fraîche and cinnamon-spiced biscuits take a juicy chicken breast over the top. Surprising in the very best way.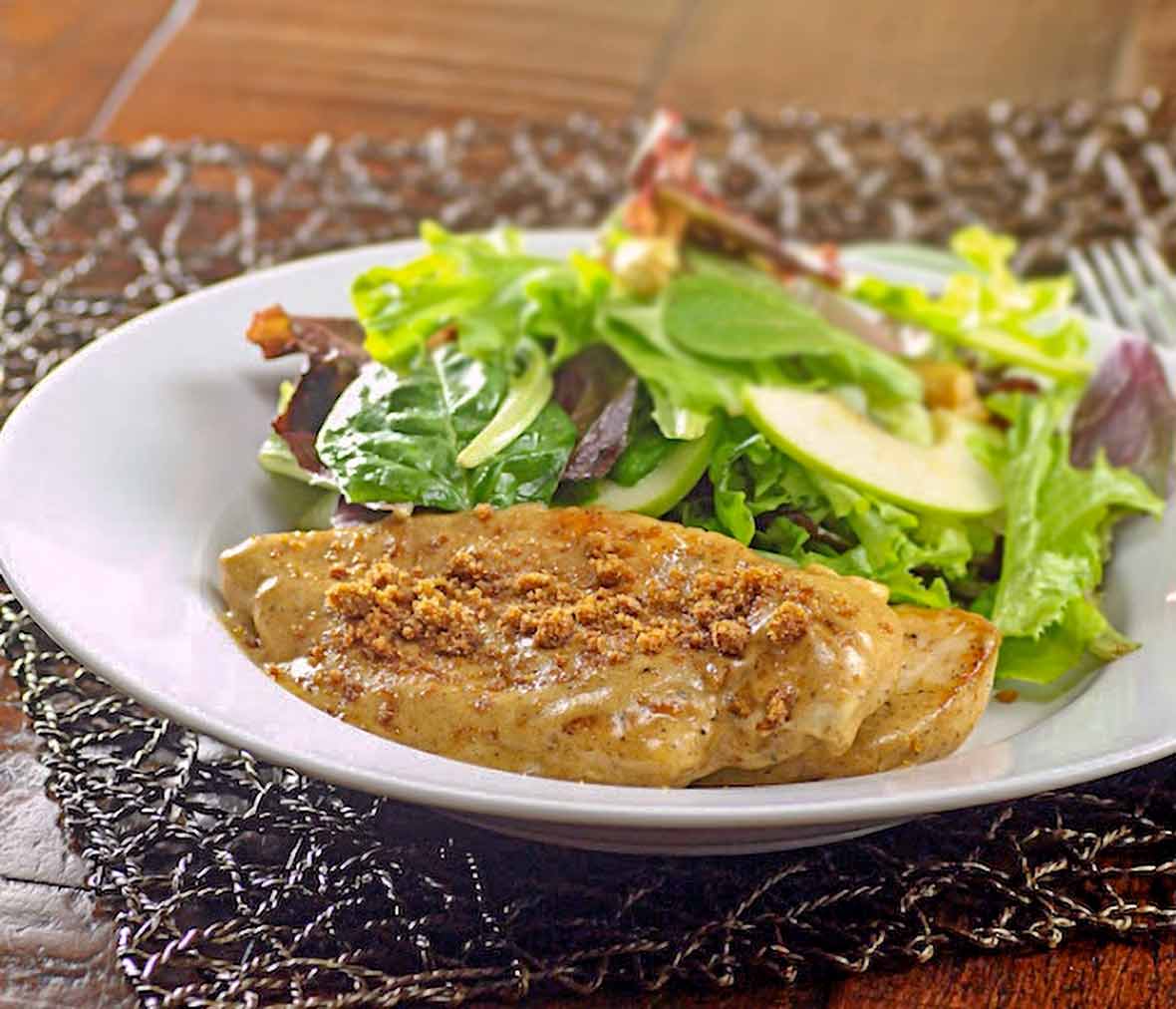 My friend Alice Vasseur has a most expressive face. Her smiles and frowns are oversized, and when she's excited, her eyes widen and her brows look like they're going to take off. And so there we were, having tea in my Paris kitchen on a chilly winter afternoon, when all of a sudden her face lit up and she exclaimed, "I forgot to tell you what I made last night—it's so easy and so good, and my friends loved it: chicken with speculoos!"
Speculoos are thin, buttery cinnamon and spice cookies that, although crunchy, melt in your mouth like shortbread. They're a specialty of northern France, Belgium, and Holland, most popular at Christmastime, but available year-round, even in American supermarkets (look for LU Cinnamon Sugar Spice Biscuits or LU Bastogne). They are paired most often—when they're not served alongside tea or coffee (they're great dunkers)—with foie gras or something gamy. Using the cookies with chicken was a leap and Alice's little stroke of brilliance.
This dish isn't only unusual and delicious, but also a recipe that perfectly represents French home cooking today: it makes supermarket ingredients look stylish and taste haute.
Crème fraîche is really what you should use here, as much for its tang as for its heatability. If you must, you can substitute heavy cream, but not sour cream, which will curdle and break over heat. And, while I love homemade speculoos, this recipe is best with store-bought.–Dorie Greenspan
LC Cookie Swap Note
Although we do find this quirky creation to be quite lovely, let's be clear about one thing: Chicken and Christmas cookies crumbs in cream isn't exactly everyone's idea of an ideal dinner. Although if the notion of fancying up plain chicken breasts with a lightly spiced sauce with a rich, velvety texture, a hint of sweetness, and a naughty sense of dessert before dinner, by all means, you really shouldn't let another season pass before trying this. The result draws much of its personality from the cookies you use. Speculoos, should you have them available to you, are perfect in this recipe, although gingersnaps will also do nicely, whether store-bought or made from scratch.
Cinnamon Crunch Chicken
Cinnamon crunch chicken has only three main ingredients, chicken breasts, crème fraîche, and speculoos, and it takes just 10 minutes to prepare.
Ingredients
2

speculoos

(LU Cinnamon Sugar Spice Biscuits or LU Bastogne) or 2 large gingersnap cookies, more if you're daring

1

cup

crème fraîche

(or substitute heavy cream)

Salt and freshly ground pepper

4

skinless, boneless chicken breast halves

preferably organic, without tenders

1 to 2

tablespoons

unsalted butter or olive oil
Directions
Place the cookies in a resealable plastic bag and bash them with a rolling pin or use a serrated knife to chop the cookies unevenly. You want some cookie powder, some cookie crumbs, and some small cookie chunks. Stir the cookie powder, crumbs, and chunks into the crème fraîche and season with salt and pepper.

Pat the chicken breasts dry and slice them crosswise into strips about a scant inch wide.

Place a large skillet, preferably nonstick, over medium-high heat and add 1 tablespoon of the butter or oil. Add the chicken strips and sauté, adding more butter or oil if necessary, until the chicken is lightly colored on all sides and almost cooked through, about 7 minutes.

Season the chicken with salt and pepper. Add the cookie mixture to the pan. Bring to a boil and cook for another minute, stirring constantly, until the chicken is coated and completely cooked and the cookies seem to have melded into the sauce. Taste for salt and pepper, and serve as soon as it's ready.
Show Nutrition
Serving:
1
serving
Calories:
277
kcal
(14%)
Carbohydrates:
3
g
(1%)
Protein:
25
g
(50%)
Fat:
18
g
(28%)
Saturated Fat:
7
g
(44%)
Polyunsaturated Fat:
1
g
Monounsaturated Fat:
6
g
Trans Fat:
0.01
g
Cholesterol:
106
mg
(35%)
Sodium:
149
mg
(6%)
Potassium:
490
mg
(14%)
Sugar:
2
g
(2%)
Vitamin A:
392
IU
(8%)
Vitamin C:
2
mg
(2%)
Calcium:
64
mg
(6%)
Iron:
0.5
mg
(3%)
If you make this recipe, snap a photo and hashtag it #LeitesCulinaria. We'd love to see your creations on Instagram, Facebook, and Twitter.
Recipe Testers' Reviews
This Cinnamon Crunch Chicken can be made in a pinch, and is elegant enough to serve as part of a fine meal. I didn't notice the cinnamon and the crunch so much—I instead found that the unique spice flavour of the speculaas was what defined the sauce. This balanced the light, tangy creme fraiche quite well. The flavourful, creamy sauce is spectacular in its simplicity. Although the sauce really needs no help, when I prepare this again, I'll add a few sautéed mushrooms for variation. Plan to spend about 20 or 25 minutes from prep to table.
Don't be afraid of cookies and creme fraiche over chicken! It's chicken in a creamy, spiced cookie sauce—one of the oddest dishes I've ever made. But my tasters loved it, and I actually loved it, too. The creme fraiche mixes with the chicken juices, yielding a smooth, creamy sauce that's a little sweet, with a hint of spices. I used Trader Joe's gingersnaps, which have pieces of crystallized ginger in them, which melted into the sauce. The cookies are small, so I used 8 cookies for 4 breasts and found it a good balance. I served the chicken over spaghetti squash, but it would go well over pasta, rice or quinoa, too. I really didn't know what to expect with this dish, but we're making it again tomorrow night, so it's obviously a winner. And it was super-fast to pull together!
I received a bonus when I tested this recipe: Not only did I find an incredibly easy way to prepare a delicious weeknight chicken dish, but I also discovered my new favorite cookie. I fully intended to make this recipe with storebought gingersnaps. Wouldn't you know, no gingersnaps to be had at the store. By this time, I was stuck on the idea of making this, so I started digging through my baking books for a speculaas recipe. I like gingersnaps just fine, but speculaas have that crumbly shortbread texture, and a much more nuanced taste. But back to the chicken. Once you have the cookies, this recipe is a snap to make. What you end up with is a delicately spiced, fragrant, creamy sauce that's a pure delight. It may sound strange to crumble cookies into a chicken dish, but suspend your disbelief for a while and just go with it. It works better than I ever could have imagined.
Originally published December 07, 2010
Recipe © 2010 Dorie Greenspan. Photo © 2010
There a Newf in My Soup
. All rights reserved. All materials used with permission.
If you make this recipe, snap a photo and hashtag it #LeitesCulinaria. We'd love to see your creations on Instagram, Facebook, and Twitter.