Maître d'Hôtel butter is a compound butter made with lemon zest and parsley. Slather it all over hot steaks, fish, or poultry for a jolt of lemony-herby deliciousness.
My compound butter, also called maître d'hôtel butter, has melted the hearts of many. As the butter melts, the meat beneath is seductively gilded with mouthwatering flavors. Once you get the hang of it, you can beat almost anything, from curry to caviar, into the butter. Use coin-shaped slices to top meats and fish.
Since butter freezes well, it's worth making a double batch of the compound butter: one for the refrigerator and one for the freezer. Similar preparations can be made using creamy cheeses, such as Gorgonzola and mascarpone, in place of the butter. (See Tasty Transformations below).–Laura Santtini
LC Butter! Note
Ah, butter. We never fail to swoon to it in its unembellished state, although it's also tempting when used in tandem with other tastes. Dubbed compound butters, these little mix-and-mash lovelies result from stirring herbs or other flavorings into malleable butter, rolling the mixture into a log, wrapping it in parchment paper or plastic wrap, and keeping it on hand—and in mind—for conjuring some magic. A wee slice can exponentially embellish any dinner, whether homey or haute. Simply slice off a wedge and plop it on plain broiled chicken or lavish steak fillet to imbue it with last-minute lavishness. The trick also works on fish. Bruschetta. Minestrone. Green beans. You name it. Heck, it's luxurious enough to make you want to roll around in it.
Basic Compound Butter
Quick Glance
5 M
5 M

Servings vary
Print Recipe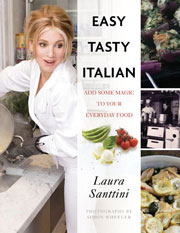 Ingredients
3 1/2 ounces salted butter, softened

1 tablespoon chopped flat-leaf parsley leaves

Grated zest of 1 small lemon, preferably organic

Squeeze of lemon juice

Salt and freshly ground black pepper
Directions
1. In a bowl, beat the butter with the remaining ingredients. Taste and adjust the seasonings accordingly.

2. Place the mixture a piece of parchment or plastic wrap and roll into a cigar or sausage shape. Wrap in plastic and refrigerate until firm.
Tasty Transformations
Garlic Butter:

Simply add 3 crushed, finely chopped small garlic cloves to the basic mixture. Ideal on crostini or traditional garlic bread. (The raw garlic tends to make it a bit abrasive on fish or chicken preparations.)

Toasted Walnut and Gorgonzola Cheese:

This "butter" relies on creamy, crumbly gorgonzola cheese in place of butter. Mash together 5 ounces gorgonzola, 2 1/2 ounces chopped, toasted walnuts, freshly ground black pepper to taste, and a drop or two of ruby or tawny port, if desired. Mix and shape into a roll as noted above. Lovely on steak or steamed haricots verts.

Lemon Mascarpone Cheese:

This "butter" relies on soft mascarpone cheese in place of butter. Mix 4 ounces mascarpone, the grated zest of 2 small lemons (preferably organic), 1 teaspoon lemon juice, salt, and freshly ground black pepper. Mix and shape into a roll as noted above. Use as a creamy alternative to butter on vegetable dishes or anywhere else.
Basic Compound Butter Recipe © 2010 Laura Santtini. Illustration © 2009 Andrea Kett. All rights reserved. All recipes and photos used with permission of the publisher.
If you make this recipe, snap a photo and hashtag it #LeitesCulinaria. We'd love to see your creations on Instagram, Facebook, and Twitter.