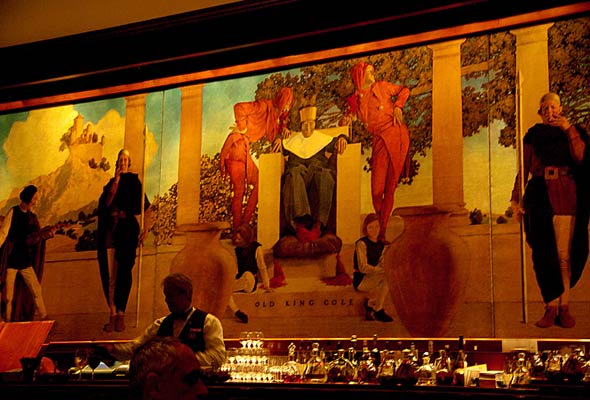 New Year's Eve is such a tricky night. As the last evening of the year, it holds untold potential for all those lofty expectations that have gone unaccomplished the past 364 nights out. Like the igniting of a torrid romance. The punditing about politics that everyone applauds. The reckless abandon of self that earns you the "That Girl" title. Maybe even the wearing of lampshades. It's easy to place unrealistic aspirations on this evening, wishing it to be the most memorable of the year, one that magically makes amends for every other lackluster or otherwise disappointing outting—and, by extension, every other shoddy cocktail—suffered in the past year. Which means quite a lot of revelers have quite a lot riding on this night. And this night's libation.
To make things even trickier, these very same imbibers tend not to have the slightest clue as to what they actually want in a drink. They just seem to know what they don't want. And sadly, while some of us can think of no more suitable way to see in the new year than to pop corks all evening long, Champagne is not what these revelers seek. They want something stronger. Or sweeter. Or spiffier. Or drier. Or, you know, something that makes them feel less like Billy Crystal in When Harry Met Sally and more like Cary Grant in An Affair to Remember.
Yet rather than indulging in an evening of effervescence, we've come to learn the fine art of acquiescence. Ours is a carefully studied approach, drawing on classy, celebratory, civilized cocktails both old-fashioned and new-fangled. Classics, one might say, comprising several straight from the past century, one with a twist, and another that's unabashedly girlie. No matter your preference, it's difficult not to appreciate the subtle nuances and the sense of largesse that these cocktails bring to an evening, even considering everyone's ridiculously aggrandized expectations. Somehow, it all works out. Lampshade not included.—Renee Schettler
LC Designated Driver Note: While getting all gussied up and being smashingly fabulous is all the rage this holiday, we hope you'll refrain from getting, well, smashed. And if you do happen to traipse across into Intoxication Land, we urge you not to drive and, instead, to rely upon a teetotaler friend. We have lots to share with you in 2011, and we want you with us every step of the way.
New Year's Eve Drink Recipes
© 2010 Renee Schettler. All rights reserved. All materials used with permission.