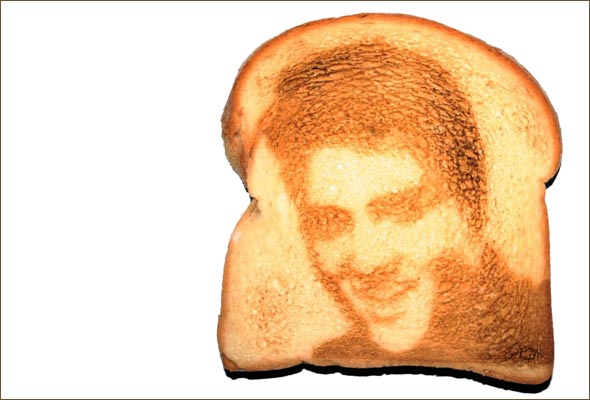 I never quite understood the hullabaloo about Elvis, who'd have turned 76 today had fate not been cruel to a heart that's true.
My mom, on the other hand, understood it quite well. Elvis blared from our scratchy Hi-Fi more often than not. This was back in the '70s, when he was still big—quite literally—and my mom was barely in her 30s. A farmwife in rural Iowa, she had a husband who worked the fields from morning well into the night, and two rambunctious kids—my older brother and my tomboy self. For company during the day she had me, endless chores, and her Elvis LPs.
By first grade, I knew the lyrics of "Hound Dog" and "Blue Suede Shoes" and "All Shook Up" better than I did the lines of Mother Goose. I don't recall my mom doing the twist or singing into the end of the broom–although she would occasionally stand up from scrubbing, toss the rag into the bucket, and drag me onto the kitchen floor with her to dance. What I do remember was how she swooned to the ballads. She'd take a seat at her piano, her hair long and bouncy and just unrolled from hair curlers, and croon along with him to "Are You Lonesome Tonight?" and "Moon River." She was no longer my mom with the ripped jean shorts, faded tank top, and farmer's tan. She was someone else. Someone giddy and moony and free. Someone who didn't have a neverending list of chores. Someone who didn't have to answer the uncomprehending complaints of a 6-year-old that her singing was distracting me from "Happy Days" reruns.
He made her happy. And he made me miserable.
Much to my smirky satisfaction, there were two things about him that irked her. His gyrating hips, for one. (Actually, I don't think she minded the swiveling. I think she thought she ought to mind it given her Catholic upbringing.) And his royal appetite. His weakness for pleasures of the gustatory sort irritated her to no end. Even I couldn't help but feel a little sorry for The King when Mom would frown at him and his expanding girth and murmur her disapproval with her characteristically terse "Oh, honestly." (To say that I found this perplexing as a child is an understatement, given the stash of wretched-tasting chocolate "candies," the ones that were supposed to suppress the appetite, that Mom kept hidden behind the candlesticks in the cabinet alongside the stove and quietly unwrapped when she thought I wasn't looking.)
It wasn't until some years into my indifference toward Elvis that I learned of his eccentric penchant for peanut butter, bacon, and banana sandwiches. And that's what finally earned him my esteem. Not because I liked peanut butter. Because to me, this quirky craving made him real. I knew all too well what it was like to seek comfort in something soul-soothingly satisfying, if a bit odd. Say, a Snickers bar stashed in the freezer or a sugar and butter sandwich on white. I would wonder, as I buttered my bread, if Elvis felt the same about his PB&B&B, licking his fingers standing at the sink, or in front of the open fridge, or maybe surrounded by all those flashy gold LPs.
We each have our own take on Elvis's sandwich. Haute or not, an everyday indulgence or an occasional gratification. Chances are, whatever it is, it makes no logical or epicurean sense to anyone else other than ourselves. And that's okay. In honor of The King's birthday, Leite's Culinaria asked a few folks to share their own fantastically idiosyncratic fixes. Go ahead and snigger, but we know you have one of your own to share.
.
I like to fill a small bowl with dill pickle spears, salsa, and hot pepper cheese cubes.  Sometimes I follow it with a little ice cream. My wife says I have a strange snack, even though it doesn't seem strange to me.  No, I am not pregnant!
—Brad Crum, Elvis impersonator
For breakfast, I have my daily corn flakes topped with caramel yogurt and frozen cherries, although I sometimes swap out the yogurt for low-fat sour cream mixed with apricot jam. My favorite late-night-but-don't-tell-my-wife treat is ice cream, which I pop into the microwave just long enough to soften it, then top with Hershey's syrup that I also stick in the microwave to warm. Then I add Cocoa Puffs.
—Michel Richard, chef at  Citronelle, Central, and Michel restaurants and author of Sweet Magic: Easy Recipes for Delectable Desserts
I like to drag hard, salted pretzels through pots of crème fraîche. It's completely indulgent, and I unapologetically love the salty crunch with the tangy, luxe crème. Crave.
—Heidi Swanson, blogger at 101 Cookbooks and author of the forthcoming Super Natural Every Day
Sweet potato and kimchi. It's a really good combination. But they have to be experienced together, in the same bite, not separate ones. I wrap a piece of kimchi around the sweet potato.
—Nevia No, owner of Bodhi Tree Farm, whose vegetables can found at Manhattan's Union Square Greenmarket and Abingdon Square Greenmarket
When I was a kid in suburban New York, the neighborhood deli sold dense, round loaves of sticky date-nut bread whose only acceptable accompaniment was a blanket of full-fat cream cheese. It took me years to replicate this recipe in my own kitchen, but I finally did it. Now, whenever I get a date-nut bread craving, I dig out my recipe, but I foil my plans more often than I see them through. Like a junkie seeking an instant fix, I pry the pits from the moist Medjool dates for which I forked over an obscene amount of money and shove little nubbins of cream cheese directly into their cavities, then down them one by one by one. It's quick and dirty, but it gets the job done.  Craving filled, no clean-up. A true win-win.
—Cheryl Sternman Rule, blogger at 5 second rule and author of a forthcoming cookbook
Since I have two young pre-schoolers, dinner tends to consist of noodles with sauce on the side for my boys and a pancetta-based tomato sauce for me. In other words, I'm pretty conservative at home. However, when I go out, I love the more experimental dishes. And over the last few years I have had a few great ones, including fois gras "sushi" at O Ya, in Boston, with balsamic chocolate kabayaki and raisin cocoa pulp. The most ridiculous sounding combination worked beautifully. It was as rich as any dessert, and as decadent, too.
—Michele Karol, who blogs at FoodieMommy
Marmite and butter. Or just butter. Or just salt. Big, crispy flakes of salt.
—@FreyaReinsch
Toast with mayonnaise!
—Kierstan Correnti Renner
Lately, it's bahn mi. All the time.
—@virgosun
Good, snappy dark chocolate on salty, crusty sourdough bread.
—@familystylefood
My husband likes peanut butter and butter sandwiches. I just put potato chips in my regular sandwiches.
—Sara Goulet
Peanut butter, tomato, and pickle on toast.
—Rachel Sauter
Slices of cheddar on a plain bagel, microwaved to half melt the cheese! I remember my Dad sometimes spreading whipped cream on toast and sprinkling it with sugar. Not sure how that would taste, but he liked it!
—Isabel Abdai
© 2011 Renee Schettler. All rights reserved. All materials used with permission.