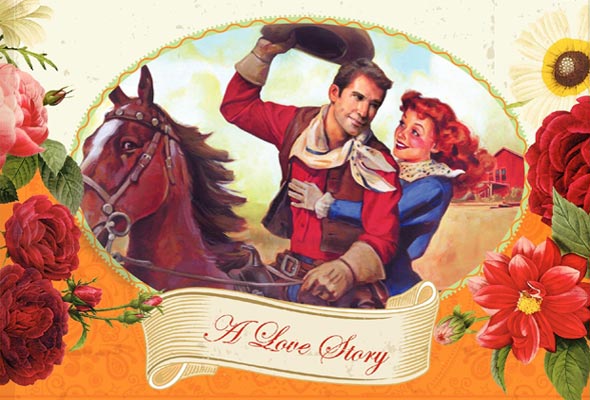 What happens when a city-loving sophisticate leaves L.A. (plus a dead-end relationship) and stops to visit family in Oklahoma before starting a new life in Chicago? She falls head over spiked heels for a cowboy, of course. Ree Drummond, better known now as The Pioneer Woman, couldn't have predicted the drastic effect that this handsome cattle rancher would have on her life—nor, indeed, the effect that her cooking would have on him. In this memoir excerpt, Drummond describes the acceleration of their romance (and proof of true devotion) through the first home-cooked meals she prepares for the Marlboro Man.–Allison Parker
———
For date five, he invited me to his house on the ranch. We were clearly on some kind of a roll, and now he wanted me to see where he lived. I was in no position to say no.
Since I knew his ranch was somewhat remote and likely didn't have many restaurants nearby, I offered to bring groceries and cook him dinner. I agonized for hours over what I could possibly cook for this strapping new man in my life; clearly, no mediocre cuisine would do. I reviewed all the dishes in my sophisticated, city-girl arsenal, many of which I'd picked up during my years in Los Angeles. I finally settled on a non-vegetarian winner: Linguine with Clam Sauce—a favorite from our family vacations in Hilton Head.
I made the delicious, aromatic masterpiece of butter, garlic, clams, lemon, wine, and cream in Marlboro Man's kitchen in the country, which was lined with old pine cabinetry. And as I stood there, sipping some of the leftover white wine and admiring the fruits of my culinary labor, I was utterly confident it would be a hit.
I had no idea who I was dealing with. I had no idea that this fourth-generation cattle rancher doesn't eat minced-up little clams, let alone minced-up little clams bathed in wine and cream and tossed with long, unwieldy noodles that are difficult to negotiate.
Still, he ate it. And lucky for him, his phone rang when he was more than halfway through our meal together. He'd been expecting an important call, he said, and excused himself for a good ten minutes. I didn't want him to go away hungry—big, strong rancher and all—so when I sensed he was close to getting off the phone, I took his plate to the stove and heaped another steaming pile of fishy noodles onto his plate. And when Marlboro Man returned to the table he smiled politely, sat down, and polished off over half of his second helping before finally pushing away from the table and announcing, "Boy, am I stuffed!"
I didn't realize at the time just how romantic a gesture that had been.
• • •
After a few more dates in my town, Marlboro Man invited me, once again, to his house on the ranch. Taking into account how much he'd loved the first meal I'd fixed for him, I confidently offered, "I'll make you dinner again!" Since I'd gone the seafood route before, I decided to honor his ranching heritage by preparing a beef dish. After scouring my formerly vegetarian brain for any beef dishes I remembered eating over the previous twenty-five years, I finally thought of my mom's Marinated Flank Steak, which had remained in my culinary memory even through all the tofu and seaweed I'd consumed in California.
To make it, you marinate a flank steak in a mixture of soy sauce, sesame oil, minced garlic, ginger, and red wine for twenty-four hours, then grill it quickly to sear the outside. The flavor—with its decidedly Asian edge—is totally out of this world; combined with the tenderness of the rare flank steak, it's a real feast for the palate. To accompany the flank steak, I decided to prepare Tagliarini Quattro Formaggi—my favorite pasta dish from Intermezzo in West Hollywood. Made with angel hair pasta and a delectable mix of Parmesan, Romano, Fontina, and goat cheese, it had been my drug of choice in the L.A. years.
I bought all the ingredients and headed to Marlboro Man's house, choosing to ignore the fact that Marinated Flank Steak actually needs to marinate. Plus, I didn't know how to operate a grill—Los Angeles County apartment buildings had ordinances against them—so I decided to cook it under the broiler. Having not been a meat eater for years and years, I'd forgotten about the vital importance of not overcooking steak; I just assumed steak was like chicken and simply needed all the pink cooked out of it. I broiled the beautiful, flavorful flank steak to a fine leather.
With all my focus on destroying the main course, I wound up overcooking the angel hair noodles by a good five minutes, so when I stirred in all the cheeses I'd so carefully grated by hand, my Tagliarini Quattro Formaggi resembled a soupy pan of watery cheese grits. How bad could it possibly be? I asked myself as I poured it into garlic-rubbed bowls just like they did at Intermezzo. I figured Marlboro Man wouldn't notice. I watched as he dutifully ate my dinner, unaware that, as I later learned, throughout the meal he seriously considered calling one of the cowboys and asking them to start a prairie fire so he'd have an excuse to leave.
It was a beautiful spring night, and we adjourned to the porch after dinner and sat side by side on two patio chairs. Taking my hand in his, Marlboro Man propped his cowboy boots on the porch railing and rested his head against the chair. It was quiet. Cattle were mooing in the distance, and an occasional coyote would howl.
Suddenly, inexplicably, in the black of this impossibly starry night, with no action movie or other distractions playing in the background, I began thinking about Chicago. I should be packing, I thought. But I'm not. I'm here. With this man. In this place.
During my months back home, I'd realized more than ever how much I'd missed living in a city: the culture, the anonymity, the action, the pace. It had made me feel happy and alive and whole. That I was even sitting on a cowboy's porch at this point in my life was strange enough; that I actually felt comfortable, at peace, and at home there was surreal.
I felt a chill, the air getting crisper by the minute. I shivered noticeably, unable to keep my teeth from chattering. Still holding my hand, Marlboro Man pulled me toward him until I was sitting on his lap. Enveloping my upper body in his arms, he hugged me tightly as my head rested on his strong shoulder. "Mmmm…," he said, even as the same sound came from my own mouth. It was so warm, so perfect, such a fit. We stayed that way forever, kissing occasionally, then retreating back to the "Mmmm…" position in each other's arms. We didn't speak, and the cool night air was so still, it was intoxicating.
Hungry for more? Take another Literary Lunch Break: