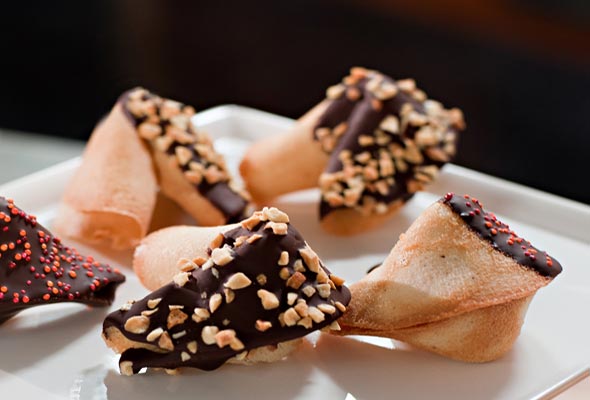 I go through fortune cookies like some people go through lottery tickets. I toss the losers while the good ones end up on my fridge, which is plastered with the little white strips. Two of my favorite fortunes are Something wonderful is about to happen to you and Your dearest wish will come true. The disaster du jour doesn't really matter to me, because I know they'll come true. Even though my last fortune was totally incomprehensible, that's OK. The next one will be THE ONE. I just know it. I'm a believer.
A few years ago I decided to throw a Chinese New Year's party. I figured what better excuse for the telling of fortunes? There was Chinese food and palm reading. (I know. Palm reading is so not Chinese. But I figured it was in keeping with the notion of ushering in good fortune…or at least catching a glimpse of it.) As a parting party favor, I gave everyone a scratch-off lottery ticket and a fortune cookie from the tacky Chinese-Thai-Vietnamese-Korean-American joint near my house.
Of course, instead of taking their cookies home, the partygoers eagerly snapped them open and began reading their fortunes aloud. Lots of laughter over the pretty meaningless and confusing words typed in tiny font ensued. Those fortunes made people giddy.
I wish I could say as much for the cookies. They were, as expected, stale and insipid and fakely sweet. That's when I decided to create a fortune cookie that people would want to eat, with fortunes that were just as much fun, still slightly nonsensical, but a lot less esoteric. And because chocolate makes everything better, the cookies had to be dipped in bittersweet.
And so Change Your Fortune Cookies came to be. Ironically, it turns out creating the cookies was the easy part. It was the fortunes that required quite a lot of thought. We've all been knocked around by life, I know. But I believe we create our own fortunes. Science supports this. People who think happy thoughts tend to be happier people. I call it the Pollyanna Principle. Don't buy it? Take a taste of these cookies. Your attitude just might change—and not only because the chocolate's phenyl ethylamine, a brain chemical that plays no small role in orgasmic pleasure, is doing its job. (Now you understand why Casanova reportedly consumed hot chocolate prior to each of his trysts.)
Who knows? Your fortune may change, too, depending on what you choose to scribble on those slips of paper. In case you find yourself overwhelmed by possibilities of positivity, here are some of the fortunes I've created for myself and my friends.
No one can walk backward into the future.
You're blue. Boohoo. Get over it.
Your body is your temple. Provide offerings of dark chocolate and wine to the mouth altar.
Create a saucy, confident alter ego. Let her do the talking.
Dance with wild abandon. Daily.–Jeanne Ambrose
LC Fortune Telling Note
One word of palmistry from the author about making—or more specifically, shaping—these fortune cookies. They're more than a smidge easier to handle if you solicit help. And by help, we mean an assembly line of friends. Lots of them so you can fold and bend the fortune cookies during the critical still-warm moments. Seems like the fortune, "You will have more friends in your life" is about to come true. See how simple that was?
Change Your Fortune Cookies
Quick Glance
1 H
1 H

Makes 18
Print Recipe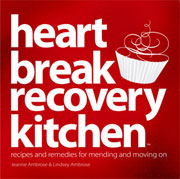 Ingredients
4 tablespoons unsalted butter, melted, plus more for baking sheets

1/2 teaspoon vanilla extract

1 teaspoon grated ginger, or 1/2 teaspoon ground ginger

1/8 teaspoon ground cinnamon

Dash ground cloves

2 large egg whites

1/2 cup granulated sugar

1/2 cup all-purpose flour

1/2 cup chopped bittersweet, dark, or semisweet chocolate

Chopped peanuts, sprinkles, minced candied ginger, or other little sweet or spicy things
Directions
1. Preheat oven to 375° F (190°C). Line 2 baking sheets with a silicone nonstick baking mat or parchment paper. If using parchment, lightly coat the paper with nonstick cooking spray or butter. Have a couple of muffin tins at the ready.

2. Write fortunes on long strips of sturdy paper. (The paper can be fancy or plain, it matters little. Best stick with strips that are 3 1/2 to 4 inches long and no more than 1/2 inch or so wide.)

3. Stir together the butter, vanilla, ginger, cinnamon, and cloves.

4. Beat the egg whites and sugar with an electric mixer on medium speed for about 1 minute. Reduce the speed to low, add about half of the flour, and beat just until combined. Switch to a spatula and gently fold in the butter mixture. Add the remaining flour and fold just until combined.

5. Drop 1 tablespoon of the batter onto the baking sheet and use the back of a spoon to spread the batter evenly and very thinly into a 3 1/2-inch circle. Repeat to make 3 or 4 cookies on each baking sheet.

6. Bake for 6 to 8 minutes, until the fortune cookies just barely begin to brown around the edges. Let the cookies cool on the baking sheet for about 30 seconds and then, working quickly, transfer the cookies from the baking sheet and place them on a clean dish towel. Place a fortune just above the center of each cookie and fold the cookie in half, pinching the top of the curved portion to seal. Gently bend the ends of the fortune cookie together to form a fortune cookie shape. (Fold the cookie over a chopstick, if you have one, to help create the bend in the center.) Place the cookie in the muffin tin, bended side down, to help it retain its shape while it cools. Repeat with the remaining cookies. Hurry!)

7. Melt the chocolate in a glass bowl or measuring cup. Dip half of each fortune cookie in the melted chocolate. If desired, sprinkle with chopped peanuts or candied sprinkles or anything else that you believe will help to ensure a sweet fortune.
Change Your Fortune Cookies Recipe © 2010 Jeanne and Lindsey Ambrose. Photo © 2010 Tom Woolery/IKONIX Studio. All rights reserved.
If you make this recipe, snap a photo and hashtag it #LeitesCulinaria. We'd love to see your creations on Instagram, Facebook, and Twitter.