Whole wheat pancakes with strawberry sauce makes eating (relatively) healthfully really easy thanks to a slightly nutty taste and a perfect replacement for maple syrup.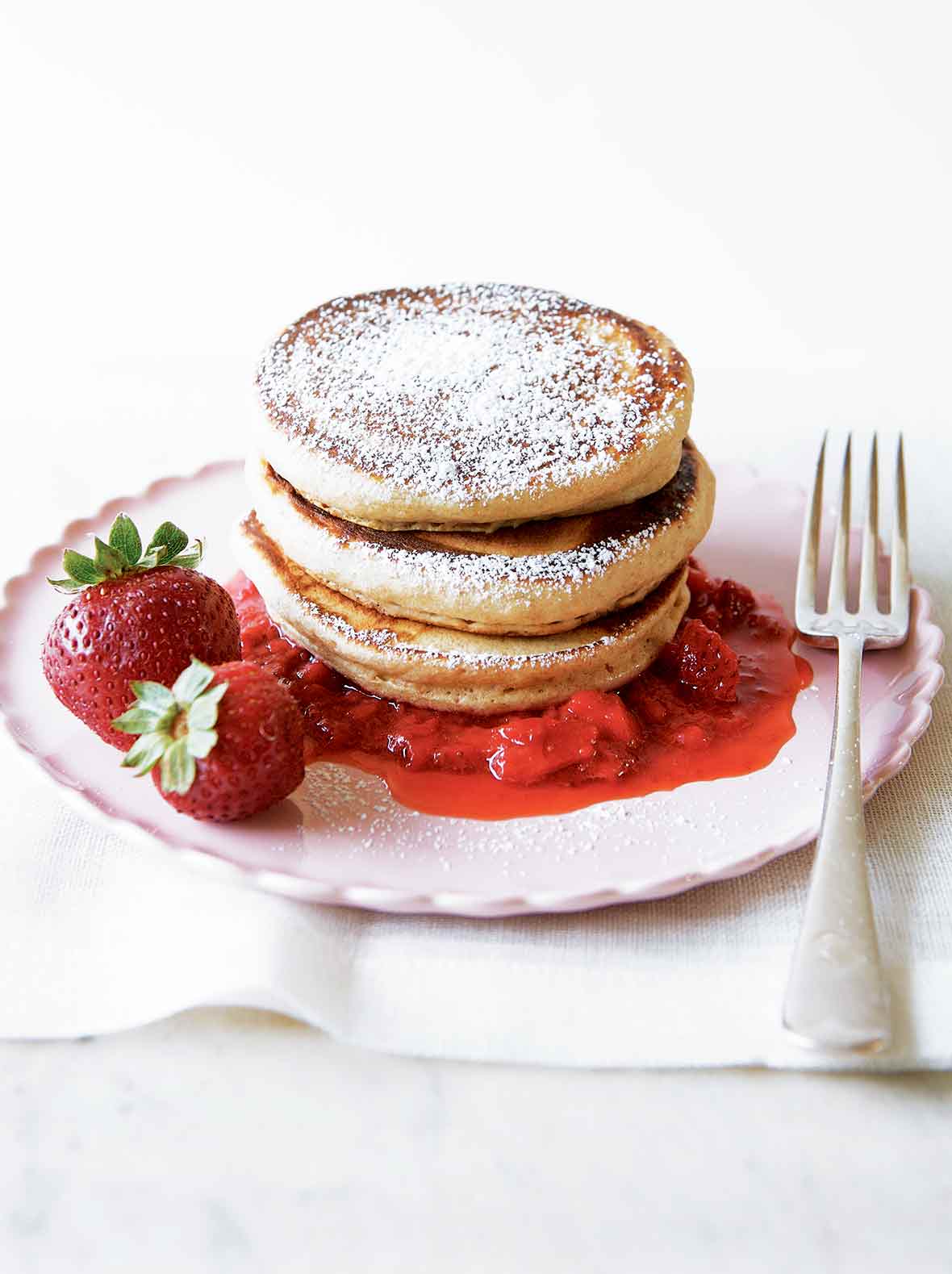 These whole wheat pancakes with strawberry sauce achieve the ultimate balance of light and fluffy from half all-purpose flour and nutty and somewhat nutritionally redeeming with half whole wheat flour.–Renee Schettler Rossi
Whole Wheat Pancakes with Strawberry Sauce
Quick Glance
30 M
30 M

Makes twelve 4-inch (10-cm) pancakes
Print Recipe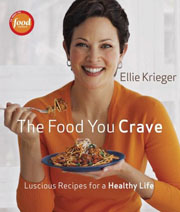 Ingredients
For the whole wheat pancakes

3/4 cup all-purpose flour

3/4 cup whole-grain pastry flour or whole-wheat flour

1 1/2 teaspoons baking powder

1/2 teaspoon baking soda

1/4 teaspoon salt

2 large eggs

1 cup low-fat buttermilk

3/4 cup nonfat milk

1 tablespoon honey

1/4 teaspoon vanilla extract

Cooking spray

For the strawberry sauce

2 pints fresh strawberries (16 oz), hulled, or 4 cups frozen unsweetened strawberries, thawed

1 teaspoon fresh lemon juice

2 tablespoons maple syrup

Confectioners' sugar (optional)
Directions
Make the whole wheat pancakes

1. Preheat the oven to 200°F (93°C).

2. In a large bowl, whisk together the flours, baking powder, baking soda, and salt.

3. In a medium bowl, beat together the eggs, buttermilk, nonfat milk, honey, and vanilla.

4. Coat a large nonstick griddle or skillet with cooking spray and heat over medium-low heat. Stir the wet ingredients into the dry ingredients, mixing only until combined. The batter will be somewhat lumpy.

5. Use a 1/4-cup measure to ladle the batter onto the griddle or skillet and cook until they're golden brown on the bottom and bubbles form on top, about 1 1/2 minutes.

6. Flip the pancakes and cook the other side until golden brown, about another 1 1/2 minutes. Transfer the pancakes to an ovenproof plate, slide them in the oven to keep warm, and repeat with the remaining batter.

Make the strawberry sauce

7. Toss the strawberries in a food processor and process into a chunky purée.

8. Transfer the purée to a small saucepan over low heat and heat just until warm. Stir in the lemon juice and maple syrup. Remove from the heat.

Serve the whole wheat pancakes with strawberry sauce
9. Ladle about 1/3 cup strawberry sauce onto each plate, place some pancakes on top, and sprinkle with confectioners' sugar, if desired. Originally published April 15, 2008.
Heart-Shaped Whole Wheat Pancakes
These whole wheat pancakes can easily be cut into heart shapes with a cookie cutter for Valentine's Day. Or, heck, for any day.
Recipe Testers Reviews

What could be better than a healthy version of a breakfast we usually drown in butter and syrup? This whole wheat pancakes recipe is quick and easy to put together and is very satisfying. All the ingredients are easy to find and no special equipment is needed. And it's a great recipe to lure the kids into the kitchen and help you cook.
These light and fluffy pancakes have a slightly nutty flavor from whole wheat flour. I was concerned the flavor of the strawberries would get lost in the maple syrup, but it was the perfect combination. You still have the tartness from the berries mixed with the slightly sweet flavor of the syrup. My grandchildren didn't even reach for the sugary syrup they normally use. The pancakes look very pretty on the plate, and we served it with turkey bacon, fresh squeezed orange juice, and garnished it with a strawberry fan.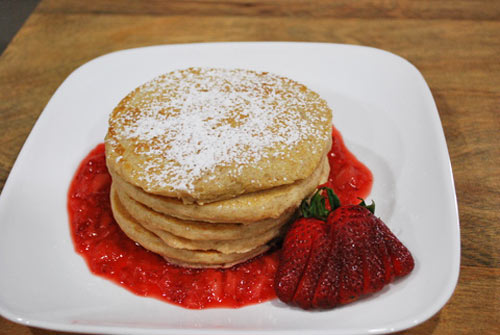 We really loved the flavor of these whole wheat pancakes. The whole wheat flour contributed a pleasant, hearty, nutty taste and the buttermilk added a bit of tang. I might be slightly more generous with the honey next time, but the pancakes were really quite delicious as made.
Some of my sweet-toothed tasters thought the sauce could have used a little more sweetener. The only issue I found is that the batter is quite thin: I didn't think it would cook properly, but it did. Still, after I cooked the first batch, I added a little more flour, about 1/4 cup, and the subsequent pancakes were a bit higher and fluffier.
Either way, they were tender and tasty and disappeared quickly.

What a wonderful way to start a weekend. These whole wheat pancakes taste great, and are healthy at the same time.
The strawberry sauce adds just enough sweetness, plus any leftover sauce can be used on ice cream. Just remember to grease your skillet, even if it's nonstick, before adding the batter.

These pancakes were terrific. The whole-wheat flour adds substance and nuttiness that balances the sweet syrup perfectly, and together they're rich yet beautifully balanced. After making the pancakes, I wondered about increasing the wheat to white flour proportion, or adding in an additional grain, such as buckwheat, to the mix.
I was skeptical about using cooking spray instead of butter to cook these pancakes, but ultimately didn't miss the butter at all. The pancakes also did not cry out for a pat of butter in addition to the syrup, at least for my palate, so it was just cook, drizzle on syrup, and devour!
Although the directions note a 1 1/2 minute cooking time per side, my first side took less than that and the second side needed almost no time at all. Instead of a nonstick griddle or skillet, I used a well-seasoned cast iron pan. My batter was very lumpy, not just somewhat lumpy, and this was fine. The lumps looked a little like nuts, and this prompted me to think that nuts could be a wonderful addition.

These pancakes will probably become a regular weekend breakfast in our house. The whole wheat pastry flour adds a nice wholesomeness without being aggressively whole wheat in flavor or texture—or heavy in the stomach. I worried that the lack of added fat in the batter would make the pancakes stick, but they worked beautifully on my nonstick griddle.
The fresh strawberry sauce makes the pancakes a little fancier. If you're not used to eating lower-sugar, lower-salt, or lower-fat dishes, the pancakes may taste a little bland without the sauce. However, we liked the pancakes enough that I wouldn't let a lack of strawberries prevent me from making them.
One problem I did have was that medium-low (setting 3 out of 10 on my flat-top electric stove) was too hot by the time I had cooked about half of the pancakes. I had to reduce the temperature to low to keep the remaining pancakes from burning on the outside before the middles were done.

If only Republicans and Democrats could work as well together as the two flours in this pancake recipe. The whole wheat flour added toasty notes while the white flour lightened the pancakes.
I thought nonfat milk would make them too lean but I was wrong—they were tender. Personally, I'm a maple syrup-only man, but the strawberry sauce is extremely easy to make and tastes great. You can use leftover sauce on ice cream or other desserts.

These quick and easy pancakes are lean and light, being both low in fat and low in sugar. With the absence of oil and butter, they're are pleasantly light in taste, but still moist and tender. Each bite offers subtle hints of vanilla and honey along with nutty notes of whole-wheat.
The batter is made by moistening equal parts whole-wheat and all-purpose flour along with the other dry ingredients. Just a few strokes of your whisk and a light and airy batter will form. Don't let your batter sit around or it won't rise well when cooked.
Cooking these is simple: Just heat and grease a griddle and pour the batter from your bowl. The pancakes will puff to a medium thickness and brown to a golden color. I cut the pancakes into heart shapes using a medium-sized cookie cutter. If you're looking for some extra flavor, you can vary this recipe by adding some chopped walnuts, bananas, chocolate chips, or berries to the batter.
The accompanying sauce is light and tangy in taste, but its simplicity is sure to please. Like these pancakes, this sauce also downplays sugar. It uses a small amount of maple syrup to lightly sweeten, allowing the flavors of the strawberries to shine through. Bits of strawberries give the sauce a little textural interest, while any juices easily get absorbed by the pancakes.
Served together, this dish is sure to please and satisfy your craving for pancakes in a very nutritious way.
Whole Wheat Pancakes with Strawberry Sauce Recipe © 2008 Ellie Krieger. Photo © 2008 Christopher Hirsheimer. All rights reserved. All materials used with permission.
If you make this recipe, snap a photo and hashtag it #LeitesCulinaria. We'd love to see your creations on Instagram, Facebook, and Twitter.