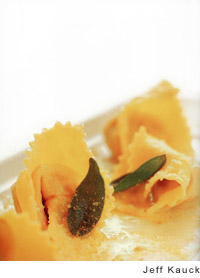 This dish may well become a family favorite, especially during the fall, when pumpkins are in season. The filling has a sweet-and-savory flavor that pairs well with turkey, goose, or duck. Whenever we serve this dish to customers and friends who have never tried it, the raves are loud and clear.–Tony Mantuano and Cathy Mantuano
Note
This stuffed pasta yields hearty portions, and we suggest serving with a robust red wine.
Pumpkin and Sage Pasta Hats
Quick Glance
1 H, 45 M
3 H

Serves 6 to 8
Print Recipe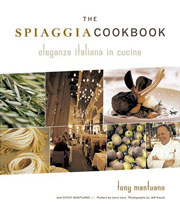 Ingredients
For the pasta dough (full recipe)

2 cups type 00 semolina flour

8 egg yolks, lightly beaten

1 teaspoon salt

1/3 cup water

For the filling

One 2-pound pie pumpkin (about 2 cups purée after roasting)

1/3 cup mostarda, coarsely chopped (see notes)

1 1/4 cups dried bread crumbs

1 1/4 cups grated Parmigiano-Reggiano or Parmesan cheese

1 cup amaretti cookies, finely ground

1/4 teaspoon freshly grated nutmeg

Sea salt and freshly ground pepper

1/2 recipe Basic Pasta Dough (above)

2 cups unsalted butter

16 sage leaves

Grated Parmigiano-Reggiano or Parmesan cheese, for serving
Directions
Make the pasta

1. Mound the flour on a pastry board or other wood or plastic work surface. Make a well in the center and add the salt and egg yolks. Using a fork, gradually fold the flour into the eggs, adding the water little by little until you have a soft dough. Knead a few times until smooth, then form the dough into a ball, wrap in plastic, and refrigerate for 1 hour.

2. To roll and cut pasta, cut the dough into 6 pieces. Working with one piece at a time (cover the remaining dough with a moist cloth until ready to use), dust the dough with flour and place between the rollers of a manual or motorized pasta machine at the widest setting. Pass the dough through. Fold the dough in half, sprinkle with flour, and roll again. Dust again with flour if the dough becomes sticky. Continue this process, reducing the space between the rollers one setting at a time, until the dough is a thin, smooth sheet. Generally, you can roll the dough 6 times on the first setting before tightening the rollers; then reduce the times you roll by one with each new setting until you reach the last setting (No. 6), when rolling once will be enough.

3. The finished pasta sheets should be about 6 inches wide and 12 inches long. Let the pasta sheets dry on a lightly floured board or parchment paper for 5 minutes before cutting.

Make the filling

4. Preheat the oven to 400°F (200°C).

5. Cut the pumpkin in half and remove the seeds. Arrange, cut sides down, on an aluminum foil-lined or nonstick baking sheet and roast until very tender, 20 to 30 minutes. When cool enough to handle, scoop out the flesh and place in a blender or food processor. Add the mostarda and process to a purée.

6. Transfer to a bowl and add the bread crumbs, cheese, cookie crumbs, and nutmeg. Stir to combine. Season with salt and pepper to taste. Set aside.

Assemble the hats

7. Roll out the pasta dough into thin sheets. Working with one sheet at a time, cut the pasta into 3-inch squares. Place each square on a lightly floured board or cloth and let dry for 5 minutes.

8. To fill, place a dough square in front of you on the diagonal, so you are facing a diamond shape. Place a teaspoon of filling in the middle of the diamond. Lightly spray the pasta with water and bring the bottom point of the diamond to the top point. Press the pasta together to form a triangle, working out from the filling.

9. Trim the 2 unfolded sides of the pasta triangle with a crimped pastry wheel, and then fold the side points of the pasta forward and press to join them together in a "bishop's hat" shape. Repeat with the remaining dough and filling. Stand the finishedcappellacci to dry for about 5 minutes on a baking sheet lined with parchment paper and dusted with flour.

10. Bring a large pot of lightly salted water to a boil.

11. Meanwhile, in a large saute pan, melt the butter over medium heat; do not let the butter brown. Stir in the sage leaves. Set aside and keep warm over very low heat.

12. Add the cappellacci to the boiling water and cook until al dente (tender but firm to the bite), 3 to 5 minutes after they rise to the top. Remove with a slotted spoon and carefully transfer to the warm butter and sage sauce. Cook for 1 to 2 minutes to allow the pasta to marry with the sauce and absorb some of it.
13. To serve, divide the cappellacci among 8 warmed plates and top with Parmigiano-Reggiano. Serve immediately.
Notes
The basic pasta dough can be refrigerated, wrapped in plastic, for up to 2 days.
Mostarda is candied fruit, such as pears, apricots, and cherries, mixed with white mustard and sugar syrup. More sweet than piquant, mostarda adds dimension to the pumpkin filling. It is also used with boiled meats and in confections. You can find mostarda in Italian specialty stores or on-line.
The cappellacci can be assembled in advance and frozen. Arrange them, not touching, on a baking sheet lined with parchment paper and dusted with flour. Freeze until hard, about 20 minutes. Transfer to zippered plastic bags and freeze for up to 1 month.
Recipe Testers Reviews
Pumpkin and Sage Pasta Hats Recipe © 2004 Restaurant One Ltd.. Photo © 2004 Jeff Kauck. All rights reserved. All materials used with permission.
If you make this recipe, snap a photo and hashtag it #LeitesCulinaria. We'd love to see your creations on Instagram, Facebook, and Twitter.