Mafe, also known as Senegalese lamb stew, is a traditional meal from West Africa typically eaten in communal style. Chef Pierre Thiam's version is authentic but keep in mind that the dish can be made in a myriad of ways, according to what families have on hand.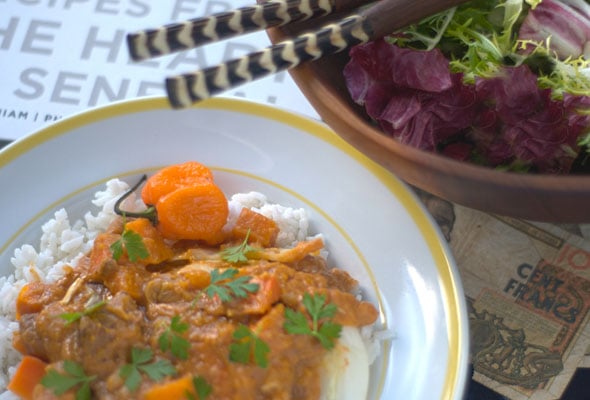 When it comes to mafe, a traditional stew from Senegal, there are very few absolutes. It's typically made from lamb, mutton, beef, or chicken and vegetables stewed in peanut sauce, although the combination of veggies is variable–and arguable. Chef Thiam says the butternut squash is mandatory, whereas my cousin feels strongly about the presence of cabbage. What isn't negotiable is the type of peanut butter, which is of major importance. It must be pure, all-natural peanut butter, the freshly ground kind where the oil separates and there are no other ingredients besides peanuts, not even salt. The vegetables should be cut rather chunkily, lest they disintegrate completely in the stew. One last thing, something to teach your guests: The habanero peppers are left whole, the idea being that you can dab at them if you want to intensify the heat while you eat. For a more intense, ambient chile pepper presence, pierce the peppers before adding them to the stew.–Sean Timberlake
LC Authentic Experience Note
For a truly authentic mafe experience, ask your guests to take a seat on the floor and serve the stew and rice without plates and utensils, as is tradition.
Mafe ~ Senegalese Lamb Stew
My recipe for Senegalese lamb stew includes butternut squash, garlic, tomato paste, cabbage, and mixed roots and tubers like potatoes, turnips, yuca, and cassava.
Ingredients
1

pound

lamb stew meat

cut into 1-inch (25-mm) pieces

Few

drops

red wine vinegar

1/4

cup

peanut oil

plus more for the marinade

2

small

onions

diced

3 to 4

garlic cloves

crushed and peeled

2

heaping tablespoons

store-bought or homemade tomato paste

1/2

cup

hot water

4 to 5

cups

water

or beef, lamb, homemade chicken stock or canned chicken broth

1

bay leaf

1/2

pound

butternut squash

peeled and cut into 1-inch chunks

1/2

pound

mixed roots and tubers

such as turnips, potatoes, carrots, yuca, cassava, peeled and cut into 1-inch chunks

1

small head

cabbage

outer leaves removed, cabbage cut into slender 1/2-inch (12-mm) wedges

1 to 2

habanero peppers

left whole

4

heaping tablespoons

all-natural smooth peanut butter

Cooked white rice

for serving
Directions
To make the stew, toss the meat in a large bowl with several good shakes of vinegar with your thumb held over the bottle opening. Add a modest drizzle of olive oil and season with salt and black pepper. Add half the onions and garlic and set aside for 20 to 30 minutes.

In a large stock pot over medium-high heat, heat the peanut oil. Pat the meat dry, then sear on all sides until browned. Reduce the heat to medium. Add the remaining onion and garlic, and sauté just until they are softened but not browned.

Scrape the tomato paste into a small bowl and slowly add the 1/2 cup hot water. Stir the mixture into the pot and cook until the sauce thickens and oil glistens on the surface.

Add enough stock to cover the onions and garlic (about 4 cups, give or take) plus the bay leaf and bring to a boil. Reduce the heat to medium-low and simmer gently, partially covered, for about 30 minutes.

Add the remaining vegetables, nestling in the larger pieces, and the habanero and simmer until they are tender, about 20 minutes. Add stock if the vegetables are not fully covered. If some vegetables soften faster than others (the squash is likely to cook fastest, and the cabbage more slowly), remove them so they do not fall apart in the stew, and reintroduce them at the end.

Remove about 1 cup of the liquid and transfer to a small bowl. Add the peanut butter and stir to dissolve. Pour the mixture back into the pot and simmer 10 more minutes, until the sauce is smooth and thickened. The stew is ready at this point, but can be left to simmer longer to intensify the flavor, stirring in additional stock if the sauce tightens too much. Remove and discard the bay leaf. You can leave the habaneros in the stew but warn guests of their presence. Serve the stew over the white rice.
Show Nutrition
Serving:
1
serving
Calories:
382
kcal
(19%)
Carbohydrates:
25
g
(8%)
Protein:
27
g
(54%)
Fat:
20
g
(31%)
Saturated Fat:
5
g
(31%)
Polyunsaturated Fat:
5
g
Monounsaturated Fat:
9
g
Cholesterol:
74
mg
(25%)
Sodium:
166
mg
(7%)
Potassium:
1012
mg
(29%)
Fiber:
7
g
(29%)
Sugar:
11
g
(12%)
Vitamin A:
6236
IU
(125%)
Vitamin C:
96
mg
(116%)
Calcium:
147
mg
(15%)
Iron:
4
mg
(22%)
If you make this recipe, snap a photo and hashtag it #LeitesCulinaria. We'd love to see your creations on Instagram, Facebook, and Twitter.
Recipe Testers' Reviews
Apparently, I like lamb again! My dad is a hunter, so we ate everything he killed growing up (elk, deer, antelope, quail, and more), and I swore off all-things gamey when I left the house at 18. I thought I'd be nice and make this for my husband, but as it turned out, I beat him to the pot and grabbed most of the lamb chunks for myself. We loved the peanut sauce, the chunky vegetables, and lamb. (I used 1/2 cup of butternut squash and 1/2 cup of potato and parsnip.) The final product was served over brown rice, and was absolutely divine. Mafe is my new best friend.
This recipe kept us warm and cozy during the big blizzard in Chicago. The amount of flavor in each bite is fantastic—especially when you consider the recipe's simplicity. The thickness of the broth from the peanut butter, along with the textures of the lamb and vegetables, make for a perfect stew! I made two batches at once—one with lamb, and one that was vegetarian. I tried both, and honestly I didn't feel the lamb added much in terms of flavor. I'll go with the vegetarian one again next time. In the future, I'll also add enough peppers so each guest has the option of more spice. This dish will become a standard menu item in our home.
Every country, every region of the world seems to have its own style of "boiled dinner" or stew and this is how I interpret this meal. A plain, simple, tasty yet not exotic as some people may expect. This recipe works well with all different types of meats as well as plain vegetarian with tofu. Thus far I have done it with lamb, goat, tofu and even venison. This is a good comfort meal for cold days.
Originally published March 02, 2011
Recipe © 2008 Sean Timberlake. Photo © 2011
Sean Timberlake
. All rights reserved. All materials used with permission.
If you make this recipe, snap a photo and hashtag it #LeitesCulinaria. We'd love to see your creations on Instagram, Facebook, and Twitter.