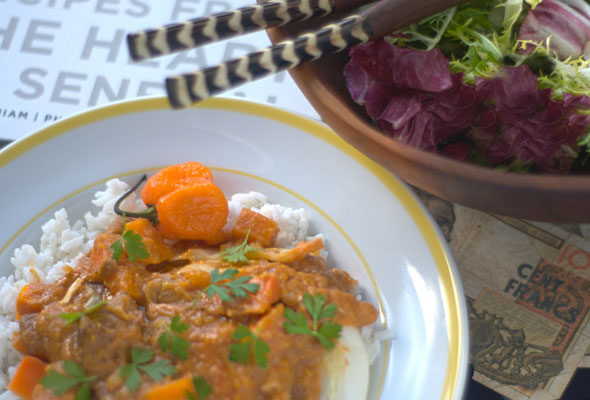 When it comes to mafe, a traditional stew from Senegal, there are very few absolutes. It's typically made from lamb, mutton, beef, or chicken and vegetables stewed in peanut sauce, although the combination of veggies is variable–and arguable. Chef Thiam says the butternut squash is mandatory, whereas my cousin feels strongly about the presence of cabbage. What isn't negotiable is the type of peanut butter, which is of major importance. It must be pure, all-natural peanut butter, the freshly ground kind where the oil separates and there's no other ingredients besides peanuts, not even salt. The vegetables should be cut rather chunkily, lest they disintegrate completely in the stew. One last thing, something to teach your guests: The habanero peppers are left whole, the idea being that you can dab at them if you want to intensify the heat while you eat. For a more intense, ambient chile pepper presence, pierce the peppers before adding them to the stew.–Sean Timberlake
LC Authentic Experience Note
For a truly authentic mafe experience, ask your guests to take a seat on the floor and serve the stew and rice without plates and utensils, as is tradition.
Mafe
Quick Glance
1 H, 15 M
1 H, 45 M

Serves 4
Ingredients
1 pound lamb stew meat, cut into 1-inch pieces

Few drops red wine vinegar

1/4 cup peanut oil, plus more for the marinade

2 small onions, diced

3 to 4 garlic cloves, crushed and peeled

2 heaping tablespoons store-bought or homemade tomato paste

1/2 cup hot water

4 to 5 cups water, or beef, lamb, homemade chicken stock or canned chicken broth

1 bay leaf

1/2 pound butternut squash, peeled and cut into 1-inch chunks

1/2 pound mixed roots and tubers, such as turnips, potatoes, carrots, yuca, cassava, peeled and cut into 1-inch chunks

1 small head cabbage, outer leaves removed, cabbage cut into slender 1/2-inch wedges

1 to 2 habanero peppers, left whole

4 heaping tablespoons all-natural smooth peanut butter

Cooked white rice, for serving
Directions
1. To make the stew, toss the meat in a large bowl with several good shakes of vinegar with your thumb held over the bottle opening. Add a modest drizzle of olive oil and season with salt and black pepper. Add half the onions and garlic and set aside for 20 to 30 minutes.

2. In a large stock pot over medium-high heat, heat the peanut oil. Pat the meat dry, then sear on all sides until browned. Reduce the heat to medium. Add the remaining onion and garlic, and sauté just until they are softened but not browned.

3. Scrape the tomato paste into a small bowl and slowly add the 1/2 cup hot water. Stir the mixture into the pot and cook until the sauce thickens and oil glistens on the surface.

4. Add enough stock to cover the onions and garlic (about 4 cups, give or take) plus the bay leaf and bring to a boil. Reduce the heat to medium-low and simmer gently, partially covered, for about 30 minutes.

5. Add the remaining vegetables, nestling in the larger pieces, and the habanero and simmer until they are tender, about 20 minutes. Add stock if the vegetables are not fully covered. If some vegetables soften faster than others (the squash is likely to cook fastest, and the cabbage more slowly), remove them so they do not fall apart in the stew, and reintroduce them at the end.

6. Remove about 1 cup of the liquid and transfer to a small bowl. Add the peanut butter and stir to dissolve. Pour the mixture back into the pot and simmer 10 more minutes, until the sauce is smooth and thickened. The stew is ready at this point, but can be left to simmer longer to intensify the flavor, stirring in additional stock if the sauce tightens too much. Remove and discard the bay leaf. You can leave the habaneros in the stew but warn guests of their presence. Serve the stew over the white rice.
Mafe Recipe © 2011 Sean Timberlake. Photo © 2011 Sean Timberlake. All rights reserved. All recipes and photos used with permission of the publisher.
If you make this recipe, snap a photo and hashtag it #LeitesCulinaria. We'd love to see your creations on Instagram, Facebook, and Twitter.